Corey, 20, from Columbia, South Carolina, graduated the Professional Welder with Pipefitting program at Tulsa Welding School in Jacksonville. Corey completed the welding program on March 25 and the pipefitting program on June 25, 2021.
Thanks for your time, Corey. Did you come to Tulsa Welding School right out of high school?
I did. I graduated high school last year and came straight to Jacksonville for welding school right after.
Where did the idea of going to welding school come from?
I was a football player in high school, but things didn't work out. I wanted a back-up plan. I came to class and my teacher had different careers up on the board. I didn't do any welding in high school, but a close friend went through the welding program; he introduced me to it, told me more about it. My teacher helped me research it and gave me the Tulsa Welding School recruiter's number. I texted him and went from there. My friend came to Tulsa too, just a little later; he's still going through the program now.
Have You Considered a Career in the Skilled Trades?
Fill out the form to recieve a no obligation info packet.
Did you sign up for the Pipefitting program from the start, or add it later?
I added it as I moved through the welding program; I started to like welding more and I got more engaged with the field. When the school introduced me to the idea of pipefitting, I was interested in it. Having both pipefitting and welding skills means more opportunities, and potentially more money out in the field, so I took the opportunity while I was there.
Had you ever done any welding at all before day one at Tulsa?
No, I'd never done any welding, so it was pretty cool. It was something I'd never seen before. I was amazed by it, to be honest.
TWS Student Store
The TWS student store is now open! Visit GoShopTWS.com go grab all the latest TWS swag.
Shop Now
What did you enjoy most about your time at Tulsa Welding School?
I enjoyed learning how to weld by just getting in my booth and doing it. I learned how to take my time. It takes time and a lot of work to get where you're supposed to be, if you want to get out there and get a job. So just staying in my booth welding and learning was the best part of the experience. It was a good balance of classroom and hands-on time. I welded from early in the morning until 12:30 p.m.
Did you put in extra practice time?
Yes, I would come back later at night, I worked afternoons at a restaurant. Booths are usually open, and you can come any time. The school doesn't close until 11 p.m., so I would weld some stuff and then go home.
With no welding experience, did it come easy, or did you get frustrated?
The first few phases, like the first four phases, were really pretty easy for me. It was when you get to phases five, six, seven and up that it starts to get harder. You will get frustrated. When you do just go outside and take a breather, come back in or maybe be done for that day. But come back the next day and be ready to go. You are going to get frustrated because it's welding. It's going to take time and practice. You have to be focused when it gets harder. Don't quit.
How was moving to a different state at 19? Did you know anyone in Jacksonville?
No, I came here on my own and moved in with a couple of roommates. It was something new, it was a good experience to live in a different city and get used to paying bills, getting myself to school on time, just being responsible, you know? 
You graduated just last week – congratulations! Do you have a job yet?
I start work at a company called SCIF Solutions in Jacksonville on July 5, doing some MIG, and TIG aluminum welding. SCIF stands for Sensitive Compartmented Information Facility; they build secure rooms or compartments inside of trailers and such. I'm not really sure of too much. I just went in for a weld test, so I didn't have much time to look around!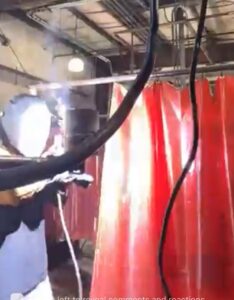 How did you get the job?
I was looking for jobs a couple of weeks before I graduated, and I applied to them. They hit me back last weekend and I went in and took the weld test and passed. They told me that I could start on July 5.
You didn't go through Career Services then?
No, I didn't go through them for this job. I did go through them for two other job opportunities. I passed the weld test for them both, but those two places didn't call me back before this one.
You're starting a new career, are you happy with the money you're starting on?
It's my first job and they are starting me off at $17/hour, so I can't complain. I knew I was going to take anything that came my way, because it's my first welding job. I need a foot in the door to get experience. I know that I have my pipefitting and welding diplomas, so once I get some experience, I can then go find a bigger job. You're not going to get the big money without experience.
What's your career plan from here; what's your ultimate career goal?
I want to weld at least until I'm 35 or 40. I expect to stay in this job doing regular welding for maybe a year to build my experience, then I'll make my transition to what's next. I want to go into pipefitting, and I want to travel with that, so I can earn more money. I see myself welding or pipefitting for 15/20 years until I retire from it. Then I'll look forward to something else! I still love football, so I want to be a coach or something after this. Welding for like 20 years is tough on the body. That'll be enough for me.
What do you enjoy most about your new trade?
I like dropping my hood and TIG Welding! I like TIG welding, watching the puddle. It's the cleanest type of welding. But I like the creativity. I like building stuff. Most things you look at today are welded up. Bridges, buildings, boats, skyscrapers—everything is welded up. It just amazes me.
Did you make some lasting connections, some friends at welding school?
Yes, sir. I made a lot of friends. Most are staying down here because, just like me, they want to start their first job close to school and see how it goes, then go from there. But I made a lot of friends at this school.
What advice would you give to students considering Tulsa Welding School?
I would tell them to show up every day and be on time every day. All the instructors will know your name in a heartbeat, so if you're there on time, they're going to be looking for you. If you're in your booth working, they're going to stop by and check on you to make sure you're doing fine.
Just make sure you're consistent, you work hard, you're respectful. Do your work and don't let anybody else weld for you or you won't learn it. If you are on time, if you put the work in, if you're respectful, then the instructors will go the extra mile for you. If they see you don't care, if you're outside in the parking lot when you should be welding, or you're not focused on what you're supposed to be doing, why are they going to give their time to you when there are other kids who want it more? Do the work. Put in the time.
If you're a TWS graduate and would like to share your success and be an inspiration to others, please email [email protected] to be considered for a Graduate Connection interview. Please include details such as your graduation date (month/year), program, and campus name (Tulsa/Jacksonville/Houston). 
This blog has been labeled as archived as it may no longer contain the most up-to-date data. For a list of all current blog posts, please visit our blog homepage at https://www.tws.edu/blog/