Brian, 20, is originally from the island of American Samoa in the South Pacific. He moved up to Tampa, Florida, with his family when he was 17. Brian graduated from the seven-month Professional Welder program at Tulsa Welding School in Jacksonville in April 2021.
Thanks for your time, Brian. Did you move up from American Samoa with your family?
Yes, my family brought me up here. I wasn't doing well in Samoa; I was getting into trouble. They brought me up here for a new start. So, I finished high school up here in 2020.
Have You Considered a Career in the Skilled Trades?
Fill out the form to recieve a no obligation info packet.
How did you discover Tulsa Welding School?
After high school I was on my phone one day, just messing around really, and the Tulsa Welding School website showed up. I started to look into it.
Had you done any welding before?
I did a year of welding in high school. I wanted to try welding school because they cover everything at Tulsa, all the different types of welding. I wanted to learn more than I'd learned at school. So, I looked into the school and liked what I saw. I started the paperwork to move over there to Jacksonville.
TWS Student Store
The TWS student store is now open! Visit GoShopTWS.com go grab all the latest TWS swag.
Shop Now
Did you think about doing the pipefitting program too?
Yes, I wanted to do the Pipefitting program, but I was in a tough spot. I was staying in an apartment – my family down lives in Tampa. When I moved in, I told the landlord I was going to leave after the welding program. But when I said I'd changed my mind and wanted to stay on for three months to do the pipefitting course, they told me I couldn't because they'd already taken me out of the system. So, I had to cancel the pipefitting course because I didn't have a place to live.
That's a shame – maybe one day you can go back to do that course.
Yeah, maybe. I'm trying to do a little pipe work where I am working now – just to learn stuff little by little.
What did you enjoy most about your time at Tulsa Welding School?
I enjoyed everything. The instructors helped me a lot; how to change my position to weld differently. I also got help from my classmates; it was fun learning from other people.
Are you a hands-on kind of guy?
Yes, I am. I really enjoyed the hands-on work – practicing over and over until I got it down. I'm not good with paperwork, it's not my thing. I learn best when I'm doing; I don't learn when I'm looking at books.
Talk to me about getting a job after school.
After I graduated from Tulsa Welding School, I went down to Hawai'i for a vacation, just to cool off. I have family down there, so I stayed with my Aunt. I tried to look for a job there too, but it's hard if you don't have transportation. It's also really expensive if you're not working. After four months down there, I came back and started looking for a welding job in Tampa. I remembered that one of my old high school teachers owned this welding business, so I talked to him. He said I could come work for him and he would teach me a few things, so I started with Alpha Omega Mobile Welding Services.
What kind of welding work are you doing?
We do all kinds of work. I've started out mostly Stick welding. We weld all different types of material and do all kinds of jobs. We do repairs and new fabrication. We just worked on staircases for an apartment, fitting handrails, fences, I've been learning some pipe. It depends on the jobs that come in. We head to different job sites from day to day. We go out as a crew of two or three; we work in and around Tampa.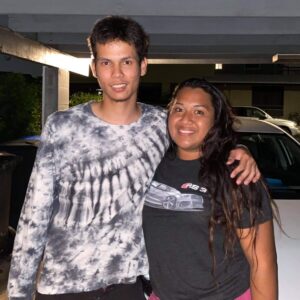 Are you enjoying it?
I am. I'm learning a lot from my mistakes and the people I work with, and I'm loving it. Going to trade school is way different than going straight into the field. In school you can practice over and over, but in the field on the job you can't practice, you have to make it perfect. I learned that on my first job site; I was welding on rusted steel. That was kind of hard for me to do because when I was in welding school, we always used new metals. So, I started out learning new things immediately when I got into the field.
Are you happy with your paycheck?
Yes, I'm happy, they pay is good, especially with some overtime. Sometimes we stay late or work the weekends. It's overtime for anything over 40 hours. They also just started paying us for the drives to and from the job sites. We go maybe an hour and a half around Tampa. I'm just focused on learning. Going to class and going to work is way different, so I know I still have a lot to learn.
What's your career plan from here?
I'd like to stay here to keep learning and to get some experience. Maybe in two or three years, I can look for another company to keep learning more and more – different types of work, different processes.
Would you like to have your own business one day?
I'd love to have my own company, but I'm not good with paperwork. There is a lot of admin running a company; it's not just doing the welding. I don't think I want to do that.
Would you go back to American Samoa; is there much welding work there?
There's welding down there, but it's nice for a vacation but it's not great down there job wise. The water is great though, it's much better than the water up here!
What do you enjoy most about your new trade?
I love learning something new almost every day.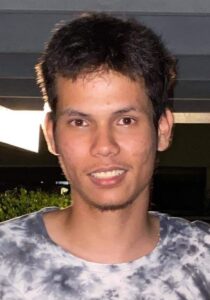 Did you make some connections at Tulsa? People you will stay in touch with.
8 months out of school I still talk to a few classmates from time to time. They are doing alright; some of them are doing MIG work. I forget exactly what they are doing.
What advice would you give to students considering Tulsa Welding School for them to be successful?
Just focus on what you're doing. Even if what you are doing doesn't look great, you've just got to practice more. Go back and figure out what you did wrong, then try it again. Ask questions. Put in the hard work – just keep practicing and you will get it down. I had a kid that asked me to do his project for him. I told him no, you've got to practice. When you get to a job site, you've got to be able to do it yourself – I told him I'm not going to be there to do it for him. You just have to practice more; even if your weld looks crappy, go back and do it again. My hard work paid off. Going to welding school has changed me.
If you're a TWS graduate and would like to share your success and be an inspiration to others, please email [email protected] to be considered for a Graduate Connection interview. Please include details such as your graduation date (month/year), program, and campus name (Tulsa/Jacksonville/Houston). 
This blog has been labeled as archived as it may no longer contain the most up-to-date data. For a list of all current blog posts, please visit our blog homepage at https://www.tws.edu/blog/