Brady, 32, was raised in North Carolina. He graduated from the Professional Welder with Pipefitting program at Tulsa Welding School in Jacksonville in November 2021.
Thanks for sharing your story, Brady. What did you do before you came to Tulsa Welding School?
After high school I joined the United States Marine Corps. I spent five years on active duty; I was deployed to Afghanistan twice. After that I just did private security work for about eight years. I did everything from bodyguard work to being a glorified receptionist security officer in an office building. I got burned out from security work, so decided I needed to start a new career.
Have You Considered a Career in the Skilled Trades?
Fill out the form to recieve a no obligation info packet.
Thank you for your service. What brought you to welding?
One of my Marine brothers got into welding after leaving the Corps. Like me, he did private security for a while, but then he got into welding. He's working up in Anchorage, Alaska, as a boilermaker. I picked his brain about it. He said it was good work with a good paycheck.
Had you done any welding before?
No, my high school only had shop class. This was a complete change of direction for me.
TWS Student Store
The TWS student store is now open! Visit GoShopTWS.com go grab all the latest TWS swag.
Shop Now
Were you in Jacksonville when you made the decision? Or did you move there for school?
My wife was active-duty Navy at the time, so she was stationed at Mayport, Florida. So, after I picked my buddy's brain about it, I searched for welding schools and there was Tulsa Welding School. With a campus right here in Jacksonville, it was meant to be.
Did you sign up for the Pipefitting course from the start, or add it during the welding program?
I signed up for it when I enrolled. I just wanted to get as much knowledge as I could. I rolled straight from welding into the pipefitting program. When I went into the school to enroll, I said I want to do everything you guys have got! As far as the Pipefitting course goes, it was good knowledge, but I personally prefer welding over pipefitting. That's why I'm welding now, instead of being a pipefitter.
What did you enjoy most about your time at Tulsa Welding School?
Number one was definitely the instructors. I was lucky that I got the old guys with like 25+ years of experience. They've done everything. It was awesome just to pick their brains about their careers and life experiences. But secondly, I'm a very hands-on person, so the way the program is set up suited me. That and having those awesome instructors on hand just worked for me perfectly. The instructors had no problem coming into my booth, showing me how to do something, or how to fix something I'd messed up.
I hear they will actually grab your hand and guide you through a weld?
Personally, when I first started, I needed that to get a feel for it. It was more useful than a demonstration.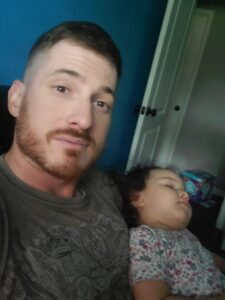 Did you find it frustrating? Did you have days when you thought getting shot at was easier?
Yeah, of course, like any change in life, you're going to have bad days with the good. When I first started with Stick welding, let's just say a lot of curse words were used!
How did you deal with those frustrations, other than cursing?
Honestly, for me it's just being stubborn. I'd get mad, curse, then just keep doing it until I got it right. There were few times when I just had to take a break, walk out of the shop for a bit, and come back with a cooler head. I guess you could say it was the Marine in me; we keep doing things until we get it right.
So, you graduated in November, who are you working for?
A company called EZ-Access in western Kentucky. I've been there about a month. I work 6.30am to 2.30pm Monday to Friday. We build aluminum ramps for handicapped and disabled people. There are all kinds of different ramps: modular ramps, portable ramps, platforms, lifts, both residential and commercial. This a brand-new plant. We're still in the process of setting everything up, but it's coming together.
It's your first welding job. Are you happy with the money you're making?
For me, I'm looking for knowledge and experience right now. I'll worry about money in the future. It's a foot in the door and the ability to get work experience under my belt. This opportunity arose where they were looking for someone to MIG and TIG weld on aluminum. It's a tradeoff; a smaller paycheck, but I'm learning how to weld aluminum. That's a specialty that was introduced at school, but we spent maybe a week on it versus now I'm getting hands-on day in, day out. It's an opportunity to use processes I learned at school, but on a new material. It's adding more stuff to my tool belt.
Did you move there for the job?
No, what brought us to Kentucky was my wife's family; they live nearby. After she got out of the Navy there was basically nothing holding us in Florida anymore. I was still on the fence as to whether I wanted to do traveling work. If I'd decided to go that route, I wanted her to be close to family as I would be away a lot. We moved up here and it just so happened that EZ-Access was the first place to get back to me. The ability to learn how to weld aluminum is just something that I want to do personally. I won't lie, the paycheck is a lot lower than other places. But again, getting the opportunity to learn on aluminum is worth it. Once I get experience under my belt doing this, I can move on to other jobs that pay a lot more.
What's your career plan from here? You mentioned traveling, is that still an option?
I'm still on fence. With both of us having been in the military, we have traveled a lot. But now we have our daughter, who will be two in April, I guess we're looking to set down roots. So, the plan is basically to get some experience and service under my belt for a couple years, then we want to move to Alaska. The plan is to do that within the next two years; Alaska is where we want to put down our roots.
I previously mentioned that my buddy's up there. I want to build my own house from scratch, and then build my own shop because I want to have my own business, like a little fabrication shop. So, I plan on learning more of the business side of things after getting the experience of just welding, so I can build my own business in the future. That's my grand scheme.
What do you enjoy most about your new trade?
I have to say the thing I love about welding and welders in general, is that all the personal BS and politics goes out the window because it comes down to your skill. You're either really good at it or you're not. So, our work and dedication can definitely come through. If you're willing to put in the time to get better at it, it shows. You get hired on your skill – there's no prejudice. It's a very good equalizer.
Did you make some connections at Tulsa? People you will stay in touch with.
I totally did the network thing. It's funny because there were other Marines going through the program with me, so I made new friends with people who also had military backgrounds. Being a little bit older, you know the importance of networking. The career field of welders is a smaller world than you think, so you're going to be seeing people again somewhere down the line. Don't burn any bridges.
What advice would you give students considering Tulsa Welding School for them to be successful?
Dedication and hard work. It's got to be something that you personally want to do. Because if you don't want to do it, you're not going to succeed at it. Don't do it because your daddy's telling you to do it!
You're talking about passion. When did you discover your passion for welding?
Honestly it was probably within first two weeks. My instructors were the old guys who had done everything. My first instructor was kind of like the stubborn, hard grandpa. No welds are good enough! He was like, "you can always be better." He pushed all of us to always keep trying to weld better and improve, and that's where I discovered my passion.
If you're a TWS graduate and would like to share your success and be an inspiration to others, please email [email protected] to be considered for a Graduate Connection interview. Please include details such as your graduation date (month/year), program, and campus name (Tulsa/Jacksonville/Houston). 
This blog has been labeled as archived as it may no longer contain the most up-to-date data. For a list of all current blog posts, please visit our blog homepage at https://www.tws.edu/blog/