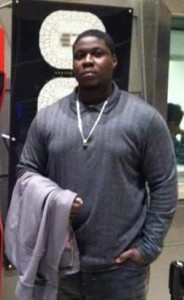 Duran, 27, is from Freeport on the island of Grand Bahama. Duran came to TWS as a graduate of an apprenticeship program at the Grand Bahama Shipyard in the Bahamas. He specialized in pipefitting during his apprenticeship but wanted to continue his education. Duran graduated from the Professional Welder with Pipefitting program at Tulsa Welding School in February 2014.
Thanks for your time Duran. Tell us how you came to Tulsa Welding School.
In January 2009, at the age of 19, I joined the Grand Bahama Shipyard. A year later they put me into the pipefitting trade as an apprentice. I worked and learned from different tradesmen in the pipefitting department until I graduated the apprenticeship program in January 2013.
Having completed the apprenticeship program, why then come to Tulsa Welding School?
I didn't just want to be a regular tradesman. The certificate I got from the apprenticeship wouldn't be respected internationally. I made the decision that I wanted a certification that would be recognized anywhere. So I researched it and Tulsa Welding School was the first school that came up.
Have You Considered a Career in the Skilled Trades?
Fill out the form to recieve a no obligation info packet.
Did you go to work at the shipyard straight out of high school?
No, I graduated high school at a very young age; I was 16. I worked for a few years and enrolled in BTVI, the Bahamas Technical & Vocational Institute, in 2008. I completed their electrical installation program. Initially I wanted to do electrical work, but when I came to the shipyard and got introduced to welding and pipefitting, that's when I made the decision that pipefitting was my calling.
Why did you think pipefitting was your calling?
I'm the type of guy that loves math and angles, and I get to use those every day. Pipefitting is more knowledge than actual physical labor. Let me tell you the difference between welding and pipefitting. With welding you actually have to hold the rod and guide it properly to make a good fusion; that takes skill, technique and practice. Pipefitting takes very limited practice. I can tell someone what to do and stand over them and watch them do it properly, and that's what I do now as a National Center for Construction Education and Research (NCCER) Level 4 pipefitter. I got the NCCER pipefitting certification from my time at Tulsa Welding School.
You clearly enjoy education. What other certifications do you have?
TWS Student Store
The TWS student store is now open! Visit GoShopTWS.com go grab all the latest TWS swag.
Shop Now
I love education! Knowledge is just something I crave. I did an Inspector program. I've got a Visual Inspection certification, a Liquid Penetration certification, an MPI [Magnetic Particle Inspection] certification and a UT [Ultrasonic Testing] certification.
All these inspector certifications come in handy for my work in pipefitting. Now that I understand what an Inspector does, before I call one to inspect my pipes, I can inspect them myself. I look for the same flaws and weaknesses that they look for. That way I can make sure my work is proofed before I show it to them. That means I have better results and better evaluations.
What did you enjoy most about the school?
Just the level of knowledge I got out of it, and the level of knowledge and the dedication of the two teachers I had. I was blessed to have a teacher that was both a welder and a pipefitter so I really learned a lot. My teachers would stay back after class with me a lot of times and help me practice.
You had lots of experience going in. Did your time at Tulsa make a big difference in your knowledge?
It made such a difference. I had a breadth of knowledge, sure, but my time at Tulsa Welding School gave me the depth of knowledge. I'd seen things being done, simple tools being used on the job before I went to school, but they never really clicked until after. I discovered how much I didn't know. Some of it was simple things, but I'd never thought about them in detail.
Did you have to quit your job back home in the Bahamas to come to school?
They understood what I wanted to do, so they held my job for me. They also kept in touch and asked me to send them my grades. I got straight A's by the way… I knew my manager was looking at them!
That's very good of them. Did they pay for your tuition too?
This is the deal they made for me. I was a special case. They said that if I really wanted to do it, I would need to pay everything out of my pocket. My tuition, my flights, where I was staying, everything. Then if, and only if, I came back to my job at the shipyard and if I'd passed my course, then they would reimburse me my full tuition. Of course they wanted to make sure I wasn't going to use them and go somewhere else. I can't blame them for that. They didn't have to offer me the deal they did!
So when you went back to GB Shipyard, what happened next?
After graduating TWS my role gradually changed as I was handed more responsibility on the job. I was promoted to level 2 tradesman in July 2016 and have become a lead tradesman on the job. I have guys in the department that work under me now, and I also lead a bunch of jobs. It all started with TWS.
I know it's a shipyard, but do you build ships, do repairs, both? What kind of stuff do you do?
At this shipyard we don't build ships, we repair ships. I'll go into a ship, take out the bad pipes that are in need of repair and remake those pipes in the same exact way. If the pipes were shaped like an 'L' or shaped like a 'K', it doesn't matter – I will remake those pipes in exactly the same shape. The technique we use most of the time is called 'jigging". I find it's the simplest way.
So do you work on the ship or in a shop?
Most of the time we go into the ship, remove what needs to be replaced, and go back to our shop where we make the new pipes. Then after they're welded and tested, we go back on the ship to install them.
What is it you enjoy most about pipefitting?
It's the calculations, angles, the difficult bends. Oh, I love difficult bends! It's a lot of computations as you're dealing with circles! The different types of math you have to apply – I love it! It thrills me to do it!
So, do you do the welding too?
No, we have people doing the welding. Here is where it gets tricky. In our shipyard you're either a welder or a pipefitter. They don't want to give people crossover titles as they'd have to pay them more money, and they don't want to do that! I'm not a certified welder, so I cannot go and weld pipes on a ship. But if I'm welding something for a side job, for something else on the island, I can do that no problem.
Where would you like your career to be in three years?
In three years I can hopefully be a Ship Manager. They cover everything on a ship repair while it's in the yard, not just the pipefitting aspects. I think with my knowledge of the trade, and the systems we have here, I'd be a great asset to them. I love my trade, but I also want to climb.
If you could have any job, what would your dream job be?
If I had three million dollars, my dream job would be a pipefitting teacher. If I could teach all day and not have to worry about finances, that would be my dream. Maybe towards the end of my career I can do it – without the three million dollars! BTVI doesn't have a pipefitting program, so I actually wrote a program outline for them and suggested text books. We'll see if they pull something together.
I'd also like to be a journeyman tradesman – going from here, to here, to here working. I get a lot of job offers. Just after I graduated Tulsa, I got an offer in Texas, but when he found out I was in the Bahamas, it was like "oh man…" I get a lot of offers, but when they find out I'm in the Bahamas, they chicken out!
Did you make some good connections at Tulsa?
Oh yeah, I made some good connections. I made some good friends. They're like family. They treated me with love. I went to Oklahoma and didn't know anybody. I stayed in two hotels over seven months. I saw some bad stuff I can tell you, but…I came back here with a family. My classmates, my teachers, everybody treated me like family.
What advice would you give to new students considering TWS?
From my experience of Tulsa I would say, "Do it, man!" In seven months you can be certified and put yourself in a position to make over $80,000 a year. It's a small time to be at school to make some big money. There are a lot of opportunities out there to make good money. I'm only 27; I came out of Tulsa at 24, and I'm making good money. If I can do it coming from the Bahamas, a different country, you guys can do it easy just moving from state to state!
What do you do for fun?
Besides having a few drinks…? I like to shoot pool, hang out with friends, and go to the beach.
If you were a millionaire for a day, what would you do?
I'd open my own pipefitting/mechanical company. That way my money would stay invested!
If you're a TWS graduate and would like to share your success and be an inspiration to others, please email [email protected] to be considered for a Graduate Connection interview. Please include details such as your graduation date (month/year), program, and campus name (Tulsa/Jacksonville/Houston). 
This blog has been labeled as archived as it may no longer contain the most up-to-date data. For a list of all current blog posts, please visit our blog homepage at https://www.tws.edu/blog/