Eric 30, from Clearwater, Florida, is a Welding Instructor at Tulsa Welding School, Jacksonville campus.  Eric has been with the school for six months, and he currently teaches the first phase of the Professional Welder program – Welding Fundamentals – to students taking night classes. Eric is also a TWS graduate.
Thanks for your time, Eric. What did you do after high school?
I joined the United States Marine Corps. I left for bootcamp two weeks after I graduated and by the end of the year I was in Afghanistan. I had three deployments in Afghanistan over four years; it got hard because towards the end I had a young family with my ex-wife. I really wanted to be in my new daughter's life. I had a couple of close calls over there where I was like, okay, it's time to cut my cards, it's time slow down and settle down. So, after four years it was time for me to get out.
Thank you for your service. Talk us through your welding career.
I started my welding journey back in 2015 when I got out of the military. I got into diving when I was active duty, so when I got out, I wanted to be a commercial diver and an underwater welder. I had to learn how to do topside welding first before I could get into underwater welding. That's what started this whole journey. If I wasn't doing underwater welding, I'd link up with the welding supervisor and weld topside with him. He taught me multiple aspects of welding – Stick and MIG welding. In 2017 I decided to come to Tulsa Welding School. I came to welding school because I wanted a deeper understanding of how to weld those processes and TIG primarily. I've been doing it ever since.
Have You Considered a Career in the Skilled Trades?
Fill out the form to recieve a no obligation info packet.
When I got out of TWS as a graduate, I wanted to work on naval vessels in shipyards and that is exactly what I did. I worked for General Dynamics Electric Boat rehabbing nuclear submarines. When you have to go through multiple security gates just to get into the area where you're working, that was really awesome. It was just really cool to have a secret clearance and feel kind of special, to be honest. I also worked for General Dynamics NASSCO, L3Harris. I was subcontracted for BAE Systems – British Aerospace Engineering. I've done work for Marine Specialty Painting services. What am I leaving out?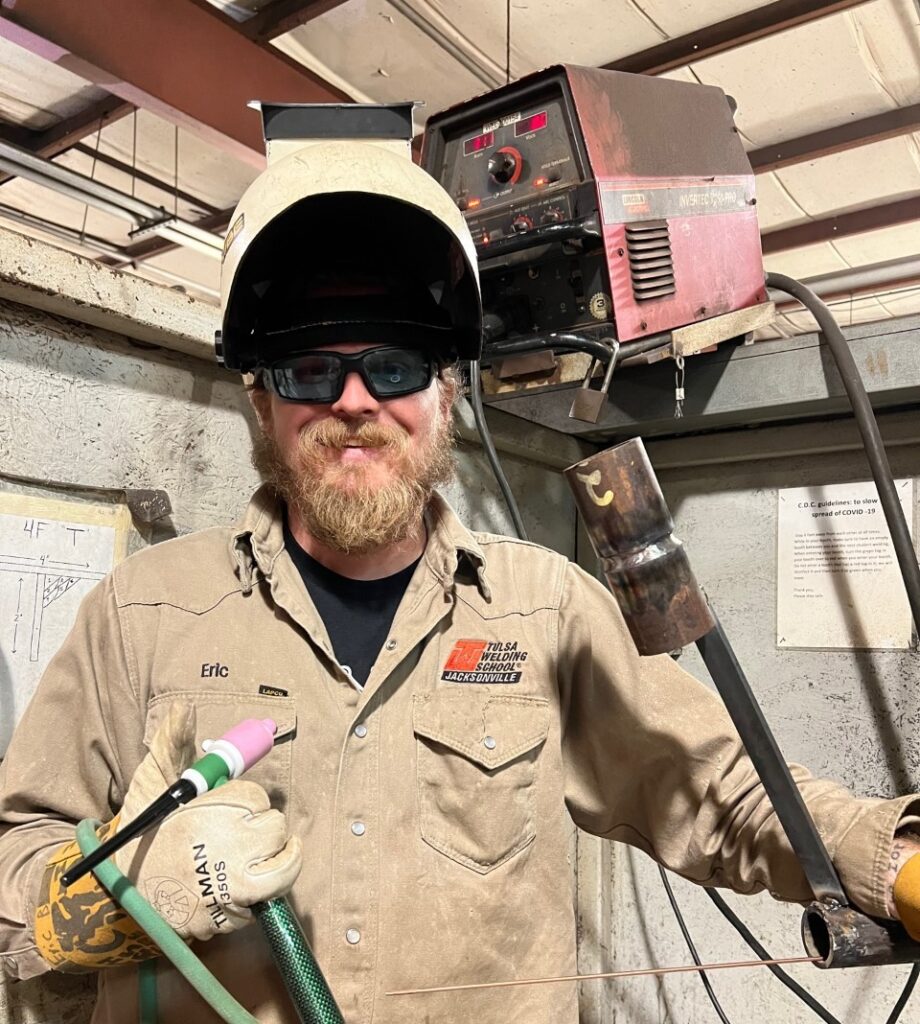 You're still a young man. Do you still dive and do the underwater welding?
Yes, on the side. I'm still an active commercial diver on a contract basis, kind of like a freelance type of thing. I am a commercial diving supervisor, certified to the Association of Diving Contractors International (ADCI). They'll give me a call and send me jobs, if need be, and if I have the availability to do it, I will. I'm also married into a family business; my wife's godfather owns one of the largest diving companies in the southeast U.S. They work all over the Caribbean, and up and down the east coast of the U.S. I still do jobs for him every now and then.
How does that work out with your teaching schedule?
I'm usually only available on the weekends. 90% of commercial diving jobs run Monday through Sunday, seven days a week, 12 hours a day. I'll usually hop on the weekend or during our time off on some of the breaks we have here, like winter break. If it's a three-day weekend, I'll jump on a job if I can.
As a kid, what did you want to be when you grew up? 
When I was a kid, I wanted to be in the special forces. I wanted to be in the military my entire career. That's what I always wanted; I wanted to be the guy in a recruitment poster, you know what I mean?
What made you decide to go into teaching?
One of the jobs that I worked prior to here was Assistant Lead Instructor at a diving academy here in Jacksonville. I taught underwater welding, topside welding, and a bunch of other diving related stuff. But let's just say there was a lot that went wrong there, especially on the admin side. Working there left a bad taste in my mouth. After they got shut down, I went back out to the shipyard for a welding job. I was out welding on the flight deck of an aircraft carrier in blistering heat, and I realized my body is not what it used to be, and that this is more of a younger guy's game than what I can offer. I might be 30, but I've had two knee surgeries, three invasive back procedures, and I'm technically 80% disabled with the VA. I'd come home hurt every day. I saw a job opening at TWS. I loved seeing students succeed, I loved improving their futures, so I decided to give teaching another shot.
What do you enjoy most about teaching at Tulsa Welding School?
I love teaching; I love helping to better people's lives, seeing what the students are capable of, hearing their success stories, and giving them the opportunity to have an amazing life. That is why I did it before, and that's why I do it now. I absolutely love it. The school is definitely different from the last place. They take care of their instructors, and they really care about their students. I hope to stay here for the rest of my career. Especially because my daughter is eight now; I go home and I'm not physically exhausted. Obviously, I work nights, so it's a little different. But I wake up early and I have a full day with her when she's with me. That's what this allows me to do. I am able to be there for my family, do what I love doing, which is teaching and welding, and then being able to come home at night, and not be exhausted.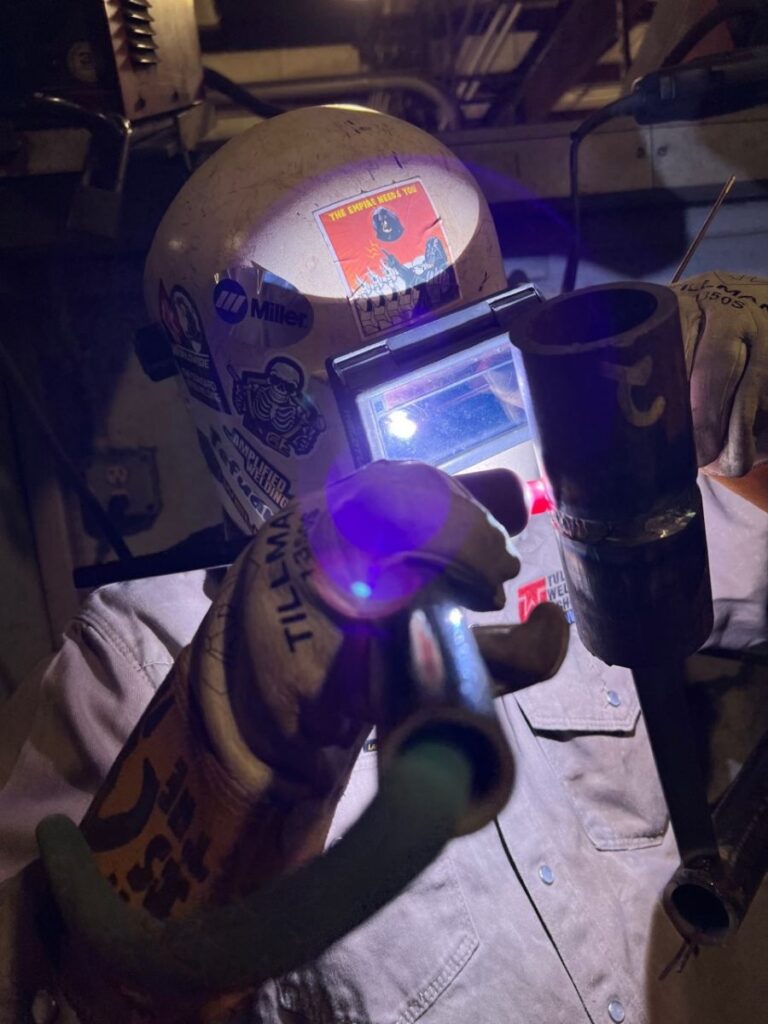 So, tell us more about your home life, your family.
My wife Brooke and I just got married, but we have been together for seven years. No kids of our own yet. I have my daughter Michelle from my first marriage, as I mentioned, she's eight now.
Tell us something most people don't know about you?
To be honest, most people probably don't know that I have done multiple deployments in Afghanistan. I don't come off like I was a Marine. But people also probably don't know that before my knee injuries, I used to be a professional skim boarder. I used to travel around the world competing, I was sponsored for years of my life. I can't even do it as a hobby anymore because I can't run because of my knee. But most people don't really know that about me, that I was an avid surfer, an avid skim boarder.
Never heard of that – what is a skim boarder?
Basically, it's like surfing but without fins on the board. Instead of starting in the water, we start on the beach, and we run out to the oncoming wave and we either try to wrap around the wave to start surfing it, or get barreled, or do trick aerials – stuff like that.
If you could have dinner with anyone, alive or dead, who would it be, and why?
This goes back to the last question about what people don't know about me. I am a mega-huge diehard Star Wars fan. So, to be honest, if I had to pick one person and one person only, I would do it with either the original Darth Vader actor, Dave Prowse, or I would do it with Adam Driver from the new Star Wars movies, because he was an Infantry Marine like me.
What did you enjoy most when out in the field?
I've mainly worked in the shipyards for the Navy. I really liked working on the naval vessels. I really loved working on those submarines; having a nuclear missile silo on my back while I was working on something. That was something that I really enjoyed doing. That was just top side welding by the way, I didn't do any underwater. You don't have to be a diver to do that kind of work.
You get an unexpected evening to yourself, what would you do with that time?
If I had my daughter, I would definitely go hang out with her. If not, my wife would probably put me to work around the house. So, don't give me that time. I don't want to have to do the dishes or laundry! Honestly, I'd probably go home, and spend time with my dogs and my wife and have a relaxing night.
What's the best piece of advice you'd give to new students who are just starting?
It's okay to be nervous, but just know that you're in great hands and we're going to have a great time. I hope that you will remember your TWS experience for the rest of your life because I want to make this memorable. You're starting a new journey which some people are too scared to even start. The fact that you are starting this journey speaks volumes about you. I really look froward to your future, and I will do everything I can to help you have a great future. I want to make sure that you remember this experience because I still remember my first instructor from Tulsa Welding School – Jimmy Naro. Now I'm working with Jimmy…so don't be afraid. One day you might be working side by side with me, or you might be my boss one day. To be honest, I hope you are.
Do you have a favorite tool, something sentimental…and/or practical?
I have a pocket hood. It's this little, teeny tiny hood that I absolutely love. I call it my 'Frankenhood' because it's been torn apart, it's been shredded up, and I pretty much just staple it and put heat shrink on it to put it back together. It actually just broke on me again and I've got to get it fixed. I've been using that hood for about seven, eight years now, and I still use it to this very day.
If you were to tell someone "Thank You" for making you who you are today, who would it be & why?
I would thank my grandfather on my mom's side, Richard Mager. He unfortunately passed away years ago, but he instilled this discipline in me – "Learn everything and do everything, that way you'll be worth way more and you'll be ahead of everybody else in the game." That's who I would thank because I wish he could see me today. I am young, but I have tried to be the best that I can be in everything that I do, and it has put me ahead of the game. To the point where I am a young instructor. At the diving school where I became the Assistant Lead Instructor, one of the guys that worked for me had been commercially diving since 1978. I was his boss, and I'd only been diving at the time for seven years. So, I would thank my grandfather for instilling that leadership drive in me to try and be the best.