Alan is a welding instructor at Tulsa Welding School & Technology Center. Alan grew up just three minutes from our campus here in Houston. He joined our faculty in January 2019.
Thanks for your time, Alan. How long have you been welding?
I've been welding professionally for about seven years now. My high school had a welding program. They showed me stick welding, then I came across a shop that did bodywork on cars. That's where I started my welding career. I would go to high school and work part-time welding stick at the body shop.
Why did you decide to go into welding?
I come from a family of tradesmen, but one of the reasons was because we had a lot of family problems back then. My life was going downhill. My best friend at the time had an older brother, Arturo, who was a welder and wanted to help. Arturo was working in refineries; when he found out what I was making at the body shop and the work I was doing, he told me there was a better opportunity. He said that if I quit my job, he would teach me how to weld specialty. He would take me where I needed to be. He even said he would cover my bills for a couple of months while I learned.
Have You Considered a Career in the Skilled Trades?
Fill out the form to recieve a no obligation info packet.
So I quit and learned what I could from Arturo. Then at around 17, I became responsible for my mother, my younger sister and brother.
Talk us through your welding career.
Like most welders, I started at the bottom and worked my way up. I graduated high school early at 16. After the help from Arturo, I left the auto body shop and started welding full-time doing structural fabrication. Then I went into commercial gas lines, welding pipe. After that, I started hitting the big bucks working shutdowns at the refineries. That's where all the money is.
Why did you decide to become an instructor at a fairly young age? 
I had been on the road for two years and I was tired of it. When Arturo helped me, he really changed my life. I liked that I was able to get help from somebody. I believe that you should always give to receive and I like to help people. I can help students learn a skill that will help them to provide a better life for their families and for themselves.
Honestly, welding has changed my life and my family's life, and I hope to be able to do the same for other people. I hope they can learn a lot of things from my experience and my work ethic, even though I'm still a young guy.
Is teaching what you expected it to be?
It has turned out even better than I expected. I've had the chance to grow and build good relationships with my students, help them get jobs they were seeking and improve other peoples' lives. At one point in my life, I actually wanted to be a football coach, and I kind of get that feeling here, so I really enjoy it.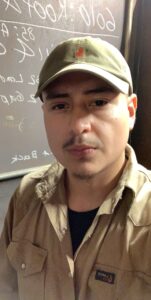 Do you ever get tempted to go back to the big money jobs?
No, I plan on staying here. I plan on getting my CWI [Certified Welding Inspector] certification and my CWE [Certified Welding Educator] certification.
As a kid, what did you want to be when you grew up?
I played football and ran track at school. I had dreams of playing Division 1 football, but our family issues meant I had to leave those dreams and focus on real jobs. Since I had to take care of my mother and two siblings, I had no time for dreams. My motivation was to get them out of the bind that they were in. As the man of the house in a Hispanic household, it was my job to take care of them.
You talk about family—your mom, brother and sister—but do you have family of your own yet?
No, I'm still a single man. I live on my own. My mom and my siblings are in good shape now, so I don't really take care of them anymore. I'm just living my life now.
If you could choose to have dinner with anyone, alive or dead, who would that be?
Bill Gates. He started from the bottom, and despite what everybody said, he became the man he wanted to be in life. He is an inspiration.
Tell me something most people don't know about you.
I'm not scared of taking opportunities. If a door opens, I will go through it and do the best I can. I like to prove to myself and to others that I can carry my own weight.
If you could do life over again, what would you do?
I wouldn't do it any other way. I am the person I am because of what welding has shown me. If I hadn't experienced any of this, I probably wouldn't be in the place I am now in life.
You get an unexpected night off, what would you do?
I'd take my dog out, probably go eat, then go home and work out for about two and a half hours. I also like coding—computers and technology—so I'd spend some time doing that.
What is your favorite tool of the trade?
My favorite tool is my grinder. When you make a mistake with a pencil, you need an eraser. The grinder is the same tool in welding!
What was your favorite part of the welding industry when you worked in the field?
I loved working the refineries, the commercial jobs. I got to meet some really good people and get the experience and knowledge I needed under my belt to get to where I wanted to in life.
If you could tell anyone "thank you" for helping you become who you are today, who would that be?
There are two people. The first is Arturo Aguirre—my friend who helped me really get started in welding at 15/16. Then Luis Delossantos who helped me develop my career. Luis came across me when I was at a point when I wanted to give up. I was working in the commercial structural field, and Luis helped me get into the pipe industry. He opened up the doors to more knowledge and more opportunity. It was the stepping stone I needed to get to where I wanted to be.
Networking is important in welding. When Luis heard that I was done with traveling and was looking for a job, he suggested I come here as I have the qualities and experience they look for in instructors.
What advice do you have for students considering Tulsa Welding School?
If you properly prepare for life, you should never have problems you can't overcome. First you have to "Learn," then you can take the "L" away and "Earn."
This blog has been labeled as archived as it may no longer contain the most up-to-date data. For a list of all current blog posts, please visit our blog homepage at https://www.tws.edu/blog/