David Lamb, 67, was an instructor for the Associate of Occupational Studies in Welding Technology program at the Tulsa campus. He taught the night class and was part of the Tulsa Welding School family for 2 years. David had 44 years' experience in the welding industry and traveled the world.
David was a valued instructor and friend. He will be missed dearly.
Thanks for your time, David. Talk us through your welding career.
I was born and raised in Wichita Falls, Texas, but I consider Houston to be my home town. We spent 44 years with Houston as our base. I have a Bachelor's degree in Welding Technology from Texas State Tech.
After graduation, I went to work for United States Steel Corporation and spent 4 years there as a process metallurgist and production foreman, then I worked six years for a pressure vessel manufacturer in Houston as a welding engineer. I then spent 25 years with KBR, a major engineering construction company, twelve years as a chief welding engineer, eight years as a manager of inspection services and welding engineering and five years as a quality manager. I worked at different sites around the world—Indonesia, Nigeria, Singapore and many others. Then in 2006, I went to work for Chevron Corporation. They were building a $32 billion LNG facility in Western Australia, and I was sent to the Perth office as the project quality manager. I spent 10 years with Chevron in total before I retired in 2016.
Have You Considered a Career in the Skilled Trades?
Fill out the form to recieve a no obligation info packet.
When did you move to Tulsa?
My wife and I moved here when I retired. We were moving back from Australia, and my wife didn't want to go back to Houston because of the three Hs: hurricanes, humidity and hassle! My youngest daughter lived in Tulsa. In fact, both our daughters had gone to college here, so we found a house and settled here.
Welding has taken you around the world. Did you ever count the countries?
I've worked in 43 different countries on six continents. In total, I think we've been to more than 70 different countries, including Antarctica, so we've been to all seven continents! Welding really has taken me all over the world.
As a kid, what did you want to be when you grew up?
I really never had high expectations. I came from a poor household; there weren't a lot of opportunities, and I didn't get a whole lot of encouragement. There was no way I was going to go to a major college. I always thought I'd stay in Wichita Falls, go to college there and become a history teacher!
What made you decide to go into teaching?
I've always had a desire to share my knowledge and experiences with others. When I retired, I needed an outside activity to keep me busy, so I thought I'd try my hand at teaching. It's worked out really well, at least from my perspective.
What do you enjoy most about teaching?
Interfacing with the students, sharing knowledge and experience. It gives me an opportunity to encourage them and help sharpen their natural skills and abilities. Hopefully, that prepares them for a richer, fuller and more meaningful life.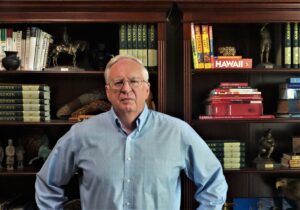 Why did you choose Tulsa Welding School?
The school has an excellent industry reputation, and it's the largest welding school in the nation. I happened to run into Chris Schuler, director of training, at a hockey game in Tulsa! The school had a booth set up at the game, and Chris and I got talking. I asked if they needed an instructor; I sent them my résumé, and four or five months later, they called me and I went through the interview process.
Tell me something that most people don't know about you?
How about three? First, I'm a trained commercial diver and underwater welder. Most people probably don't know that. I'm also a published Christian author. I published a book last year entitled "God Speaks Once, Yea Twice".
Lastly, I'm a former committee member of ASME Section VIII [The American Society of Mechanical Engineers]. Section VIII is the code of construction for pressurized equipment. We were responsible for establishing engineering, fabrication, inspection and testing requirements for all pressurized equipment built around the world.
Tell us a little about your family.
My wife, Renée, and I have been married for 37 years. We have three grown children. My son is 34 and lives in Orlando, FL, and we've got two daughters, 29, and 27, who both live in Tulsa.
If you could have dinner with anyone, alive or dead, who would it be?
Isaiah, the biblical Hebrew prophet, would be high on my list. I like to read Isaiah. He's the ultimate prophet in the Old Testament. I just enjoy his works and have been a student of his for years.
If you got an unexpected afternoon off, what would you do?
I'd go home and spend it with my wife. We're pretty plain and simple, so we might go to a movie, go out for dinner or just relax at home.
What's your favorite tool? What could you not do without?
I really don't know how to answer that—maybe my wits and knowledge! During my career, I always enjoyed the challenge of troubleshooting and supervising repairs. It was common place to get an unexpected phone call advising me to pack my bags and catch a plane to a location halfway around the world where a refinery, chemical plant or other processing facility had experienced an emergency shutdown due to metallurgical issues. It would be up to me to analyze the problem, develop a repair procedure and supervise repairs. I generally had no idea what I was getting into until I arrived, so I often had to rely on my wits and understanding for guidance and direction.
If you weren't a teacher, what would you be?
I'd probably spend a lot of time traveling. Having traveled internationally for over 35 years, my wife and I have really got the travel bug. We try to take a major vacation somewhere each year.
If you were to tell someone "Thank You" for helping you become you, who would it be and why?
There are several, but I'd say Mr. R. B. Vann. He was the head of the welding department at Texas State Tech. He took me under his wing. I was in the Federal Work-Study program, so I got to do some extra work activities with him. He always brought out the best in me, and I worked really hard to please him, to do the right thing and make him proud of me. He had a profound influence on the rest of my life.
What's the best piece of advice you'd give to new students who are just starting out?
Apply yourself and learn something new every day. "Life is for learning, and learning is for life." I'd also say exhibit integrity and ethical behavior in all your work. Work hard, maintain a good attitude and develop good working relationships with others. If you do that, you'll always succeed, and you'll always float to the top, regardless of what your work environment is like.
This blog has been labeled as archived as it may no longer contain the most up-to-date data. For a list of all current blog posts, please visit our blog homepage at https://www.tws.edu/blog/