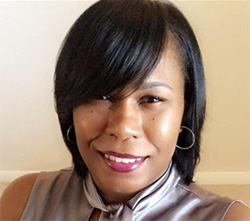 Advisor, advocate – these are just a couple of words Director of Student Services, Houston campus, Prudence Allen uses to describe her job. She advises students on their attendance, academic progress and of additional services they may need.  She advocates for the students to find community resources they need like emergency housing, the food pantry, and emergency ride share to get to class or if they need help connecting to other departments.
Prudence describes her job this way. "I am responsible for assisting students with obstacles they may face that could possibly hinder their ability to graduate." For instance, if a student misses a day of class, Student Services calls the student to see if they are okay and if there is any other assistance needed. A challenging part of Prudence's job is the fact that students don't realize that Student Services is their advocate, and they can reach out about any issue they have – even if it's not the department that can resolve the issue. They will connect them to appropriate one.
Prudence has been in her position for nearly two years, and she would tell people her job isn't just about helping students in crisis. Student Services plans monthly activities to increase student engagement. Making a difference in the lives of the students she works with. She describes the many students who wouldn't have made it through the program if Student Services didn't have as many services to offer as they do. "The best example I can use is being the students advocate assisting them with instructor issues, transportation, housing, and life challenges."
While most people know what other departments like Career Services or Financial Aid do, people may not readily know all what Student Services offers, and the role it plays in the success of students.
Have You Considered a Career in the Skilled Trades?
Fill out the form to recieve a no obligation info packet.
This blog has been labeled as archived as it may no longer contain the most up-to-date data. For a list of all current blog posts, please visit our blog homepage at https://www.tws.edu/blog/