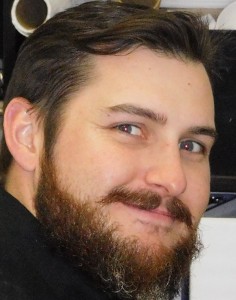 According to Director of Student Services at the Tulsa campus, Montana Nanney, "Student Services serves students…We assist in whatever way we can," but what does that mean, exactly? This could mean anything from information about the best BBQ restaurant to listening to whatever issue the student may be having. Often times, this means connecting students to a community resources like food, housing, and transportation.
Montana has been the Director of Student Services for nearly two years but has been working with students for seven and it can be tough he admits, "Sometimes students deal with difficult and heartbreaking life circumstances." His job sometimes means remind them that education and training can open the door to opportunities.
So, how involved does Student Services get? Montana meets with students in orientation at a "meet and greet." He then visits students during phase 1 to give students more details about his department and encourages them to reach out if they need anything. For the rest of the phases, Montana meets with students on an individual basis to check in with them, but it isn't always good news. A lot of times, he meets students to discussed missed class times (illness, military service, etc.) or serious issues they might be experiencing which may involve more frequent contact whether in person or through phone calls, emails, and texts.
While most students understand what Student Services does, Montana says that many students have different expectations on their interactions with Student Services. "Sometimes students expect us to be 'warm & cuddly' and are disappointed when we tell hard truths (ex: wake up for class!, catch the bus!, practice more!)." However, Montana wants students to know he and his team will always be respectful and welcoming, but they will always speak honestly.
Montana loves working with the students – it's the best part of his job. "I want everyone to be successful – whatever that means to them." He knows the students who have enrolled at TWS – Tulsa want to be welders, and he is glad to be a part of a team that helps students reach that goal.
Have You Considered a Career in the Skilled Trades?
Fill out the form to recieve a no obligation info packet.
While Student Services isn't necessarily the first department that would come to mind when people think, Tulsa Welding School, it is certainly part of group of dedicated staff and faculty who help students every day.
This blog has been labeled as archived as it may no longer contain the most up-to-date data. For a list of all current blog posts, please visit our blog homepage at https://www.tws.edu/blog/