Sotero, originally from the Philippines, is a maintenance technician on the night shift at the Jacksonville campus. Sotero, 61, has been part of the Tulsa Welding School family for almost 12 years.
Tell us a little about your recent career in maintenance.
I started here on July 16, 2006. Before that, I worked in a variety of places as maintenance personnel: apartment complexes, hotels and hospitals. I also worked for an aerospace company.
What do you do? And what skills do you need to be a maintenance technician?
I'm part of the team that helps maintain the campus facility and equipment. We are required to have a variety of skills—mechanical, electrical and plumbing—so if a problem arises, we have the skills to correct it without supervision. HVAC isn't necessarily a required skill for maintenance people, but I also have HVAC experience, so I think that's why they hired me right away!
Have You Considered a Career in the Skilled Trades?
Fill out the form to recieve a no obligation info packet.
What did you do before you got into maintenance?
I used to work on ships as an engine mechanic. I came to the U.S. and became a citizen in 1985 when my wife petitioned for me to legally stay here. That's when my wife said, "No more ships! You're going to have to stay on shore!" So I started in maintenance in 1985 at entry level until I became a supervisor, then chief engineer at a hotel. I worked at an apartment complex just before I came to Tulsa Welding School.
Why did you choose a career on a ship?
I like hands-on, mechanical work. When I was a little boy, my dad showed me how to fix a lot of things. My ambition was to be a mechanical engineer, but we grew up on a farm, and there were many of us in the family. My parents tried to send all of us to school, but I could see the hardship that caused. My dad asked if I wanted to be an engineer, but I knew that it would take four years. Since we had so many issues financially, I decided to take a short course. That's why I took marine engineering. I knew I could go abroad and make more money. After two years at sea, I had to go back and take a board exam to become a port marine engineer. I traveled all over the world as a merchant marine. I spent almost seven years aboard commercial ships as an engine mechanic.
Did you enjoy that life?
Oh, yes, that's really my profession! I only left that job because my wife said no more ships! It was the job or the wife. I picked the wife! We've been married 32 years and have a son.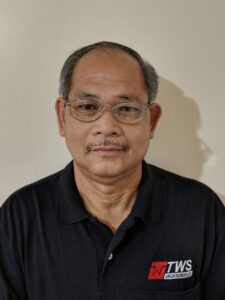 Do you interact much with the students on campus?
The school has three sessions: morning, afternoon and evening. I work from 3 p.m. to 11.30 p.m., so I have interaction with students in the afternoon and evening sessions as far as machinery and repairs is concerned. If a piece of equipment breaks down, I'm one of the guys to fix it. We also have a small shop where students can buy parts. When I speak with them there, I try to offer encouragement and advice.
What do you sell in the shop?
We have a mini-store in the lab where we sell some parts and equipment. Of course, every student has a full supply of equipment when they start, but if they are careless and break or damage something, then sometimes they will have to buy a replacement. For example, if they are careless when they are grinding and cut or damage the cord, we replace it for free the first time. But they have to buy it the next time.
I try to help them out if I can. If there's a used piece of equipment or part that will work that I can give away, I just let them have it. I know that they don't all have a lot of money. They are so appreciative when you can help them out like that.
Have you ever been tempted to enroll in a welding program yourself?
When I took my marine engineering course back in the Philippines, it included some welding, but it's not really my desire to be a welder. I like knowing a little about it, but I don't want to be a welder. I prefer to fix things, mechanical or electrical, rather than build things. Of course, I am required to do a little welding here, because when I fix the machines, I have to test them to make sure I've solved the problem.
Do the welding instructors watch you when you do that?
Actually, sometimes I need their support because I need to know the amperage settings if I am welding stick, for example. I'm not an expert, so I check that with them. I make notes of the settings they suggest. That way, if I have the same problem again later, I don't need to bother them. They are always busy teaching students and don't have time to leave their booth.
What's your favorite student story from your time at the Tulsa campus?
A long time ago, we used to have students work with me part-time at night. One of the students who worked with me really loved welding. His goal when he finished school was to work at a military base in Saudi Arabia for three years. I think he said he wouldn't have to pay tax or something? I don't know about that, but he wanted to do that for a few years, then come back and start his own business. After he graduated, he went out there and did it. He came back to see me after about a year. He really liked it out in Saudi Arabia. He was going to do two more years, then come back and open his business. He was so glad he'd studied welding and got his skills.
What advice do you have for students to help them be successful?
I will base the answer on my experience here, watching students come and go. I'd say that not all students have the same desire or passion for what they are doing. If you really want to improve your skills, you have to have that passion and focus on just one thing. You cannot jump in and out, or keep changing course. That shows you don't have the desire. The way I look at it, they need to have that love for welding or HVAC, otherwise they take the program lightly, they take it easy and don't leave with the skills they need. Focus on one thing: your program. Do that, and you will flourish and be successful!
This blog has been labeled as archived as it may no longer contain the most up-to-date data. For a list of all current blog posts, please visit our blog homepage at https://www.tws.edu/blog/