Rita is a financial aid advisor at the Tulsa Welding School, Jacksonville campus. She is part of a team of four that makes up the financial aid team at our Florida campus. Rita joined Tulsa Welding School just three months ago after spending the last 15 years working in financial aid at a law school.
Thanks for your time, Rita. Please tell us a little about your experience.
I've lived in Jacksonville most of my life. I've actually been in financial aid for more than 20 years. I've worked at various schools in my career, most recently at the law school.
What made you choose a career in financial aid?
I attended a career school and earned a diploma in travel and tourism in the mid 90s. Since I graduated with honors and was bilingual, the school's director asked me if I'd be interested in working for them as a financial aid counselor. That's how I started my career in the industry. While I was working, I went to college to get a Master's degree in Business Administration, but financial aid kept calling my name. I've never been able to get out of it!
Have You Considered a Career in the Skilled Trades?
Fill out the form to recieve a no obligation info packet.
Have you tried to get out? After more than 20 years, it doesn't sound like it.
No, I have a huge passion for counseling students in financial aid! Almost every day I meet students who didn't think they'd qualify for the aid they need to enable them to go back to school. I see the relief in them when we go through the process and they discover their financial aid* package covers their tuition. That's a sense of satisfaction right there.
What is it that you enjoy the most? 
I enjoy working with students, putting them at ease because it's a complicated area. You can't learn it in one or two sittings. It's a specialized skill to help educate people who know hardly anything about financial aid. It's very hard sometime. We have to help some of them overcome their fear. I want them to have access to the aid they need to be able to better themselves. I always say you can't put a price on a good education. A good education can better you and your family's life. And hopefully, because of your education, you're going to have the income to pay these loans back. It really is an investment.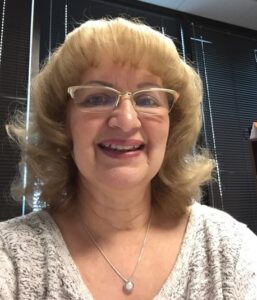 When will a student first meet you or your team? 
Usually on their first visit to the campus after they meet with admissions. The admissions rep will take them on a tour and they will stop by our department. Whoever is available will give the student an overview of what we have available in financial aid, how financial aid works and what the process is.
So that's general information, not information tailored to the specific student?  
That's correct, unless the student is very interested and wants to start the process there and then.
How simple is the financial aid process?
We have brochures that we present to the student, and based on a few questions we can determine if the student will be "dependent" or "independent." That's the starting point. Then we have them fill out and electronically sign their FAFSA [Free Application for Federal Student Aid, the form used for federal and state grants and loans] with their FSAID [Federal Student Aid ID].
We assist them with all the paperwork that needs to be completed. They have to complete the forms themselves, but we are there with them to go through it question by question. We want them to know what they are filling out and explain everything step by step. Right then and there we can give students their financial aid results and what they're eligible for.
Could you explain the difference between a dependent and independent student?
A dependent student is a student who is under 24 years of age, is not married, does not have children and is not a veteran. An independent student is someone who is 24 or older, or is married, or has children or is a veteran. Determining this status will tell us whether your application needs to be co-signed by a parent or guardian. [Learn more here]
What's the most common question you get asked by students?
The question I get asked most is, "Does my Pell Grant cover my full tuition and fees?" The answer is no. You have to apply for student loans to cover the balance because a Pell Grant does not cover everything.
What is a Pell Grant?
A Pell Grant is money the federal government provides for students who need it to pay for college. Unlike loans, a federal Pell Grant doesn't have to be repaid. Eligible students receive a specified amount each year, and that amount is determined once you've completed the FAFSA.
What's the second most asked question?
The second most asked question comes from dependent students: "How can I do this on my own without my parents being involved?"
That one is very difficult to answer because there are steps in the process that we have to go through. If it involves a dependent student, then we can't deviate from that process, unless the student has very extenuating circumstances. Then we look at those circumstances to determine whether it's valid for them to get what is called a dependency override.
What involvement do students have with you once they're in school?
If we complete the financial aid process before they start school, unless they have questions or concerns, then we are done with the student until their final phase of the program. That's when we do an exit interview where we explain the next steps for after they graduate, what they need to do about their loans in terms of starting to pay them back and their obligations moving forward.
Do you have any involvement with graduates?
Typically no, but if a graduate needs any assistance with their loans, they are more than welcome to call or come in. Depending on their situation, we either try to help them or steer them in the right direction.
How can students help you to help them?
Be open and honest, and express your true situation so we know how best to help you.
What advice do you have for students who may be considering attending TWS?
Don't be put off coming back to school because of a fear of the financial aid process. It's a normal part of being a student for most people. At Tulsa Welding School, we educate you on your rights and responsibilities as a borrower, and we're here to assist you in every area. It's nothing to be afraid of.
This blog has been labeled as archived as it may no longer contain the most up-to-date data. For a list of all current blog posts, please visit our blog homepage at https://www.tws.edu/blog/