Elsie is an admissions representative at the Tulsa Welding School & Technology Center in Houston, TX. Elsie has been with the team since the Houston campus first opened in November 2014.
Thanks for your time, Elsie. Please share a little about your background.
I'm 26 years old from Madisonville, Texas, which is about 100 miles north of Houston on the I-45. Before coming to Tulsa Welding School, I was director of sales for an insurance company. It was a great learning experience, but it was time for change. There was lots of travel, and I had no time to work on my degree.
When someone recommended me to Tulsa Welding School and I got a call about the job here, I thought why not? The idea of something more stable with better benefits was appealing to me. I started on the front desk, but within a month, I got promoted to admissions representative.
Did you have any prior experience in higher education?
Have You Considered a Career in the Skilled Trades?
Fill out the form to recieve a no obligation info packet.
Yes, I had worked in the career services department at another school before I moved into insurance. I did that for about 18 months.
What does an admissions representative do? 
I walk prospective students through the enrollment process. If they call or inquire online, the first thing I do is schedule a one-on-one career planning session with them here at the campus, where I can learn more about their situation and their goals. My favorite part of their visit is taking them through the lab and introducing them to instructors, because that's where they will spend 80% of their time.
How long does that initial visit take? 
It can be as little as an hour. If they decide to start the enrollment process the same day, then it can be a couple of hours. We fill out some paperwork and I take them to see financial aid to start the process.
So just a couple of hours could change their life's direction?
Yes, a couple of hours can make a huge difference. One of the things I like about this job is that I'm serving students. I help them get into a high-demand industry like welding. That's very fulfilling. I did welding in high school and I have welders in my family, so I know the opportunities in this field are huge!
You guys aren't on commission, so there's no hard sell, right?
No, we are an admissions team of 10, and we are not paid commission. Our job is to help students make the right decision for themselves based on their situation and goals. We don't want students who just sign up; we want students who will graduate.
What are the three most commonly asked questions of you?
"How much is the program?"
"Can you assist me with career placement?"
"I have no experience. Is that going to be a problem?"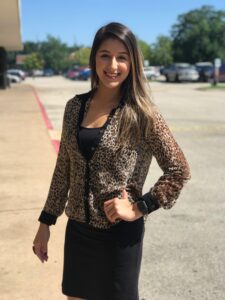 How do you answer?
I go over standard pricing for everything, but the actual cost of the program depends on their personal situation with regard to any eligible grants or scholarships that they might qualify for. I tell them that the financial aid team can help them with that. Job placement is something our career services team works very hard on. We have employers come to campus to test students. Having zero welding experience is not a problem. Many of our students come in with no experience but leave with great jobs. 
What access do students have to you once they've enrolled?
I'm very involved with the students that I help get into school. I try to maintain a relationship with them throughout their time here. We have student services on campus who provide "official" student counseling services, but I like to be an unofficial mentor. I'm here to help and support them however I can. If they're having a tough time, I can remind them why they enrolled because I was there with them when they made the decision. I see them in the hallways, or they come find me. I have an open door policy, so they can find me anytime.
Do you attend graduation ceremonies?
Yes, of course! It's one of the most rewarding parts of the job. I get to see them from start to finish. Guess who gets to read out the long list of graduate names at the ceremony? It's very rewarding when a graduate thanks you for helping them get started on this path.
Do you have much contact with graduates?
Yes, I encourage graduates to stay in touch. They can find me on social media after they graduate. I tell them to let me know where they're working and what they're up to. It's great to follow their success!
Do you have a favorite story from your time at the school?
I worked with one guy who had kind of a different background. He'd been incarcerated for seven years. I'd been communicating with his sister for months. When he came to the campus after he got out, he was determined to turn his life round. He'd never picked up a rod, but he knew he wanted to be a welder.
When I told him about our partnership here in Houston with Lincoln Electric [they offer a welding machine as a prize to the top welder in each class], he told me there and then that he would win it. To manage his expectations a little, I told him that there would be guys in class who had done welding in high school and others with more experience. I had my doubts, but he told me he was sure of it—and he did win. He had perfect attendance with the highest GPA and finished "Top One" in his class.
After he won the welding machine, I asked him how he was so sure he'd beat the guys with more experience. He said his answer was simple. They may have had more experience, but he had more determination to succeed. This guy now owns his own business and is very successful. I learned from that experience to not be so doubtful!
How can students help you to help them?
Tell me what I can do for you. Be honest, be an open book. If you are open and honest with me from the start, then I can find the right resources to help you succeed.
What advice do you have for students who may be considering attending TWS?
If you're thinking about coming to Tulsa Welding School, do it. Don't wait. It's an investment, but it's one that is well worth it because welders are in high demand. If you come to Tulsa Welding School and put the work and the time in, then you have a great opportunity to have a long, successful career.
This blog has been labeled as archived as it may no longer contain the most up-to-date data. For a list of all current blog posts, please visit our blog homepage at https://www.tws.edu/blog/