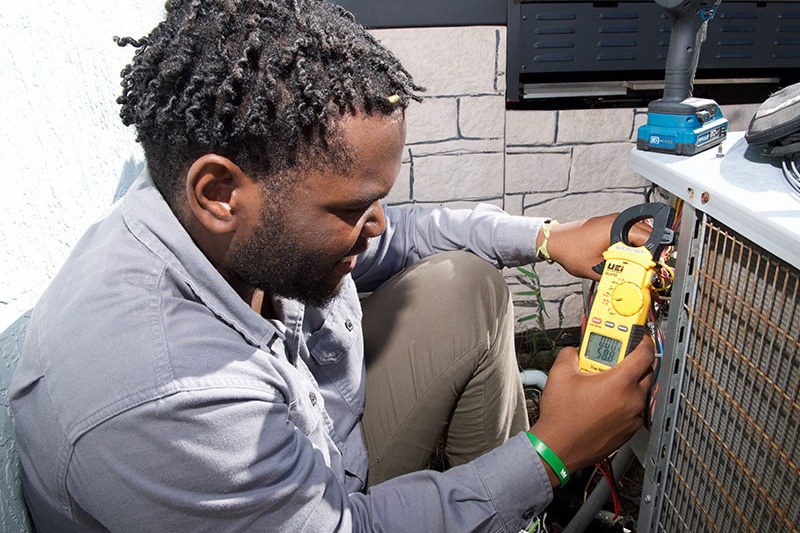 Did you know that you can become a fully trained refrigeration and HVAC technician in as little as 7 months? It's true. Tulsa Welding School can prepare you for an apprenticeship in refrigeration services. We offer both classroom lectures and plenty of hands-on training in real HVAC scenarios to help you start a new career as a refrigeration service technician.
How Do You Become a Refrigeration Service Technician?
It is important to note that you must be licensed to become an HVAC technician working independently in the State of Texas. A great way to satisfy the requirements for licensing is to complete an HVAC/R training program and work as a supervised apprentice for 3 to 4 years under the tutelage of a licensed HVAC/R technician. After graduating and completing the required apprenticeship, you are ready to apply for your Contractors license from the Texas Department of Licensing and Regulation.
What Do You Learn During a Refrigeration Service Technician Program?
At Tulsa Welding School, we offer a complete curriculum focused on heating, air conditioning, ventilation, and refrigeration. Classes include:
Fundamentals of Electricity – learn the basics of electricity including schematic wiring, test meter usage and safety processes for electrical systems.
Fundamentals of Solar – learn the concepts and processes of photovoltaic systems, including design and installation.
Have You Considered a Career in the Skilled Trades?
Fill out the form to recieve a no obligation info packet.
Fundamentals of Refrigeration – learn about the mechanical and physical properties of the refrigeration cycle.
Comfort Systems: Residential and Commercial – build schematics and wire air conditioning and heating systems.
Refrigeration Systems & Practices – learn how to maintain, monitor, and manage both residential and commercial refrigerators and freezers
Advanced Troubleshooting Techniques – work with an Energy STAR trainer to hone electrical and troubleshooting skills. This class prepares students for safe refrigerant handling and the EPA Section 608 certification.
What is the Difference Between a Refrigeration and HVAC Technician?
Under the program offered at Tulsa Welding School, you will learn about both refrigeration services and HVAC systems. While you learn about both disciplines at TWS, you have the option to specialize in refrigeration services.
Refrigeration Services Technician
These trade professionals work exclusively on refrigeration units. They will install, maintain, and repair both residential and commercial refrigerators and freezers. You can find a wide variety of refrigeration and freezer units in different commercial settings. Whether it is a grocery store, cold storage in a restaurant, cold foods and perishable items housed at a distribution warehouse or in the back of a truck, these different refrigeration systems are maintained by refrigeration services technicians. The refrigeration services technician will focus more on preventative maintenance of refrigeration equipment, improving refrigeration efficiency, or replacement of broken parts.
HVAC Technicians
Although HVAC technicians that complete an HVAC/R program may work on refrigerators and freezer systems, their focus is installing, maintaining, and repairing HVAC systems. These HVAC systems include heating, ventilation and air conditioning systems and equipment.  The HVAC technician may focus on repairing ventilation systems, installing HVAC units, and replacing worn parts on heating and air conditioning units.
Want to Learn More?
Because HVAC is a hands-on job, technical training is typically required for anyone to enter this field. Many people decide to invest in a trade program to learn the trade skills they need to be safe and effective as a professional. To learn more about our Commercial Refrigeration Training program offered at our Dallas, TX campuses contact us at Tulsa Welding School, call 1-855-981-7313.