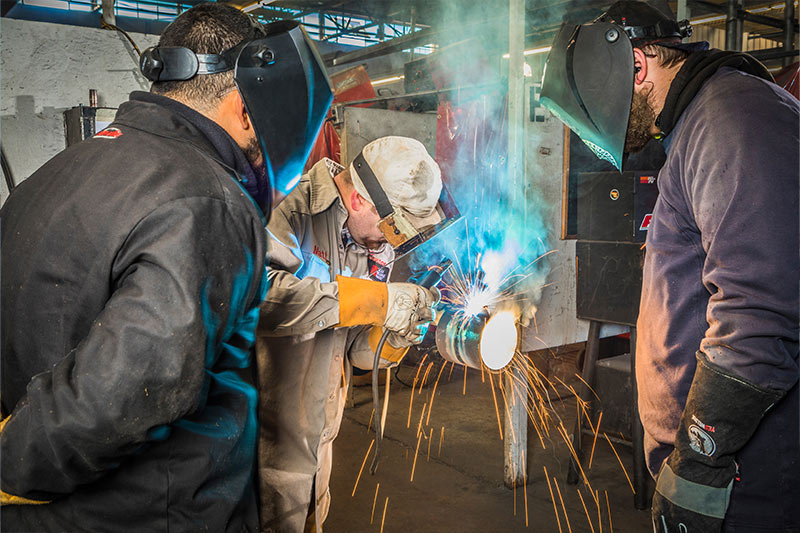 Are you interested in becoming a welding specialist? There are a few steps that you must take to become certified as a welding professional. But first, are you asking yourself, "How long does it take to get a welding certificate?"
How Long Does It Take to Get a Welding Certificate?
A certificate from the American Welding Society can be completed after graduation from the Tulsa Welding School training program. The Welding Diploma Program takes as little as seven months to complete. Those of you who want to become a fully licensed welder must be an apprentice for 3 to 4 years before you can apply for a journeyman license at the Oklahoma Department of Labor.
Why Get a Welding Certificate?
There are many important reasons to get a welding certificate. Whether you are looking for advancement or job stability, having a welding certificate can give you a competitive advantage in the workforce.
Competitive Advantage in the Workforce
Even with the increase in demand for welders, those with a certification and diploma are more likely to move to the top of the resume stack. There are a lot of welding candidates who are looking to enter this lucrative and rewarding role. A certification from AWS and a diploma from TWS is a great way to catch the eye of a welding employer.
Have You Considered a Career in the Skilled Trades?
Fill out the form to recieve a no obligation info packet.
Job Advancement
Do you aspire to move up to master welder? To prepare for the master welder license, you must gain vital experience and expertise. A great way to do that is to complete the welding program at Tulsa Welding School and get an advanced certification from AWS.
Leadership Roles
A licensed welding professional must manage apprentice welders for 3 to 4 years before they can apply for their license. Certification can put you in a position of leadership, managing apprentice welders until they can strike out on their own as fully licensed welders.
Job Stability
When the decision needs to be made to cut staff, employers will look at their most senior staff, whether they have a diploma or are certified. Employers understand that welders with certification are far less risky than those without a certificate. Employers want to keep everyone safe and minimize welding errors, so they look for validation that a welder is fully trained and prepared for a welding position.
Want to Learn More?
Are you interested in learning how to obtain a welding certificate? The Professional Welder program at Tulsa Welding School starts by helping you know what it's like to be a welder in interactive workshop courses and welding booths. In as little as seven months, you'll be trained in structural, flux core, and pipe welding. You'll also be prepared to excel in job interviews and welding tests for various certifications.
Read about the types of welding careers you can pursue with your skills. Ready to start a Professional Welding program? Contact us today.