What do HVAC technicians and electricians have in common?
They can both benefit from good customer service skills.1
While you may learn different technical skills in an electrician training program versus HVAC classes, you'll likely enter customers' homes to make service calls in either skilled trade. And that can make soft skills like communication and punctuality important.1,2
Find 4 tips for smoother home service calls in this article.
4 Tips for Working in Customers' Homes
When you make a residential service call, you're entering the customer's personal space. How can you make your customer as comfortable as possible while also tackling the HVAC or electrical issue at hand?1
Have You Considered a Career in the Skilled Trades?
Fill out the form to recieve a no obligation info packet.
Consider these 4 tips.
1. Communicate Effectively
Your customer has a technical problem. You potentially hold the solution. All that stands between making the repair is communication—specifically, your ability to do it effectively.
What does that mean, really? Listening and patience. These are two key steps to hearing and understanding your customer's problem.1
And remember: your customers likely don't have technical training in HVAC or electrical wiring. That's why they called you. They'll probably explain the issue the best they can in their own language, but it's your job to decode what they're saying without irritating or insulting them.1
Ask questions like these:
What's the problem?
What do they think is wrong?
How long has the issue been going on?
Have they already attempted to fix it?3
Make sure to answer all of the customer's questions, as well. You want the customer to feel heard so he or she is more likely to trust what you're saying.3
2. Be Punctual and Professional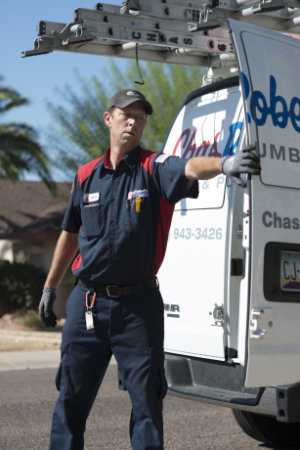 Show up on time to service calls. Dress professionally:
Your clean company shirt tucked into your work pants.
Your hair well-groomed.
Your work truck organized and stocked with all the tools you'll need for the job.
You want to make a good first impression.2,3
With this in mind, take steps to set yourself up for success:
Keep a spare clean uniform or work shirt in your truck.
Bring boot covers to ensure you don't track mud into the customer's home.3
Be conscious of the time and learn to multitask.1 Consider time management hacks like accounting for travel time from one service call to another in your schedule, as well as for your lunch and breaks. Get enough sleep so you start the day early and ready to be on time to your first appointment.4
Lastly, be sure to clean up and put everything back in its place before leaving a worksite.3 In the world of technician service calls, "last impressions" can be just as important as first ones.
3. Pay Attention to Details and Accuracy
As an electrician or HVAC technician, you may be providing service to people and machines. Doing it well can mean keeping track of all the details of job specifications, customer info and pricing.3
Start by remembering the customer's name and any information about previous work performed at the house. If your company keeps profiles of its customers and service histories, these can be places to check before arriving at the worksite.3
During the service call, try to take detailed notes. Log or write down the equipment type, work performed and anything else that could prove relevant to future service calls.1
Prioritizing accuracy can pay off when it's time to turn in your invoice. Cost-conscious customers may expect your initial price estimate to line up with your final invoice. Itemizing the work performed can help if it doesn't, especially if the final cost ends up being higher.2
4. Have a Plan for Dealing with Difficult Customers
Dealing with difficult people can be, well, difficult. Especially if you're unprepared.5
Have a plan for how to respond—not react—when a challenging situation with a customer arises.5
You may want to incorporate the following steps into it:5
Step 1: Don't Argue5
When a customer levels an accusation at you, your first reaction may be to get defensive. It's natural, but it's counterproductive.3
Instead, take a deep breath. Resist the urge to cut the customer off during the conversation. Listen without interrupting. When it's your turn to speak, take a neutral tone. Express sympathy for the customer's issue rather than criticism. Apologize for how he or she is feeling about the problem and reassure the customer you're there to fix it.3
Step 2: Listen for Implied Grievances
The customer may be complaining about the price but really be mad about feeling ignored or disrespected. Try to listen between the lines to better understand what the real issue is.5
Step 3: Ask the Customer for the Solution
Taking a "you're-wrong-I'm-right" stance could only escalate the situation. Instead, ask your customer what you can do to make things right. Hopefully, a reasonable solution will follow.5
Step 4: Show Flexibility to Fix the Problem
Telling a customer their solution is "against company policy" probably won't get you very far toward a resolution. If possible, see how your company can best meet the customer's request, and be sure to let them know you're making an exception in this case.5
Safety for Service Technicians
The above tips can help make for smoother service calls and more satisfied customers.
Safety is another important consideration for service calls, especially during the pandemic. Both HVAC technicians and electricians may have to adapt to new safety guidelines this year so as to keep themselves and their customers safe and healthy at worksites.6
1https://www.contractingbusiness.com/contracting-business-success/article/20871147/hvac-technicians-need-human-skills-to-succeed
2https://www.smartservice.com/smart-service-blog/hvac-company-customer-service/
3https://www.servicetitan.com/blog/new-hvac-technician-tips
4https://www.lifehack.org/290992/20-time-management-hacks-wish-known-before-20s
5https://www.ewweb.com/business-management/sales/article/20921594/dealing-with-difficult-electrical-customers-in-the-electrical-market
6https://www.osha.gov/SLTC/covid-19/in-home-repair.html
This blog has been labeled as archived as it may no longer contain the most up-to-date data. For a list of all current blog posts, please visit our blog homepage at https://www.tws.edu/blog/