Major construction projects usually mean lots of job opportunities for welders—jobs that involve cutting, joining and shaping metal parts needed for buildings and other structures.
And it just so happens that California has many construction projects under way, which could be appealing for entry-level welders. In fact, only three other states in the country hired more construction workers than California.[1]
If you want to look for a job in the Golden State after graduating from a welding training program, read on to learn about the state of construction in California in 2018.
Labor Shortage in California
Construction companies in California are concerned about the growing labor shortage in the state.
In a recent survey published by the Associated General Contractors of America (AGC), 41 percent of respondents stated that a lack of workers and worker quality is their biggest worry.
Have You Considered a Career in the Skilled Trades?
Fill out the form to recieve a no obligation info packet.
Companies are eager to hire qualified workers. 80 percent said that they would be hiring more employees, but 42 percent also indicated that they have a hard time filling salaried and skilled positions.
More than three quarters of respondents also stated that they expect this dearth in labor supply to continue.[2] While the skilled trades shortage is a nationwide trend, it also means that qualified workers like welders are in high demand in places like California.
Digital Technology in Construction
Like virtually all industries these days, the construction sector is increasingly incorporating digital technology.
According to the AGC survey, 45 percent of construction companies seek to expand their spending on information technology. Aside from email and file sharing, 47 percent of respondents said they use project collaboration software, and 43 percent stated that they use building information modeling (BIM) applications.
Mobile technology is also essential for efficiently managing operations like these:
Completing and submitting daily reports
Sharing drawings, photos or documents
Retrieving customer and job information
Accessing job cost and project reports from the field[3]
Welders who are familiar with digital technology have especially good job prospects, and not just in California.[4]
Public Sector Construction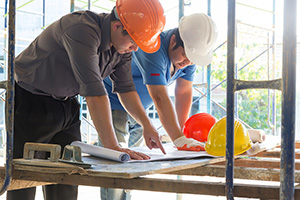 Many big public-sector construction projects are planned in California.
In November 2016, California voters approved Proposition 51, a $9-billion bond measure to repair and modernize K-12 schools, as well as community colleges. California's governor Jerry Brown allocated $594 million of his proposed 2017-18 budget to Prop 51, providing the funding necessary to makeover the state's schools.[5]
In April 2018, the Metropolitan Water District of Southern California voted to renovate the water delivery systems from the Sacramento-San Joaquin delta to the Southland. This will result in the $11-billion construction of two enormous tunnels.[6]
The iconic Sixth Street Bridge in Los Angeles was demolished in 2016 due to deteriorating concrete and is now being replaced with a $36-million design.[7]
Transportation agencies in the Bay Area are undertaking massive construction projects, including the high-speed rail and a new East Bay rail hub, which together cost well over $20 billion.[8]
Residential Building
California is facing a huge housing crisis, so communities across the state are investing in residential developments.
This is especially true for large metropolitan areas like Los Angeles and San Francisco. The Los Angeles City Council plans to advance five affordable housing projects that together would add up to a total cost of $170.5 million.[9] In addition, the Wyvernwood Garden Apartments in Boyle Heights, part of East Los Angeles, are being redeveloped into a 3,500,000 square feet mixed-use complex.[10]
In Northern California, the Mission Bay redevelopment will include thousands of new housing units, office, parks and retail businesses. In downtown San Francisco, a $5-million development will cover four acres and include housing units offered at below-market rates.[11]
The construction sector in California is booming, but skilled workers such as welders are desperately needed to meet the industry's demands.
If you want a job that has a lot of demand for qualified pros, California's construction industry might be the goal you want to work for.
If you know your way around software and applications that help streamline operations in and off the field, you have particularly good chances in California's construction industry.
The construction industry all over the country is facing new challenges and opportunities. Learn a bit more: The State of Construction and Welding in Florida.
[1] https://www.ocregister.com/2018/04/13/southern-california-construction-jobs-only-3-states-hired-more-workers/
[2] http://jlkrosenberger.com/key-trends-in-the-california-construction-industry/
[3] http://jlkrosenberger.com/key-trends-in-the-california-construction-industry/
[4] https://www.bls.gov/ooh/production/welders-cutters-solderers-and-brazers.htm#tab-6
[5] http://www.ppic.org/publication/bonds-for-k-12-school-facilities-in-california/
[6] http://www.latimes.com/local/lanow/la-me-delta-tunnel-mwd-20180410-story.html
[7] http://abc7.com/news/new-sixth-street-bridge-to-cost-$36-million-more/1671766/
[8] https://www.spur.org/news/2017-07-10/how-5-megaprojects-could-add-one-easy-train-ride
[9] https://urbanize.la/post/los-angeles-looks-advance-five-affordable-housing-projects
[10] https://therealdeal.com/la/2016/05/09/here-are-10-of-the-biggest-proposed-developments-in-la-county/
[11] http://www.businessinsider.com/san-francisco-megaprojects-2017-6#the-5m-development-1-billion-1
This blog has been labeled as archived as it may no longer contain the most up-to-date data. For a list of all current blog posts, please visit our blog homepage at https://www.tws.edu/blog/