School can be demanding, and it is easy to get overwhelmed. As a student, developing short and long-term goals and mapping out a plan to meet them is essential for succeeding in a vocational school program.
Tips for a successful student goal strategy
Everyone generally has a long term goal – finishing school, getting a job. But setting short term goals for yourself can help you accomplish the long term one. Consider incorporating some of the following simple tips to help you meet your objectives.
Define your ultimate goal. What do you ultimately want? What is the purpose of setting goals for you? Passing an exam? Graduating on time? All steps should lead to you ultimate goal. 1
Use positive language. State your goals positively to remain motivated. In other words, tell yourself what you will accomplish like, spend time in welding booth outside of class" rather than what you will not do like, I won't play video games until I spend more time in the welding booth outside of class. 2
Don't set unreasonable high standards. Overwhelming yourself with goals too high for you to achieve will undermine your confidence and motivation. Setting more manageable goals – challenging but achievable will be more beneficial in the long term.
Specify each goal. State specifically what goals you want to achieve and a timeline for doing it like improving my ability to weld in tight spaces before the certification test rather than just get better at welding.
Write it out. Memories can be unreliable. Write your goals down to help you stay committed and focused. Keep your list close so you can refer to it so you can remember all the goals you want to accomplish.
Get a support system. Having individuals in place that can help keep you accountable is important. This will ensure you won't quit, but will continue to work toward your outlined goals and objectives. 3
Set goals beyond school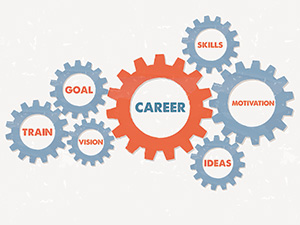 The employability landscape will likely evolve, so keeping specific goals in mind helps drive achievement and promotes the need to excel in a vocational school program and professional life.
Vocational school is designed to teach students the skills they need to start a new career. Getting into the habit of setting goals while in school will help you in your future profession. The drive to achieve in school will translate as you gain experience and learn new skills so you can take that next step in your career. It is important to move beyond thinking only about training and begin considering goals that may affect future employment.
Have You Considered a Career in the Skilled Trades?
Fill out the form to recieve a no obligation info packet.
Having the right perspective when establishing goals and objectives will help you complete your training successfully. Plus, keeping a focused mindset when establishing student goals will serve you far beyond the classroom.
1 – http://www.time-management-success.com/student-goal-setting.html
2 – http://blog.cengage.com/top_blog/tips-for-students-how-to-reach-your-academic-goals-in-college/
3 – http://blog.cengage.com/top_blog/tips-for-students-how-to-reach-your-academic-goals-in-college/
This blog has been labeled as archived as it may no longer contain the most up-to-date data. For a list of all current blog posts, please visit our blog homepage at https://www.tws.edu/blog/