Victoria, age 22, was born in Indiana but has spent most of her life in Florida. She graduated from the Professional Welder program at Tulsa Welding School, Jacksonville campus, in September 2018.
Thanks for your time, Victoria. Why did you decide to go to welding school?
I enrolled because my fiancé went to TWS to do the HVAC program. I went on a tour with him and I asked for information about welding while I was there. I've always been interested in welding, but I'd been told that welding wasn't good for women. Being told that sparked the rebellious side of me. It made me want to do it more.
Where did the interest in welding come from?
It has always been interesting to me, although I had never tried it. As a little girl, I remember there was a welder who lived nearby who made art and sold it at the local markets. I thought that was cool.
Have You Considered a Career in the Skilled Trades?
Fill out the form to recieve a no obligation info packet.
What did you do before coming to Tulsa Welding School?
I had done two years of college and was set up for a bachelor's degree, but I just couldn't do calculus. I graduated high school and college with honors. I have 72 credits toward a Biology degree that I can't use because of calculus. So my life kind of took an unexpected turn from biology to welding.
What did you enjoy most at Tulsa Welding School?
I really liked the instructors. They are all so helpful. They've been in the field for 10+ years, so they know what it takes, and they can see talent. If you are prepared to work hard, they will stick by you, help you and even hold your hand. They literally held my hand a couple of times because I was not getting it at all. I'm left-handed, and pretty much everyone is right-handed, so how they did things sometimes really didn't make sense to me. Several times they literally held my hand and showed me how to do something.
Is being left-handed an advantage or disadvantage?
TWS Student Store
The TWS student store is now open! Visit GoShopTWS.com go grab all the latest TWS swag.
Shop Now
I don't think it matters as long as you know what you're doing. If you can manipulate your body and materials into a position you're comfortable with in order to weld cleanly, that's all that matters. It's funny: in Phase 11 there were three females out of eight in the class, and we were all left-handed!
That's kind of weird! What is Phase 11?
Phase 11 is an extra class that the school holds when a company is coming in to test. They train you for specific weld tests for a company that is looking for welding graduates. Phase 11 is open to anyone in Phase 9 or 10, but a lot of people who go through it are graduates looking for the opportunity to test for the company. It was a great opportunity, but it was hard, as I did Phase 11 while doing Phase 10.
Where are you working now?
I'm working for Progress Rail in Muncie, Indiana. They are a Caterpillar company. It's the company I tested for in Phase 11. I started on October 22 after background and drug tests and a physical. I work 40 hours a week, plus overtime.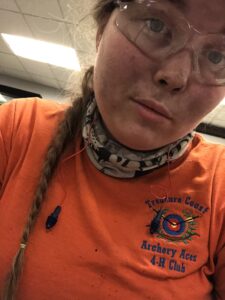 Was there additional on-the-job training?
There was training to get certified through them. They want to know you can do the different positions and all the different welds that are needed on the floor. Depending on how good you do on those certifications determines where you get placed. I passed all of them, so I can work anywhere. My best welds were overhead and stick, so they put me on Repower. We take old trains and break them down to the bare bones, then build them back up. We're giving trains new life. I'm often under a locomotive welding up, doing Stick or MIG.
Did you think you'd be earning a living laying under a locomotive 12 months ago?
No, definitely not. I honestly wasn't even thinking about having a trade job at Christmas last year. 
How is the pay compared to jobs you had before?
I'm earning two or three times more than I was, and this is my starting pay with very little experience. Because we are so far behind, they've hired contractors, and I've been working a lot with them. They have taken me under their wing and taught me so much already.
Have you had any issues as a female welder?
I've been accepted, mostly because I am very sarcastic with dark humor. I try to be one of the guys—a "give me a beer and I'll drink it with you" kind of attitude. I am in a male-dominated field, so I can't cry my way out of something just because I'm female. I know they've noticed that I'm picking up stuff that most women can't pick up. I think I've earned respect for that as well as my eagerness to work and learn.
So you would encourage other women to try welding?
Yes, but it's no place for a girly girl. Your nails are going to get dirty and chipped. My mentality is if you aren't happy going to work in the morning, then you're in the wrong profession.
Is your mom proud of you?
For the first four or five months she did not approve at all. She wanted nothing to do with me. I was on the Dean's List for six months with perfect attendance. That showed her that I was interested in this, that I wanted to do this with my life. It isn't just a filler for something. She's proud now. She likes that I've moved back to Indiana because I've not lived there since I was two. All my family is here, so she is super happy to have me with the family, even though she is still in Jacksonville.
What's your career plan from here Victoria?
I signed a 2½-year contract with Progress Rail, but I may stay after. It depends if I get opportunities to grow. I hope to be a team lead or supervisor down the road. After that, I really don't know at this point.
What do you enjoy most about your new trade?
I really like the freedom. I know you have to follow blueprints and instructions, and there are limitations on what you can and can't do, but for the most part, there is a lot of freedom There are also lots of opportunities in this career. Another thing I really like is you can be yourself. With welding, you can be who you are and can express your individuality.
What advice would you give to students considering TWS?
Take notes, ask lots of questions and be there. Fun fact: during my graduation ceremony, only two people got 100% attendance awards. I was one of them, and I was the only one of the two who showed up to graduation, which was hilarious.
If you're a TWS graduate and would like to share your success and be an inspiration to others, please email [email protected] to be considered for a Graduate Connection interview. Please include details such as your graduation date (month/year), program, and campus name (Tulsa/Jacksonville/Houston). 
This blog has been labeled as archived as it may no longer contain the most up-to-date data. For a list of all current blog posts, please visit our blog homepage at https://www.tws.edu/blog/