Summer, 28, from Hinton, OK, graduated the Professional Welder program at Tulsa Welding School in June 2021.
Thanks for your time, Summer. What did you do before coming to welding school last year?
I didn't really have a career before this. I was mostly a stay-at-home mom. At one point, I had a pretty cool job painting airplanes, but it didn't pay very well! I worked several other jobs—substitute teacher, I cleaned hotels—I just had different jobs here and there between kids.
Where did the idea of welding come from?
I just wanted a career. I wanted to find something I liked that I was good at. My boyfriend actually suggested welding school to me. He'd seen some commercials for Tulsa Welding School, and he thought I'd like it. Fortunately, he was right! I love it. I'm so glad I went to Tulsa Welding School and that I kept pushing through. I like my job and I'm making really good money, so it's been a blessing so far.
Have You Considered a Career in the Skilled Trades?
Fill out the form to recieve a no obligation info packet.
Had you ever done any welding before coming to welding school?
No, not at all. When I went to welding school, honestly, I wasn't really sure if I'd be able to do it. It was something I wanted to do, so I took the leap and I tried. There were times when I didn't think I'd make it through, but I just kept trying, and I got it.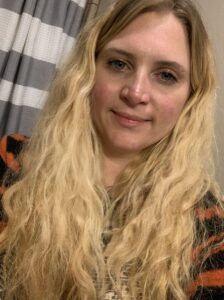 Was it a little scary at first?
I was a little intimidated working with fire to start, but it got better. It took two or three months to get comfortable. There were times after that when I still didn't know if I'd get it. I didn't know if welding was for me, but I didn't give up. This was a whole new deal for me. I was a stay-at-home mom, taking care of two kids and working sometimes. My daughter is eight and my son is two, so this was all new to me.
TWS Student Store
The TWS student store is now open! Visit GoShopTWS.com go grab all the latest TWS swag.
Shop Now
What did you enjoy most during your time at Tulsa Welding School?
The best part of the experience for me was overcoming those obstacles and having teachers who were willing to motivate me to get through. They pushed me to keep going and battle through. Every teacher is different, but I had a couple of really good ones who looked out for me to make sure I didn't quit.
Congratulations on seeing it through. Did you have to rephase, take a class again?
I did have to rephase once, but only because of the weather! During winter, there was a lot of snow in Oklahoma for a couple of weeks. There was one week when I couldn't make it out of my driveway, so I had to rephase because of that. But it wasn't bad. I got some extra practice!
Other than the teachers motivating you, how did you overcome your frustrations?
Sometimes I would put down the torch and go outside. I'd pull up some videos on YouTube to see if I could get a different perspective. There were definitely times when I packed up a little early and went home, deciding to come back at it fresh the next day. I just kept telling myself I could do it. I just needed to be persistent and not give up. I definitely have a stubborn streak, which helps!
You graduated about eight weeks ago. Where are you working?
I'm MIG welding for Dexter Axle Company at their facility in Shawnee, Oklahoma. It's about 45 minutes from home. We produce axles and brakes for RVs and trailers. I started working there about a month ago. It was the first job that I applied for after school. I went and took a weld test. I guess they liked what they saw and decided they wanted to hire me.
That's awesome. How did find out about the opportunity?
Jenna in Career Services first told me about it. The irony is my ex-husband—my daughter's father—worked for Dexter at their El Reno plant for five years, years ago. I wasn't sure I wanted to work for them. But when I started looking on Indeed.com, Dexter had the highest paying jobs for entry level welders. So, I took a shot and filled out the application. They got back to me pretty quickly.
Are you happy with your starting paycheck?
I'm making really good money, and I get paid every week which is nice. There are two production lines on day shift and night shift, but we've only been running one because so many people are out. So, the work that we're doing is stacking up and doesn't get sent through the rest of the process.
Do you think it will get back to normal soon?
I hope so! You don't realize how in demand axles are until you go work for a company! This past Monday I actually worked a 10-hour shift, but then I didn't work Friday at all. Last night I got sent home after seven hours because one of the machines went down, so I guess there's always been something since I started!
What's your career plan from here?
I'm going to stick with Dexter for at least a year and see where I'm at then. They have really good benefits. You get paid vacation after 90 days. You get paid Holidays off, so it's a pretty good job. I'll give it a year and see what's out there then. I actually wanted a job TIG welding, but I couldn't find anything suitable.
Would you like to travel, or are you looking locally because of the family?
I'd like to stay around here. I would love to travel, but I think it would be best for now to stay local. Maybe I can travel when the kids are older.
Do you have an ultimate goal for your welding career?
I'm pretty new at this, but if I can get some experience under my belt I'd like to build a shop and acquire a bunch of tools: a welding machine, a plasma cutter, things like that. Maybe I'll partner up with somebody or just do it alone. Or I could have the shop as a part-time thing or hobby. I really wouldn't mind working for somebody else for the rest of my career, but it would be kind of fun to have my own tools and do my own thing. Ultimately, I think I'd like to work for myself
Do you enjoy the artistic side of welding?
Most definitely. That's one of the reasons why I want to acquire my own tools. I'm not actually very artistic, but the more I practice the better I'll get. I played around with TIG welding at school. I made a little flower on a piece of metal for my daughter. It was really fun. I think it would be super cool to utilize the torch to make some cool stuff. There are a lot of things you can do with that.
What do you enjoy most about your new trade?
I like to critique my own work, so I just like the fact that once that hood goes down, it's just me and the metal. Nothing is bothering me. I don't want to say nothing else matters, because it does, but I do enjoy getting to focus on just one thing.
Did you make some friends, some lasting connections, at TWS?
I did meet some pretty cool people. I added a couple of people on Facebook, but there's only one girl that I'm really still in touch with.
What advice do you have for new students, for them to be successful at TWS?
Just stay focused and keep going. Learn as much as you can while you can; take extra time to practice more. I did the morning shift at school, so I stayed late and practiced into the afternoon. If you can practice at home, do that. Even an extra hour or two a day helps a lot. It really does.
If you're a TWS graduate and would like to share your success and be an inspiration to others, please email [email protected] to be considered for a Graduate Connection interview. Please include details such as your graduation date (month/year), program, and campus name (Tulsa/Jacksonville/Houston). 
This blog has been labeled as archived as it may no longer contain the most up-to-date data. For a list of all current blog posts, please visit our blog homepage at https://www.tws.edu/blog/