Roderick, 24, from Houston, Texas, graduated from the Welding Specialist program at Tulsa Welding School & Technology Center in Houston in August 2019.
Thanks for your time, Roderick. Tell us what you did before welding school? 
I finished high school, but I didn't graduate so I went to Gary Job Corps Center in San Marcos, Texas. I got my GED there, and then I picked up a trade. I studied welding and HVAC at Job Corps for about a year and a few months. Then I got my first job at Epic Piping Fabrication, also in San Marcos. I was a tacker there, I put things together. I did that for three years before they laid me off because work had gotten slow. I moved back to Houston. It was time for me to move on, and that's when I went to Tulsa Welding School.
Why did you decide to go to Tulsa Welding School?
They only taught the basics at Job Corps. I told my family that I wanted to go to Tulsa Welding School because I wanted to learn more about welding. Not just plate welding, but pipe welding, TIG welding, all the processes like that.
Have You Considered a Career in the Skilled Trades?
Fill out the form to recieve a no obligation info packet.
Why did you focus on welding?
I knew it would be a good career, and I'm very passionate about it. I could talk to people all day every day about welding because I love it. This is a big step for me. I've come a long way since not graduating high school. I stuck with the program, finished it, graduated, and now I'm making money.
Did you do any welding in high school?
No, my first experience of welding was at Job Corps.
What did you enjoy most about Tulsa Welding School?
TWS Student Store
The TWS student store is now open! Visit GoShopTWS.com go grab all the latest TWS swag.
Shop Now
I enjoyed the teachers most of all. They worked with us all one on one. They see potential in a lot of kids; I have to give it to them because they were very strict, very hard on me, telling me what to do and how to do it. They said they were hard on me because they saw something in me. You want the teacher riding you, because that means they see that you care, that you want to succeed. If they're not on you, nothing is going to happen for you. They wanted me to succeed.
The classroom time was pretty fun, too. You're watching videos, learning more stuff about welding—what not to do. But the lab time was the most fun. There was a lot of friendly competition in my class; we wanted to see who the best welder was. But at the end of the day, we all helped each other out, too. I had a good class to graduate with; our class was like family.
You graduated two months ago. Where are you working?
Piping Technology & Products, a few miles from the Port of Houston. I'm doing flux core welding. I started in September. I've been there about a month. I passed the weld test on my first try, which I was pleased about. The money's okay, but with overtime, I make about $550 a week. I'll get a raise, a couple of dollars an hour, once I'm done with my probation period.
How did you get the job?
I talked to Jakis in Career Services and asked him to help me get a job close to home. I don't have transportation, so I was on the bus line trying to find work, you know.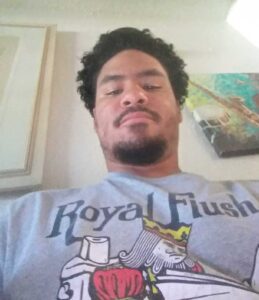 What is your career plan from here?
I figure I'm going to spend a couple of years here to get some more welding under my belt, then when I get really good, I'll find another place to go. I love TIG, so I'd like to find a TIG welding job one day. They pay more, too. I'll take my teachers' advice and go do what I'm best at, and that was TIG. I would like to get to the pipeline, too, but first I want to learn, get better. But it's also all about my daughter right now, so I don't want to go too far. Sometimes when she comes, she'll grab my welding hood and try to put it on. I say, "You want to be a welder, don't you? I know exactly where you can go!"
Well, maybe she can come to TWS in 17 years or so! We are seeing more female welders.
No doubt! Women weld better than the men do, I can tell you that! I had a friend who hit me up; she said she went to TWS. We made a deal: her versus me in TIG welding! She was down with it, so we went to the school and did a TIG test in two booths. Everything came out well. We did a bend test. Mine came out good, one of hers came out real good, and the other broke. I had to hand it to her, women can do everything men can do. But you've got to pass the weld tests, though, because if you don't, it can be heartbreaking. I failed two tests before. When I passed my test for this job, I was so happy!
What do you enjoy most about welding?
When I drop my hood, I'm focused. You've got to get your weld done and out the door in a certain time. You can't take your time, but it's not rushed, if you know what I mean. Once the hood goes down, I'm focused on making that weld come out good. I kind of disappear into my own world. I also like to help other people when they come and ask me questions.
Did you make some lasting connections at TWS?
I stay in touch. I still go back to the school, too. I go talk to my friend who is still there and talk to my teachers. When you graduate, keep in touch with your friends. A lot of them will go to the pipeline, and a lot will go to fabrication. People go everywhere. It's good to have a lot of numbers in your phone in case you ever need a job, or if you have a rig truck and are looking for the next job on the road.
What advice would you give to new students for them to be successful at TWS?
Stay focused, and don't give up. It's all about you when you get to Tulsa Welding School. One thing Tulsa Welding School will tell you is "have fun". Yes, you're there to learn, but it's okay to have fun while you're doing it. When the teachers tell you something, pay close attention, and you'll get it. It's all about you.
If you're a TWS graduate and would like to share your success and be an inspiration to others, please email [email protected] to be considered for a Graduate Connection interview. Please include details such as your graduation date (month/year), program, and campus name (Tulsa/Jacksonville/Houston). 
This blog has been labeled as archived as it may no longer contain the most up-to-date data. For a list of all current blog posts, please visit our blog homepage at https://www.tws.edu/blog/