Robby, 33, from Charleston, West Virginia, is a graduate of the Professional Welder program at Tulsa Welding School, Jacksonville. He graduated in July 2015, and now lives in Fort Pierce, Florida.
Thanks for your time, Robby. Tell us about your background before TWS.
I joined the Army in 2004 and was in for six years. I was an Infantryman (11B) in the Airborne. I was over in Afghanistan. I got out of the Army in August 2010 and went to work underground in a coalmine.
Thank you for your service. What made you change careers to welding?
The mine closed, and welding has always been a passion of mine. I welded growing up, fixing stuff. My grandpa taught me. He was a mechanic and worked on the coalmine's heavy equipment, so he was always welding stuff. I used my GI Bill to go to school for something I was interested in.
Have You Considered a Career in the Skilled Trades?
Fill out the form to recieve a no obligation info packet.
What was your favorite part of your experience at TWS?
Mostly the amount of hood time, and the camaraderie of the guys. Plus the instructors were pretty cool, too. We could relate to them, and them to us, because we were pretty close in age to many of them. They would teach us the tips and tricks of the trade. They would share their real world stories, too.
You graduated in March. Tell us about your job search.
First day out of welding school, they sent in people looking to hire welders. The very first job I got was $33 an hour, plus $150 per diem. That was working for National Boiler Service (NBS).
Did you do anything special with that first paycheck?
TWS Student Store
The TWS student store is now open! Visit GoShopTWS.com go grab all the latest TWS swag.
Shop Now
I threw it all in the bank!
How long did you stay with NBS?
They work shutdowns, and it was hit and miss. It wasn't steady enough for me, so I went and got a local shop job here in Florida welding prefab pipe.
What are you doing now?
I work in aerospace now for Shapes Precision Manufacturing. It's like a government contractor. I've been here since January. We do a lot of work for the Navy. Hovercraft parts, fighter jet landing gear, stuff like that. I'm building exhaust systems for Navy hovercraft. I love it.
What's your work schedule?
I work evening shifts from 3: 30 p.m. to Midnight. I'm not a morning person, so it's okay. They offered it to me, so I took it. Plus, it's a $1.25 more an hour.
What's your career plan from here?
I'm going to open up my own welding business. I'm going to get myself a rig with a welder and go where the money is. I'd like to do some aerospace work, as well as some pipeline work for the oil and gas industry.
What do you enjoy most about your trade?
I enjoy building stuff, being part of a team that's building something. And I like that I can drop my hood and just get on with my own thing.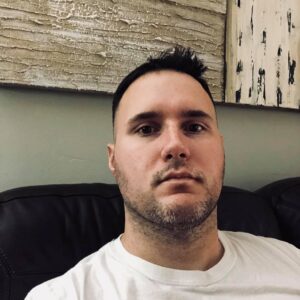 Would you weld every day even if you weren't getting paid for it?
Oh yeah, definitely. I love it. It's like getting paid to do my hobby.
Your grandpa was your inspiration. Is he proud of you?
He passed. He was here when I graduated, so he knew what was going on, what path I was going to take.
Did you make some connections at Tulsa Welding School?
Oh, yeah. There are still guys I talk to almost every day all over the country. You have to make good connections in this career. That's the only way to do it, unless your family knows somebody to get you in the door.
What advice would you give to students considering TWS?
Do whatever it takes. Don't quit, don't give up, no matter how bad your day is, because tomorrow is always a new day. I never thought about quitting because I knew what it was like coming in. But if you've never welded, don't give up when it gets hot and when it gets hard.
If you're a TWS graduate and would like to share your success and be an inspiration to others, please email [email protected] to be considered for a Graduate Connection interview. Please include details such as your graduation date (month/year), program, and campus name (Tulsa/Jacksonville/Houston). 
This blog has been labeled as archived as it may no longer contain the most up-to-date data. For a list of all current blog posts, please visit our blog homepage at https://www.tws.edu/blog/