Raneisha, 26, from Thibodaux, Louisiana, graduated from the Welding Specialist with Pipefitting program at Tulsa Welding School & Technology Center in Houston in August 2019.
Thanks for sharing your story, Raneisha. Tell us what you did after high school. 
I moved to Baton Rouge, Louisiana, where I attempted to go to community college for Nursing. I was working two jobs at the same time, so I was working more than I was at school. It didn't work. So I moved back home and worked at the mall. I was there for six months, then worked for Home Depot, then  Lowe's for three years. I ended up going through a lot back home. That's when I decided to leave and come to Houston, Texas, to live with my cousin. I was doing home health work here before going to welding school.
Why did you decide to go to welding school?
I knew I wanted to go to trade school. I didn't know what I wanted to do, I just knew I needed a career, I needed stability. I was tired of working in retail stores. Welding was one idea, being a truck driver was another, and nursing was the third. When I saw how much welders can make, and how little time it takes to become one, that's why I chose welding school.
Have You Considered a Career in the Skilled Trades?
Fill out the form to recieve a no obligation info packet.
Had you done any welding?
I knew nothing about it. At first, I didn't even know what welders did other than make good money! When I compared those three different careers, welding came out on top. I didn't have time for four years of nursing school, and welders make more money than truck drivers do.
Did you take a welding school tour?
I did. I have a very creative mind. What sold me when I toured was the lady I met had a bunch of cute welded things on her desk. A pencil holder, signs—stuff students had welded for her. That's when I realized I could be creative. It was art. When I saw all the things I could do with fire, I was sold.
Did you enroll in the Welding Specialist program first, then add pipefitting?
TWS Student Store
The TWS student store is now open! Visit GoShopTWS.com go grab all the latest TWS swag.
Shop Now
I signed up for both, actually. I didn't know anything about pipefitting, but when I saw it was only another two and a half months, I figured, why not? But honestly, once I got to pipefitting, I debated whether I wanted to do it. But I changed my schedule to change teachers and started over. Once I did that, I realized that pipefitting is nothing but math, which is my favorite subject. Pipefitting came very easy to me. It's good to have both skills because it makes you more attractive to employers. They can pay one person more for having two skills, rather than paying for two people.
What did you enjoy most about Tulsa Welding School?
I can honestly say it was the atmosphere. The instructors helped so much and kept me going. They are all real people who made their own life decisions for real reasons, too, so they were very understanding. Sometimes they knew if you had something going on before you even said anything. They knew what it took for us to get there, so they would keep our heads up. I liked learning the welding, too. I had weekends where I couldn't wait to get back to school because I wanted to learn more and get better.
Where are you working?
I work for UTLX, the Union Tank Car Company in Sheldon, Texas. Honestly, I feel it was meant to be. I was waiting until my very last week before going to Career Services to ask them to start looking for a job for me. But I met a guy outside of school who was a TWS graduate. He was welding at UTLX and told me about it. So I already had UTLX in mind. Then two weeks before school ended, one of the Career Services guys, Marquis, asked me if I wanted to interview at UTLX the next day. He didn't know! It was destiny!
Did you have to take a weld test?
I was really nervous when I went to take the test. When I pulled up at UTLX, a train passed by and the graffiti on the tank car read, "Light the fire inside of you!" and that made my nervousness go away.
Did the tests go well?
There are six weld tests, and one of them decides whether you get a welder position or an assembler position. I ended up getting the assembler position. When I first got to UTLX, I was putting brakes on trains, then I got bumped to the night shift and they put me in tack track. I tack the jacket of the train on before it gets passed on to the welders to weld it down. I do a lot more tacking than I do welding beads, but it's a start, and it's still welding. I can retake that welding test once I'm ready for it, and when a position becomes open. I will definitely reapply, but I want to get comfortable first.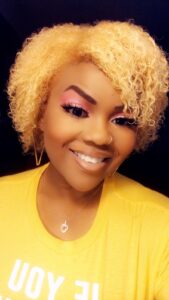 Are you happy with the money?
I am definitely happy with what I'm making. I start at $19.33 an hour, and after my 90-day probation period, it goes to $21.78 an hour. That's 50% more than I made in my best retail job. I've slowly been taking care of things on my car; next is finding my own place as I'm living with my cousin.
It's going to provide me with peace of mind and allow me to get back into my own box. I love the fact that any time I'm in there over eight hours, it's automatically overtime. I don't have to work 40 hours to get overtime. If I work a Saturday and I've done my 40 hours, the whole day is overtime. I've been there four weeks, and this is my third Saturday that they've called me in. I get paid $28.99 an hour for overtime. I've never seen that much money.
What's your career plan from here?
I'm comfortable at UTLX. I know there is potential for growth here; a lot of people have been here for years. This can give me the stability I'm looking for. Honestly, I like doing hair and makeup more than anything. One day I want to have my own salon, so the money I make from my welding career will be invested in that area. I'd like to balance both worlds. While I'm welding, I feel UTLX is the place.
What do you enjoy most about welding?
I like the fact that my welds have my own signature. You can't have two welds from two people that are exactly the same. I also like the fact that welding allows me to be myself because I'm filthy half the time. That's what I really love about it. I wanted a career where I could be myself, and that is definitely welding. I'm not judged because I have tattoos or if I decide to have pink braids one day. Nobody is pretending to be someone else. There are all kinds of people who choose welding because they want a better life, and that's what I love about it.
Did you make some lasting connections at TWS?
I definitely have friends on Facebook, Snapchat, and YouTube; that's the way we stay in touch. I like that people reach out and say, "Is there work out there? Where are you at?"
What advice would you give to new students for them to be successful at TWS?
Don't give up. The easiest thing to do is quit. I know that because I used to be a quitter. I've quit schools multiple times. The best thing ever is not quitting. I'm not a quitter anymore. It doesn't get easy just because you have that piece of paper at the end. Success is something you have to work for, and that's what I'm doing. You started this for a reason, so see it through until you reach that reason.
If you're a TWS graduate and would like to share your success and be an inspiration to others, please email [email protected] to be considered for a Graduate Connection interview. Please include details such as your graduation date (month/year), program, and campus name (Tulsa/Jacksonville/Houston). 
This blog has been labeled as archived as it may no longer contain the most up-to-date data. For a list of all current blog posts, please visit our blog homepage at https://www.tws.edu/blog/