Nathan, 22, from Houston, Texas, graduated the Professional Welder program at Tulsa Welding School & Technology Center in Houston in July 2021.
Thanks for your time, Nathan; what did you do before coming to Tulsa Welding School?
I graduated high school in 2017 and before coming to Tulsa in December 2020, you could say I was doing 'trial & error' with life! I took an HVAC course at a career college then got a job in that field, but I didn't like it. I went to Navy boot camp, but I didn't like it. I had a couple of jobs; I worked in warehouses, and I was a supervisor at Bush Airport. That's what I mean by trial and error with life!
So, having tried all these things, where did the idea of welding come from?
Have You Considered a Career in the Skilled Trades?
Fill out the form to recieve a no obligation info packet.
The pandemic was what really did it for me. I lost my job, and all I heard was "essential, essential." What could I do that would be hands-on and make me an essential worker? A buddy's dad was a pipe welder; he never stopped working one day during the pandemic. I wanted to be essential!
Did you weld in high school?
I had the opportunity, but I didn't take it…which I kind of regret. Had I gone to welding school in 2017, I'd be four years further into my welding career. I'd have a good foot in the door. But I was focused on healthcare out of high school; I was going to be a Registered Nurse – that was my idea back then.
So, you had no experience of welding?
No, although when I did the HVAC course, if we opened a system to change a compressor, we had to close the system up. That involved metal piping, so I would use a torch and a soldering rod to close the system back up. In HVAC school my instructor watched me do it for the first time and said I was real good. That's the first time I thought, "I should have taken welding instead!" That opened my eyes to welding a little bit, and then when the pandemic hit and I lost my job, I figured it was time to learn to weld. Being from Houston, I was aware of Tulsa Welding School; I'd seen the commercials, the billboards.
TWS Student Store
The TWS student store is now open! Visit GoShopTWS.com go grab all the latest TWS swag.
Shop Now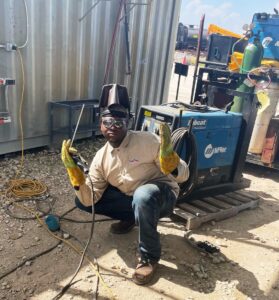 What did you enjoy most about your time at Tulsa Welding School?
I enjoyed the fact that my instructor was not the only instructor I had access to. They are all very helpful; if my instructor wasn't being clear enough for me, I could go to another instructor and ask them. They may explain it in a different way, a way that I could understand. Getting a helping hand from everybody was what I enjoyed most about Tulsa, because I did struggle.
Why did you struggle?
Because it was all brand new to me; I didn't know anything about the trade. So, I needed to ask questions, I needed things explained to me in different ways. There are lots of different ways to get to a result welding; there's not just one way to do it. So, if you don't get something the way an instructor is showing you, having a different approach shown to you can help. It doesn't matter how you get to the end result, as long as you make it to the end result. But it can be frustrating.
How did you get through those frustrations?
The secret is simple. Do not give up and keep trying. As clichéd as it sounds, that's the secret. The instructors give demos to the group at the beginning of a phase, or any time you need one. If you don't get it from the demo, don't be afraid to ask questions, and don't be afraid to ask the instructor to come into your booth and give you a personal demo. They will run it for you, and then sit there and watch you as you run it yourself. You might not get it perfect while the instructor is in the booth, but if you keep going and you don't give up, eventually you're going to run a bead just like him. Just never give up.
So, where are you working?
I'm working for a railcar company called UTLX out of Pasadena, Texas. I started in September. I'm actually a Railcar Repairman, so I do a bit of everything. Some days I might be Stick welding flanges and bolted-on gates on a hopper, another day I may be changing the brakes on a railcar. I work on the whole repair side.
How did you get the job?
Ms. Veronica, Ms. Montanya, and Ms. Bridget in the Career Services team helped me a lot. I was in and out of Career Services every other day before the end of my program. They knew there were opportunities with UTLX coming up; they said they would keep me posted. When the interview came, I was so nervous, my palms were sweaty! But I gave it my best shot, and I don't want to sound over-confident or anything, but when I came out, I knew I'd got it. And I did!
Are you happy with where you've started out when it comes to money?
Oh man…my first paycheck, I was like, "What should I do with all this?" Plus, we get paid weekly, so that's more insane to get a check every week! When I got my first check, I did the most sensible thing and saved it! I'm just letting it pile up for a rainy day. It's good money, but it's a great opportunity. I'm getting experience not just with welding, but I'm learning about railcars and logistics.
Are you getting any overtime?
Unfortunately, it's strictly 40 hours right now, simply because UTLX just bought this company. So, we are in the foundation phase of getting the site up and running, so we don't have that many cars to do. We still have big customers like Exxon, but I'm hoping I'll start getting more than 40 hours before too long.
What's your career plan from here?
I could see myself at UTLX for quite some time. My favorite form of welding is TIG welding, so eventually I do want to branch off into TIG welding somewhere. TIG welding is cleaner, fewer sparks, it's calmer. I'm open to relocation, to see other parts of America. But right now, I'm just trying to build my résumé with experience at UTLX. I also want to get my own rig one day with multiple functions, so I can do all types of welding; I can do stick, MIG, TIG – I'm a combo welder. I'm like a Swiss Army knife, I can do a lot!
What do you enjoy most about being a welder?
I like the fact that not too many people can say, "I'm a welder." What I went through at TWS – the trials, the errors, the burns, the frustrations – the fact that I passed and made it through is very satisfying to me, I made it over that hill. So, when I say I'm a welder, I say it with pride. I've been through a whole lot of burns, a whole lot of frustrations, a whole lot of not understanding things…to finally overcome all that and be able to call myself a welder, that's something I really take to heart. It's a real sense of achievement.
Did you make some lasting connections at school?
I did. I still talk to my classmates to this day; we talk about how our jobs are going, how life is going. It's good. I was just talking to one of my friends who went up to Maine for a welding job. I've been telling my classmates to look out for jobs here at UTLX; there are lots of opportunities for growth. This company is all across America, so if you want to relocate, they will work with you.
What advice do you have for new students to be successful at TWS?
Don't give up. It's practice and progression. It might be scary in the beginning when you first strike an arc, but it's only going to get better as you continue to grow. Don't be afraid. My classmates, if they understood what they were doing, they would give us pointers on what to do. If you can't find an instructor, go to a classmate. There's a whole camaraderie there; it becomes a family as you go through the school.
You also have to give yourself a break sometimes, don't be too hard on yourself. If you're frustrated, if you give something a few tries and can see yourself progressing, give yourself a break and go home. But when you come back the next day, you have to do better than the last weld you did the day before. You can't beat yourself up too much, just remember what you're doing this for. It's all about practice and progress.
If you're a TWS graduate and would like to share your success and be an inspiration to others, please email [email protected] to be considered for a Graduate Connection interview. Please include details such as your graduation date (month/year), program, and campus name (Tulsa/Jacksonville/Houston). 
This blog has been labeled as archived as it may no longer contain the most up-to-date data. For a list of all current blog posts, please visit our blog homepage at https://www.tws.edu/blog/