Latisha, a 24-year-old single mom from Eufaula, Oklahoma, graduated from the Professional Welder program at Tulsa Welding School in July 2019. 
Thanks for sharing your story, Latisha. Tell us what you did before coming to welding school.
I was just working customer service. I got tired of it. The pay wasn't good, so I decided to try a trade school and go with welding! 
What made you think about welding?
I'm a really fast learner and good with my hands, so that's why I decided to go with welding. I went to Tulsa Job Corps to get my high school diploma. While I was there I met some out-of-state Tulsa Welding School students who were living in the dorms there. They told me how much they liked it, so I figured I'd take a tour. 
Have You Considered a Career in the Skilled Trades?
Fill out the form to recieve a no obligation info packet.
Did you have any welding experience?
None at all. I didn't even have any friends or family who had welded.
What did you enjoy most about Tulsa Welding School?
All my instructors were wonderful. They all understood that I had never welded before, so they took their time with me to teach me everything that I needed to know.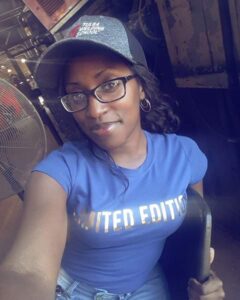 TWS Student Store
The TWS student store is now open! Visit GoShopTWS.com go grab all the latest TWS swag.
Shop Now
How hard was the program with no welding experience?
At first, when they introduced a new welding process, it would be a struggle, but after a few days, it all got easier. I just had to persevere. I went to work in the mornings and went to school at night.     
How was it being a woman in a predominantly male environment?
I had no issues at all. The only problem I had was the guys were all being extra nice to me, very gentlemanly! They wanted to carry my bucket, or grind my pipe for me. I would always decline. I just wanted to be treated like one of the guys. In fact, there were two other women in my class. I became really good friends with one of them. We see each other every weekend now!
Tell me about your first job?
I'm working for Auto Crane, a Ramsey Industries company, here in Tulsa, Oklahoma. They invented the very first mobile field service crane. I am a body welder. I weld bodies for all their crane trucks. I got the job through a staffing agency.  
Is there a good chance that you'll get hired on as permanent?
It's like a 90-95% chance that it will become permanent. I'll find out in 90 days. I'm not sure if the pay will change, but I do know that I will qualify for full benefits, health insurance and all the good stuff. I will also qualify for the bonuses they get every three months, depending on performance and quality. I believe that can range from $500 to $1000 a check.
You've only been working a month. Tell me about the money. Are you happy?
Absolutely! Being someone who had never welded before, I was expecting my hourly pay to be between $15 to 17 an hour. But I landed this great job with Ramsey, and they started me at $19 an hour. That's pretty good for a first-year welder. 
Do you get overtime as well?
Yes, I do. I work 9-10 hour days, and I often do one day of overtime, so I can get between 12 to 20 hours of overtime a week. That's at time and a half, which is $28.50 an hour. 
Were you excited with your first paycheck? Do anything special? Did you celebrate or pay bills?
All of the above! I paid some bills, bought some clothes, and went out and had fun with friends!
Tell us about your family Latisha.
I'm a single mom to my five-year-old daughter. She knows what welding is. She likes to see pictures.
What does your career plan look like from here?
I don't know. My options are pretty open. I would like to try traveling welding, but it's kind of hard right now with my kid. I actually really like where I'm at now. It's a really great company. I'd be happy to stay here and climb the ladder.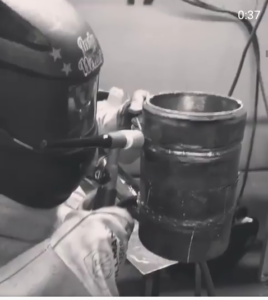 Traveling wouldn't work, but are you open to moving with your daughter for the right opportunity?
I'm open to anything. As long as it's in the United States, we'll go anywhere.
What do you enjoy most about welding? 
The satisfaction of seeing my welds on the things we build. I've only been with the company a month or so, but I've already had so much recognition and praise on how good my welds look, and the quality of my work. I just really enjoy that, especially being a woman. I work with guys who have been welding 20 to30 years, then I come in and weld something and everybody is like, "Your stuff is way better than theirs and they've been welding for 20 years!"  That really makes me feel good.
Did you make some lasting connections at welding school?
I met some really great friends. Most people moved back to the states they came from, but we've all added each other on Facebook. While we were at welding school, 12-20 of us would hang out every weekend. We had a really great time. I also still have the phone numbers of my instructors. If I have questions about anything, I can call them up even now and ask them anything. I went back into school to practice for my weld test for this job. They are always happy to see you.
What would you say to people thinking about making a change, or considering welding school?
Tulsa Welding School has turned my life around. My advice, especially for single moms, is to take the opportunity. I was in customer service making next to nothing, barely minimum wage, and I took the leap to get into welding. It has paid off really well after just seven months of school. I am now making more than double what I was, and I'm able to give my kid the life that I wanted her to have. Welding is a great opportunity for any single mother, or really anyone out there thinking about doing something other than a typical office job.

If you're a TWS graduate and would like to share your success and be an inspiration to others, please email [email protected] to be considered for a Graduate Connection interview. Please include details such as your graduation date (month/year), program, and campus name (Tulsa/Jacksonville/Houston). 
This blog has been labeled as archived as it may no longer contain the most up-to-date data. For a list of all current blog posts, please visit our blog homepage at https://www.tws.edu/blog/