Kyran, 19, from Springerville, Arizona, graduated from the Professional Welder program at Tulsa Welding School & Technology Center in Houston in February 2023.
Thanks for your time, Kyran. How did you come to find Tulsa Welding School?
I didn't know what I wanted to do throughout high school. Before I graduated, I remembered I had a Tulsa Welding School lanyard in my room from when a TWS recruiter came to talk to us from the Tulsa campus. At the time, I was working as a laborer at a power plant in Springerville, a small town with two stoplights but there's a generating station there. I pushed a broom, picking up welders' slag, watching the glow, watching them listen to music, laughing. I was like, "That's what I want to do."  That's what got me started doing research to see how much money welders make. So, my dream became to shoot for a welding career.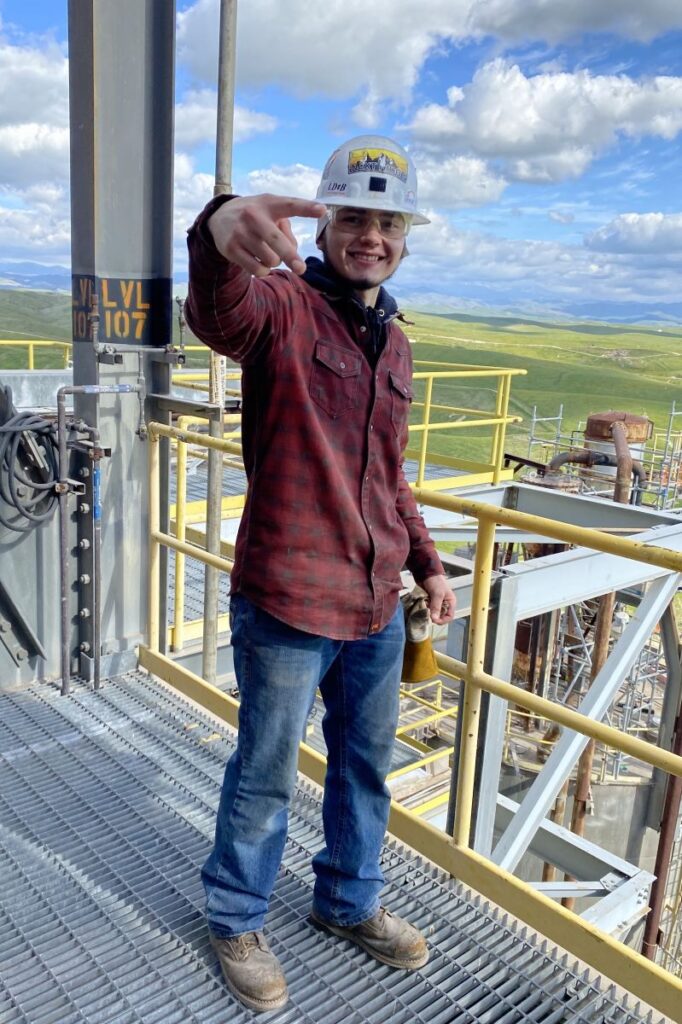 Did you know anything about welding before TWSTC?  
Have You Considered a Career in the Skilled Trades?
Fill out the form to recieve a no obligation info packet.
Not really, no. I knew nothing going into school. I didn't have a welding machine. There was one welder in my family, but he really didn't grow into the career, he didn't make much money.
If the TWS recruiter was from the Tulsa campus, how did you end up at the Houston campus?
I didn't like the idea of going to Tulsa because I'd have had to get my own place to live, and I was going to be all the way over there by myself at 18 years of age. I wasn't too comfortable with it. Then we found out they had a Houston campus. My sister lives over there, so I asked her how far away from the campus she lived. Turns out, it was 30 minutes, and she was willing for me to relocate to her house. My dream to become a welder became my whole focus. It was a big deal for me to leave all my buddies, my plans, to go to this big place, Houston, to learn to weld. But it was just what I'd dreamed of.
What did you enjoy most about your experience at Tulsa Welding School?
Being able to have my own freedom to work on what I needed to. It's not like they just give you one pipe, and it's all eyes on you. They give you a pipe and you weld it; you get done with it, you grab another pipe, and another. I was welding four/five pipes a day while other people in my class would do one. It's very possible to just do one or two in a day because you've got to let your pipe cool if you want the colors to pop on your welding bead. But when my pipe was cooling, I was already prepping another. I was welding two pipes at once basically, just to become that good. I figured I was there to weld, and I could use all the resources I needed, so I might as well make the best of myself.
TWS Student Store
The TWS student store is now open! Visit GoShopTWS.com go grab all the latest TWS swag.
Shop Now
I put everything and anything into it. We were given an Oculus, which is a VR (Visual Reality) tool – they call it OcuWeld – which I used to practice my welding in like games when I wasn't at school. I watched TWS videos on YouTube. I just wanted to be that good, so I did everything I could to make my dream happen.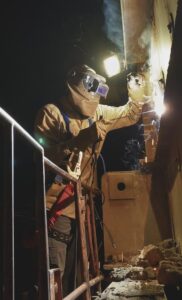 I also really enjoyed was how much experience the instructors have; it was amazing. They taught me some tricks to the trade because they knew I really wanted this. I'm working as a rookie now, and sometimes I'm like, "Well, I'll be damned, that's what he told me in class." Sometimes I stop and think, "Well, I guess they got the job for a reason!" Whoever hired the Tulsa instructors, man, they did a fantastic job!
That's awesome. Did you have tough days on the program?
Lot of days I felt lost, I really did feel lost. Times will get hard; maybe it gets too hot in the shop, or your beads aren't coming out right and you just can't figure out why. When things got hard for me, I just asked other classmates or instructors questions. Ask questions. People want to help you.
So, I understand you're working in California. Who for? And did Career Services help you?
I work for Brahma Group. I knew how much good welders can make, and I knew how good my welds are, but the jobs I was seeing for graduates via Career Services – it's the smart thing to do, of course – were for entry-level welders. Jobs which paid maybe $19 or $21 an hour. I told Tiffany in Career Services that I was looking for $30 to $32 an hour. She said, "You're asking for a lot out of school" to which I replied, "I know what good welders can make, and I know how good my welds are." She said she would work on it for me.
Tiffany was very nice and very helpful, so I just went back to the shop and kept on grinding and welding. I took five weld tests in the two weeks before graduating. I busted two of them, but they were hard tests. I was just trying to get the most experience I could as an unexperienced person if that makes sense.
So, you believed in your skills, in your value, and aimed high?
I was taking tests for big refinery jobs I had no right taking. I had 60-year-old welders come up to me at the shops over there and they were like, "Where are you applying for?" They look up my clipboard and they're like, "Oh my goodness, how old are you?" I told them I'm 19, and when I busted out, they were like, "Man, you're way too young, you need more experience!"
So, long story short, I got on the phone and started looking up companies for power plant and outage work. I saw Brahma Group come up. I called and got a call back later that night asking me what I could do. So, I sent them my school résumé. One of the coolest things is Career Services will work on a résumé with you. It's up to you to edit it if you don't know what you're doing because that résumé says you know your stuff!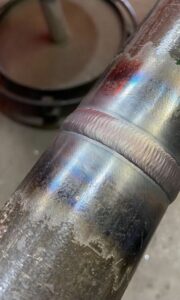 I'm guessing it worked out.
The guy asked me if I knew everything on my résumé, I said I did. He said, "We have a welding facility in Texas, so I'm going to schedule you a weld test with three different pipes. If you pass, I'll find you a job." I passed the tests the next day, and he told me to be in California in two weeks. He said I'd be making $38/hour, $150 day per diem, with $450 for travel in and out. For an 18-year-old to hear that, it was wild, it was awesome.
It's been a few months, how is it going?
I showed up for the first time here in California, and I'm telling you these are top-notch welders that mirror weld. There are so many pipes so close to each other that they stick a mirror behind the pipe they can't see, then they reach their hands around, and start welding while they're looking into that mirror. Of course, in the mirror everything's backwards. So, they're laying down a slick root and welding these beads that have to be x-rayed and shot, and they're passing. So, for me to come into that, I knew it was time to step up to the plate. I try to learn from these guys and thank God, they took me in because California Brahma is one of the hardest teams to get on. It was very nerve wracking that first day! We work at sites all over California. For outages, we work 7/12s and I make up to $4,500 to $5,000 a week. It got real, quick!
What's your career plan? Your ultimate goal?
My ultimate goal is to be my own self-employed worker, to have my own rig truck which has a welding machine on it, and travel to any job.  Those guys make $60/70 an hour, $150 per diem, and they also rent out their weld rigs for $25/30 an hour. You're just making all kinds of money. I also want to own a business one day back in Springerville. Springerville doesn't have a welding shop. I plan to open up where I can weld automobiles, build trailers, do all that stuff. I'm planning to invest in something so I can flip my money and make even more than what I'm making right now. It's my goal to be a millionaire within 10 years.
What do you enjoy most about being a welder?
Just the fact that hard work pays off; that's it for me. I'm so happy with the accomplishments I've made at such a young age. My paycheck proves I'm well worth it.
Did you make some connections at school, people you will stay in touch with?
Oh, for sure. Your name will go farther than you'll ever go. I believe that 100%. I've had calls from Wyoming, and I've never been to Wyoming. I've had two companies in Kentucky call me to go out there. You know why? Because a coworker went to work for that company, and they need manpower. He put my name out there, just as a good welder. So, 100%, do a good job, and your name will go farther than you ever will.
What advice do you have for students to be successful at Tulsa Welding School?
Simple. Keep your hood down and pay attention.
If you're a TWS graduate and would like to share your success and be an inspiration to others, please email [email protected] to be considered for a Graduate Connection interview. Please include details such as your graduation date (month/year), program, and campus name (Tulsa/Jacksonville/Houston).