Kevin, 19, from Jacksonville, Florida, graduated from the seven-month Professional Welder program at Tulsa Welding School in Jacksonville in April 2022. Kevin graduated three weeks early and got straight to work welding.
Thanks for your time, Kevin. What did you do after high school before welding school?
I graduated high school in 2020 and went to the U.S. Marines Corps later that year. I graduated Boot Camp in February 2021.
Thank you for your service. What brought you to welding school?
I was looking for trades because I don't like college. It's just not for me. I just can't sit in a classroom for eight, nine hours a day and just look at paper. I'm more of a hands-on guy, so I was looking for trade schools and checking Google for the top trades. I looked at UTI, J-Tech, Tulsa Welding School, and some plumbing schools too. Welding just stood out to me more than the rest of trades.
Have You Considered a Career in the Skilled Trades?
Fill out the form to recieve a no obligation info packet.
Had you ever done any welding?
No, never. Welding just looked more interesting than cranking wrenches; just playing with fire, burning some metal seemed cool.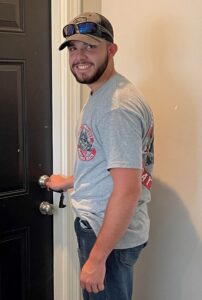 What did you enjoy most about your time at Tulsa Welding School?
Making new friends and also learning a new highly required skill, a trade that's in great demand.
TWS Student Store
The TWS student store is now open! Visit GoShopTWS.com go grab all the latest TWS swag.
Shop Now
Did you find the program tough at times?
There were a couple days that I got really frustrated. I just kept sticking my tungsten, my stick rod. There were some days I got burnt. But I just went home and cooled down a little bit. Then the next day I would come back, and I'd be just flawless. I didn't mess up at all. I just needed to get out of my own head, to take a break.
Did you ever wonder if you had made the right choice by going for welding?
One time. Towards the end, I was starting to get a little heated and I questioned whether welding was for me. I was struggling a little bit, but then I stayed late, did some extra practice, got some extra help from the instructors. They really helped me out, and I got it down. The process I was worst at back then – TIG – is what I'm doing right now at work because that's the process I'm now best at.
You mentioned the instructors. Were you good at asking for help?
I was always humble. If I struggled, I would always ask for help. I wasn't ever scared of asking because we're there to learn and they're paid to teach us, to help us out. So, I wasn't afraid of asking anything.
Good for you. So, where are you working?
I'm TIG welding for ASTEC Industries in Chattanooga, Tennessee. It's a global company that designs and manufactures products used to build roads. We build heaters, portable tanks, water baths, big pipes – all kinds of stuff for asphalt companies that need hot oil, or oils to be heated up, or they need to keep asphalt nice and hot. From the rock to the finishing touches of making a road, that's what we make.
How did you get the job? Did TWS Career Services help?
Yes, it's kind of a funny story! I told Tracy in Career Services that I wanted to live and work in Tennessee. I asked if she knew of any jobs out there. She thought she'd sent a student to a company called HEATEC there before, so she asked me to give her a couple of days to find out who the head of HR is. Anyway, it turns out that HEATEC had been bought out and rebranded into ASTEC. So, Tracy found the old head of HR, emailed her, and got the phone number of the new HR person. We called her and she said, "Yeah, I'd love a new welder over here. We're dying for welders!" And from there on, we went back and forth on email, and now I'm here. They gave me money to cover gas for coming up here to take the weld test.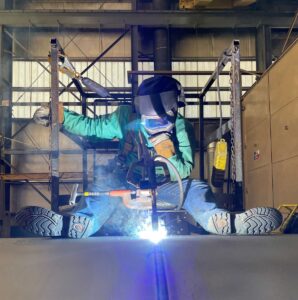 That's awesome. What made you want to move to Tennessee?
Just the mountains. It was a new environment for me. I was born and raised in Florida and all I've seen is sand, military bases, and tall buildings. That's all I've seen in my life. It was time to move on and live my own life. So, I finished school three weeks early, packed up my vehicle, and headed on over.
What's your career plan from here?
I'm planning on working at ASTEC for at least five to seven years. I want to gain a lot more experience with all the processes and really build my knowledge and skill, and perfect my craft. Then, I'd like to go back home to Florida and start my own mobile rig welding business doing commercial construction.
What do you enjoy most about your new trade?
Honestly, it's just pretty cool. Just basically staring at a sun for a couple minutes and seeing sparks flying everywhere, to be honest. It just looks pretty cool! I feel like it could get boring eventually, but you do make some good money I'm not going to lie. You do make some good money. Over the years, your eyes will go bad, your body will get shot. You've got to climb into spaces that you never think you'd be able to, you'll get burned a lot. It's hard. It's like a high-risk, high-reward type deal I'd say.
But then, as you get more experience, there are opportunities to go into inspection or something at some point down the line, something where you're not doing the physical side of welding as much.
You mentioned money. Are you happy with where you've started financially?
I'm more than happy with where I'm starting. I'm very happy. The amount of money I'm making right now is awesome. As, as a 19-year-old, just starting out, it's awesome. I plan on finishing paying off my school loan in about a year and a half, two years. I was not able to collect the GI bill. That was the one thing they took from me was the educational rights.
Do you get overtime at ASTEC?
As much as I want, it's an unlimited amount of overtime. It's time and a half, and then double time on Sundays. I go to work at 6:00 a.m. and I stay until 4:30 p.m. or 6:30 p.m. A 10- or 12-hour shift every day. Then on Saturdays and Sundays, I work from 6:00 a.m. to 2:30 p.m. I think I'm on my 23rd or 24th day in a row!
That boosts a paycheck! Did you make some connections at Tulsa? People you will stay in touch with.
Yes, sir. If I ever need a job, I've got some buddies who are working in some pretty good places. They say, if I ever need a job or vice versa, we'll give each other a heads up. We'll put in a good word with the company, take a test, and see how it goes.
What advice would you give to students considering Tulsa Welding School?
Stay back at school for an extra two or three hours if you have time. Do some extra practice because extra practice in the very beginning could really help you out in the end. It's all repetition. I went to school in the morning and was working at Lowe's at night. If I had a day off on a Monday or a Wednesday, I would stay in my booth until eight or nine o'clock at night and just get some good practice in.
Also, I would say when it comes to getting a job, do some research on the welding process you really like, and go with that. Because if you apply for a job, you're only going to be doing one type of welding. You're probably not going to be able to do multiple different types of welding in one job. Right now, I'm doing TIG. I'm not doing any stick welding, so by the time I go back to stick, I'll be very rusty. But I can go back to Tulsa Welding School any time I want and brush up on something if I need help.
You're still just 19. Are your parents proud of you?
My dad wasn't really proud of me doing this trade because he said it's hard on the body. He thought I should go to college and do something with my brain. But my mom supported me. She was happy that I was doing something with my life at my age. But now my dad's slowly getting into it, supporting me, seeing how much money I'm making as a 19-year-old. I'm living by myself, paying all my bills on time. No issues. I have time to go out, have some fun. He's coming round for sure!
If you're a TWS graduate and would like to share your success and be an inspiration to others, please email [email protected] to be considered for a Graduate Connection interview. Please include details such as your graduation date (month/year), program, and campus name (Tulsa/Jacksonville/Houston).