Joseph, 30, from Houston, Texas, graduated the Professional Welder program at Tulsa Welding School & Technology Center in Houston on April 30, 2021. Joseph graduated with a 4.0 GPA, and also featured on the President's List. His 4.0 gave him the opportunity to participate in a school welding competition that he went on to win; the prize was a Miller Thunderbolt Welder.
Thanks for your time, Joseph. Tell us a little about your background.
I'm a mechanic by trade. I worked on all kinds of vehicles: foreign and domestic, ATVs, motorcycles, I also was a Parts Manager with Mazda Kia at several dealerships. I was also a plumber, electrician, carpenter. I also did a lot of sales I was in the body shop industry for seven years in addition to being a mechanic. I've had a couple of small businesses: mobile mechanic and a restoration business. I've done a lot!
So, where did the idea of welding come from?
I wanted to get into this field for a new challenge, and for the opportunities. I always want to be the best at what I do, and welding was right up that alley. I also want to start a small business in custom automotive fabrication and restoration, for cars and off-road buggies, we call them rock climbers.
Have You Considered a Career in the Skilled Trades?
Fill out the form to recieve a no obligation info packet.
Had you ever done any welding before?
Tulsa Welding School was the first time I've ever welded.
You have a lot of hands-on experience. Why go to school and not try to learn welding on the job?
My past history of working in the automotive industry, and at chemical plants, showed me that you need a certificate to put yourself ahead of everybody else. Having a certificate definitely gives you an advantage.
Why did you choose Tulsa Welding School for this new adventure?
TWS Student Store
The TWS student store is now open! Visit GoShopTWS.com go grab all the latest TWS swag.
Shop Now
I did a lot of research into welding programs in Houston. What stood out for me with Tulsa Welding School is that it's a seven-month program that covers the basics of structural welding, pipe welding, TIG welding, all the processes. But only in seven months. TWS stood out to me because of the duration, the cost, and the breadth of the welding curriculum.
Were you working when you went to Tulsa Welding School?
I was working security at a chemical plant when I started, but that contract ended about a month into school. From that point, I just focused on welding. I did the morning shift at school from 7:00 a.m. to 12:45 p.m.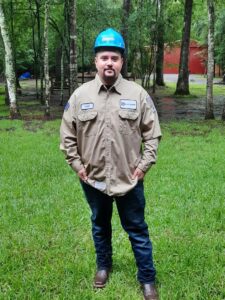 Did you put in extra time for practice?
Yes, I did the regular curriculum, and then I worked one-on-one with my instructors, and really picked their brains to gain all the extra knowledge I could. You could say I got to do an advanced curriculum. Not everybody gets to do that because not everyone is prepared to spend the time. I asked the instructors to show me extra techniques, different ways to perform welds. For example, I'm right-handed, but I also learned how to weld left-handed in case I needed to do that one day in the field.
Are the instructors willing to put in extra time with you?
If they see that you're committed, they will invest time in you. You have to stand out and make yourself known to them. Show a desire to be the best you can be. As I said earlier, I always want to be the best at what I do, and they could see that in me. Each phase there are four weld tests you have to pass. Once you are able to finish those tests, if you want more knowledge, that's when you can ask them to give you more techniques to learn. It's kind of like the secret menu at In-N-Out Burger! You have to ask for it!
What did you enjoy most about Tulsa Welding School?
I enjoyed being challenged every day, challenged to perform these techniques with the precision that I would need in the field, with the quality standards that they want in the field. I also really enjoyed  volunteering for the school. They have a high school welding competition where high schoolers can weld test; the winner gets a full scholarship. I was an ambassador; it was pretty fun. I try to give back to the community as much as I could.
Where are you working?
I work for Gulf Island in Houma, Louisiana. We fabricate complex steel structures and provide offshore and onshore services. I've been there about a month, and I signed up for the offshore division. I just got back from working with Shell offshore this past couple of weeks. This Sunday I leave for Lake Charles, Louisiana,  to go to another rig. I will be crane rigging, setting up pipe for the welders to come in and weld up after.
So, are you not welding for Gulf Island?
I haven't come in as a welder, no. I've come on as an insulator, but I'm working up to welder in six months. It's an opportunity to prove my worth. They have high expectations here, so everybody comes in as a rigger or insulator to learn the processes before they can get promoted to a welding position.
Did Career Services help you get the job?
Career services were very helpful. I spent a lot of time one-on-one with them to figure out where would be the best fit for me. A lot of the companies they work with offer traveling jobs, which is a little difficult for me because I am a single parent of my 12-year-old daughter, Taylor, and that raised a lot of challenges. After I graduated, I couldn't find any placements that would suit my situation, but I stuck with it. I kept coming to the school, talking with Career Services. Gulf Island came in and did a presentation. I was fortunate to get my foot in the door, thanks to one of the Career Advisors, Sharon. The day they did a presentation, they had a sign up for interviews, and I did a one-on-one interview then and there.
Even though you're not welding yet, are you excited by this job?
Absolutely. This is by far the best opportunity I've ever had. There is growth opportunity here. If it weren't for Tulsa, I would never have got my foot in the door here. I know I'm blessed to have this opportunity.
What's your career plan from here?
My plan is to stay with Gulf Island because within 10 years I want to be able to buy a piece of land and build my own home. I want to build a barndominium, about 6000 square feet, with half being my shop and half my home. It's about one third the cost of building a traditional home. So, I want to work for Gulf Island to build up the nest egg I need to buy that property. Then I can have my own business, the custom fabricator shop I mentioned, in my shop on my land. I would build that on the side, while I work with Gulf Island.
What do you enjoy most about your new trade?
Just being able to take an idea from paper to fruition through the art of welding.
Did you make some last connections at school? People you will stay in touch with.
Yes, I sure did. I stay in touch with several teachers, and several classmates. I'm actually mentoring a couple of the younger guys I know who are still looking for the right opportunity. I like being a big brother, a mentor, helping point younger people in the right direction to take their career to the next level.
What advice do you have for new students thinking about enrolling at TWS?
Don't hesitate. It's easier than you think to get in, and get financial aid to cover the cost. I was able to do it without needing a co-signer from the family. So don't be put off by the cost. It's worth it.
And what advice for them to be successful at welding school?
Show up to every class and show up early. Come prepared, have your equipment, your protective clothing. Be attentive. Don't be happy with getting the 70 you need to pass a test each week. Push yourself further. Shoot for the 90s. I would settle for nothing less than a 92. I'd redo the test until I had perfected the technique and got the test down. Going to Tulsa Welding School was a momentous part of my life. I have turned over a new leaf and I have a brighter future ahead of me.
If you're a TWS graduate and would like to share your success and be an inspiration to others, please email [email protected] to be considered for a Graduate Connection interview. Please include details such as your graduation date (month/year), program, and campus name (Tulsa/Jacksonville/Houston). 
This blog has been labeled as archived as it may no longer contain the most up-to-date data. For a list of all current blog posts, please visit our blog homepage at https://www.tws.edu/blog/