Elijah, 37, was born in Arkansas but raised "all over the place," as his dad was in the military. Elijah, now retired from the U.S. Army himself, graduated from the Professional Welder program at Tulsa Welding School in early May 2019.
Thank you for your time today, Elijah. Tell us about life after high school.
I kind of chose the hard way my whole life. I dropped out of high school and got my GED that same week, and went to community college for computer science initially. I never got into the groove of school. I've always enjoyed learning, but I don't like that classroom setting. It doesn't work for me. 
What did you do after leaving community college?
I didn't do a whole lot until I joined the military in 2004. I joined the National Guard. I didn't serve daily until I got deployed to Iraq a year later. I was there for 13 months; I was able to take a year off from the Guard when I came home, so I got a job as a civilian and went back to Iraq working contract security. I didn't stay too long, it just wasn't worth the money. I had some issues from my previous deployment, so I came home and was put into a medical detachment. I started going through the medical process. I got medically retired in 2013 after 9 and a half years in the Kansas National Guard.
Have You Considered a Career in the Skilled Trades?
Fill out the form to recieve a no obligation info packet.
Thank you for your service. What came next?
I thought, "This is great." I'm retired, not very old, I'll be making a little money and be able to do things I like. My dad had rebuilt hot rods, old muscle cars—things like that—so I've always wanted to learn how to weld. But I ended up going to a cousin's house in Arkansas and working on a cattle ranch for a couple of years. There was a period of about three years where I made some poor choices. I got in some trouble and was kind of living on and off the street. Finally, I made the decision last year to come to welding school.
What made you decide last year was the time to go to welding school?
I'd reached a point where I'd got really nervous about going back to school. I'd gone back to school a couple of times throughout the years, including university in Kansas. As an older student, you have more issues, more responsibilities. You really don't fit in the way you used to. My thoughts and ideas are different to the kids, and that kind of scared me away from it. I also have some anxiety issues from PTSD. But one day I realized that I'm missing out on a lot by being afraid, and not trying it. I made myself go. I thought, what's the worst that could happen?  
What did you enjoy most about Tulsa Welding School?
TWS Student Store
The TWS student store is now open! Visit GoShopTWS.com go grab all the latest TWS swag.
Shop Now
All the extra time outside class that you were allowed to go in and weld if you wanted to. I spent as much time as I could welding. I was fortunate that I had my retirement money, my disability money and my GI Bill from the military; I could live off that and not have to work. So I spent my time learning as much as possible in a small amount of time. It's seven months, but it goes by fast. 
What shift did you attend at school?
I did the afternoon class, but I'd usually go in at 8 or 8:30 a.m., sometimes earlier, and I'd stay until at least 7:30 or 8:30 p.m., sometimes even later. I was doing 12 hours a day, of which five hours were in class. Like I said, it was a whirlwind, but I picked up most of it real quick. There were some things I had a real struggle with. There were specific phases that were really difficult for me.     
How did TWS compare with your experience at other schools?
I got a 4.0 and perfect attendance for the first time in my life. It's amazing how being interested in something and having a passion for it drives your dedication to learn it. You don't get frustrated and give up. I couldn't get enough of learning, even in the classroom. I want to learn everything I can about welding, which is why I think I'm going to go back for the Associate of Occupational Studies in Welding Technology program. A lot of it has to do with that rough patch I mentioned. I mean, I lost everything, pretty much gave it away, and I was living on the streets. I do not want to go through that ever again. ]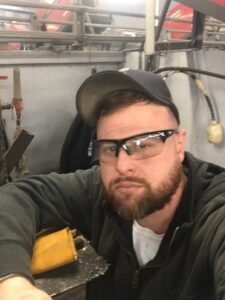 Are you working?
I'm going to work for Valmont Industries in Claremore, OK, as a weekend welder welding on huge galvanized steel light and electrical poles. It's three 12 hour shifts—Friday, Saturday, Sunday—but you get paid for 40 hours, so it's a full-time job. It will work out perfect if and when I go back to school and do the night class, which would be Monday through Thursday, 6:30 p.m. through 11:30 p.m. I will have the days off to do class work and study, to do what I need to do.
How did you get the job?
Dacia in Career Services. Everyone in Career Services has been above and beyond helpful. They've been great. They were always posting jobs. They have a whole list of jobs that they keep updated every day.
Are you happy with the pay?
I am. The job starts out at $20.52 an hour with full benefits. I will get a raise at 90 days and again at six months that will put me at around $23.  
What does your career plan look like?
Assuming I go back to school, after I graduate with my associate's degree, I'd like to continue welding for five years or more to get experience under my belt. Then I'd like to move into the NDT (Non-Destructive Testing) field, which is something I could do with Valmont.
What do you enjoy most about welding? 
Being able to drop the hood and not have to worry about anything except what's going on in front of me. It's definitely therapeutic for me with my anxiety from PTSD. I do miss being around people from my Army days, so working with a team is also great. 
Did you make some lasting connections at welding school?
The guys in my class were great; most of us made it to the end. Pretty much all of us showed up every single day. Most of us came in early, stayed late, and tried to help each other out. Some of them I talk to quite a bit. There's three of us that hang out a lot.
And having support is important too?
It is. Not too long ago I had some unfortunate events happen back to back. I didn't know how I was going to pay for rent, fix my truck and pay for other daily expenses. I was eating canned sardines and crackers or McDonald's $1 burgers to save money. I decided, if need be, I'll just adjust to living in my Bronco. The bright side was that it's more comfortable than other places I've slept, and I'll save a ton of money! Luckily, thanks to great friends and family who believe in me, I didn't have to move into my truck. 
Making connections is important in welding, isn't it?
100%. Networking is huge in welding. Welders are like free agents; we change jobs when we find something better. But don't be a jerk about it. Always put in your two-weeks' notice and don't burn any bridges, because you have to make a name for yourself. Your name is all you've got.
What advice would you give to people about to start at Tulsa Welding School?
Get everything out of it that you can. TWS is open from 7:30 a.m. to 11:30 p.m. and you're allowed to go in and use their materials, their rods, their electricity. Gain all the knowledge you can from the instructors; you have the entire day to do that. If you've got to work, then work, but when you're not working, get in there and weld. You are not going to get any better unless you weld. 
If you're a TWS graduate and would like to share your success and be an inspiration to others, please email [email protected] to be considered for a Graduate Connection interview. Please include details such as your graduation date (month/year), program, and campus name (Tulsa/Jacksonville/Houston). 
This blog has been labeled as archived as it may no longer contain the most up-to-date data. For a list of all current blog posts, please visit our blog homepage at https://www.tws.edu/blog/