Dominick, 19, from Houston, Texas, graduated from the Welding Specialist with Pipefitting program at Tulsa Welding School & Technology Center in Houston in May 2020.
Thanks for your time, Dominick. Did you go to welding school straight out of high school?
Pretty much. I graduated high school May 11, 2019, and started at Tulsa Welding School in July.
Why did you choose welding? Is there a family connection?   
It was something different to what my family had done actually. I did do some welding in high school and really enjoyed it. During high school I'd worked for a couple of companies building houses and tearing stuff down. I'd already done some carpentry at home, which was one of my other options for a trade.
Have You Considered a Career in the Skilled Trades?
Fill out the form to recieve a no obligation info packet.
Was it a coin toss then, welding or carpentry?
I just enjoyed welding more. I've been around carpentry most of my life with family members who have worked on houses. I just didn't want to go that route for my career. I do have an uncle who welds, so I spent some time talking with him about it. From there on, I just got more interested.
Did you consider going to college? Or were you always thinking trade school? 
I did think about college, but I didn't want to do a four-year program and then not enjoy what I was going to do. I got about as far as looking at the medical field, maybe becoming a radiologist, which is a bit more than four years! I just enjoy being up and around, being out and about, being able to work with my hands. I decided that going to a four-year college wasn't my thing.
Did you sign up for the Pipefitting program from the start, or add it? 
TWS Student Store
The TWS student store is now open! Visit GoShopTWS.com go grab all the latest TWS swag.
Shop Now
I actually enrolled in the pipefitting from the very beginning. I thought it would give me more experience for the long run instead of just being a welder. I thought that if I can learn a little bit about pipefitting here in school, even if it's just the basics, I would be ahead of the game for when I get to work.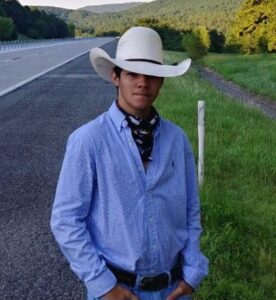 What did you enjoy most about Tulsa Welding School?
What I enjoyed most was seeing my progression from start to finish. The instructors were really amazing, really helpful. They help you as much as they can. The friends you make there will also stop by your booth and help you out. It's a real positive environment there, always.  That's one thing I loved about it.
How was the transition from high school to a college/trade school environment?
It wasn't too difficult for me. I worked during high school and I'd always set myself deadlines, so I was already in the habit of being self-motivated. I noticed a few kids who weren't driven, but not many.
So, you graduated a couple of months ago…where are you working?
I work for a construction company, Alaniz Construction Services. It's located maybe 15 minutes from the school in Houston. I've been here about a month. It's a general contracting company that specializes in the design and fabrication of all things steel.
How did you get the job?
I worked with Marquis in Career Services at Tulsa. He sent out a bunch of job leads, including this one. That's what really helped me. They send out job leads weekly. They'll send you a good batch in your area, or if you're looking to travel, they'll send you leads from wherever they can find them.
What are you doing for them?
I'm a MIG welder for them. Right now I'm building handrails for stairs, balcony railings, fencing and such for an apartment complex.
What was it like getting your first welding paycheck?
It was really great. I felt more than happy when I first saw it, more than delighted. I thought, my first paycheck, I'm going to get myself a really good welding hood and a really good lens. I had some fun and put the rest away.
Are you happy with the job a month into your career?
Yes, I am.
Where do you see your welding career going?
A few years down the line I plan to have my own truck, set up my own rig, and work on the pipeline. Once I get to the point where I can't weld anymore but I still want to work, I'd like to be an inspector.
Where would you like to pipeline?
Wherever the work is. I'd probably lean more toward west Texas right now, if it's still hot out there workwise a few years down the line.
Are you still living at home?
I'm living at home right now. I'm putting away as much money as I can so I can buy a truck and a trailer here soon. I want to try and get what I can before I head out.
What do you enjoy most about your new trade?
The creativity. Being able to use my hands and build something that I didn't even think I could.
You graduated high school just 15 months ago – are you surprised how far you've come?
I'm really surprised at where I am. Right out of high school I was thinking it might take me a little while after welding school to even find work as a welder helper. I'm actually really surprised that just a little over a year later I have a welding job and have started on my career path, and I'm already getting ready to move on to the next job.
Did you make some lasting connections at school?
Most definitely. There's a handful of people I will stay in touch with.
How are your friends doing, are they working yet?
Because of COVID-19 and everything, that set us back a little. Graduating in the middle of a pandemic wasn't ideal. I think about half of us are still looking for jobs, getting after it, while some of us have moved on and are living the life.
What advice would you give to students for them to be successful at TWS?
When you start welding, the best way to see progress, to see yourself getting better, is to stay in the booth. The instructors can show you how to do something, but the only way for you to actually learn it, is for you to spend time actually doing it. Stay late, come early, whatever you need to do to stay in the booth and practice, do it.
If you're a TWS graduate and would like to share your success and be an inspiration to others, please email [email protected] to be considered for a Graduate Connection interview. Please include details such as your graduation date (month/year), program, and campus name (Tulsa/Jacksonville/Houston). 
This blog has been labeled as archived as it may no longer contain the most up-to-date data. For a list of all current blog posts, please visit our blog homepage at https://www.tws.edu/blog/