Derrick, age 27, originally from Arkansas, graduated the Professional Welder program at Tulsa Welding School in January 2019.
Thanks for sharing your story, Derrick. Tell us what brought you to Tulsa Welding School.
After high school, I went to college for a music education. I became a band director and did that for a couple of years. But as much as I thought that was something I wanted to do, I quickly found out it wasn't. So I decided on a career change. It's very hard to get straight into a trade/labor career without any experience, so I did cable installation for a couple of years. Last year, my wife and I sat down and talked. We decided welding would be a great career.
What made you think that?
Welding is always going to be there. It's very well paid, and welders often get to choose what kind of situation they want. I could have gone into the field, but I prefer to be at home with my family.
Have You Considered a Career in the Skilled Trades?
Fill out the form to recieve a no obligation info packet.
What was it that appealed about welding?
When I was in junior high and high school, I would go to job sites with my grandpa who was a carpenter. I was good with my hands, good at measurements, putting things together. I was good at building things. I knew I wanted to do something along those lines. I have family back in Arkansas who are welders. I knew they make really good money and enjoy what they do, so that helped contribute to the decision. Welding has always been interesting to me, and I knew I would enjoy it.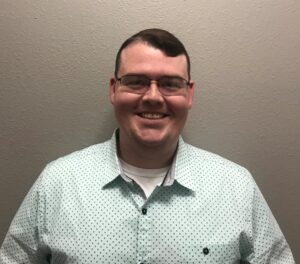 Did you have any prior welding experience?
I started Tulsa Welding School with no welding experience at all. The second day of class was the first time I had ever struck up an arc.
TWS Student Store
The TWS student store is now open! Visit GoShopTWS.com go grab all the latest TWS swag.
Shop Now
Was it hard with no experience?
The first few phases came pretty easy to me. I had a very steady hand. I knew how to pace myself. I found the happy medium you need in order to run the weld the way you need to for it to penetrate to the right depth, to lay right and look good. It didn't get harder for me until the later phases. You go from stick welding, to MIG welding, to TIG welding. All the different processes have their challenges, but TIG was where I had my hardest time.
How did you overcome that difficulty?
TIG welding was hard, but I wanted to make sure I could do it, so I spent a lot of extra time on it. I worked 10 hours a day, then came to welding school for five hours at night. But I had a couple of hours between work and class that I killed by practicing. I wasn't getting a lot of sleep, but I used that time to help me get better. Once I got past the initial learning curve, TIG welding was my favorite part of school. It was something that I felt I could make look a lot better than the average welder. The total time I spent welding was about 18 hours a day.
So after all that hard work, did you look for a TIG welding job?
I'm a TIG welder at a company, so it did pay off. As I started learning more about TIG welding, the more interesting it became to me. TIG welders can demand better pay and better benefits, and they usually work in better environments. Unlike stick or MIG welding, TIG welding doesn't throw sparks onto you all the time. It's a whole lot cleaner and, for me, more enjoyable.
Who do you work for?
A company called Zeeco in Broken Arrow, OK. We build flares, burners, and different things for the oil industry. It's about a 30-minute drive from my home in Bixby, OK, which isn't bad at all.
What do you weld?
I help with the pilot lights and everything that goes into that. Maybe 10%-30% of my welds are x-rayed to make sure that they are perfect. I don't mind the pressure. As long as I perform well, it's job security!
How did you get the job with Zeeco?
Veronica in career services at Tulsa helped me. The company I first worked for while at welding school didn't pay well. I was hired on as a grinder, but they told me I'd be moved up to a welder. That never happened. I realized it was good shop experience, real entry-level stuff, but I also discovered it was a bit of a sweat shop.
From there, I found a job as a MIG welder. I did that from phase four through phase ten. That was good experience in a shop environment. As I got closer to graduation, I told Veronica that I was looking for something with better pay and better benefits that would be more stable. I did the weld test for Zeeco on my last day of class, and got a call back the same day to say that, pending a background check, they'd like to hire me on.
Are you happy with your paycheck?
I'm actually very pleased. They offered what I asked for. I'm making $18 an hour, but working 50 hours a week on average. Anything over 40 hours is $27 an hour. It's a huge improvement over where I was. It's very consistent, steady work.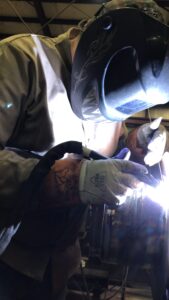 What's your career plan?
I'm hoping to stay here for a while and move up. The area I'm lacking in right now is fit-up experience, so I'm hoping to get as much of that as I can. That's making sure things are lined up properly within the accepted tolerances, making sure things don't warp and go out of tolerance. My lack of fit-up experience is why I'm only making $18 an hour, instead of maybe $25 an hour.
What do you enjoy most about your new trade?
I like that I get to use my hands. That's very rewarding for me. I also like that I get to see something that was just raw metal, or a piece of pipe, become an actual product that is built the way it needs to be: structurally sound and fit for use. I like seeing the end result.
What advice would you give to people considering Tulsa Welding School?
Treat it like a job, not school. Stay as late as they will let you, and put as much time into it as you can. Even one extra hour each day over the course of six or seven months adds up. The extra time I put in really helped me, and I've got four Top One hats to prove it. If you're struggling with something, don't be afraid to ask for help. If you ask, you're going to get it.
If you're a TWS graduate and would like to share your success and be an inspiration to others, please email [email protected] to be considered for a Graduate Connection interview. Please include details such as your graduation date (month/year), program, and campus name (Tulsa/Jacksonville/Houston). 
This blog has been labeled as archived as it may no longer contain the most up-to-date data. For a list of all current blog posts, please visit our blog homepage at https://www.tws.edu/blog/