DeAndre, 27, from Queens, New York, graduated the Professional Welder program at Tulsa Welding School in May 2019 before coming back to school in January 2020 to work on his associate degree. DeAndre graduated from the Associate of Occupational Studies in Welding Technology program in July 2020.
Thanks for sharing your story, DeAndre. Tell us what you did in New York before welding school.
I actually moved to Alabama when I was about 8 years old, so I grew up there. I had a year in Houston before moving to Tulsa in 2015. I worked a few different jobs. I worked in law enforcement for a little while as a correctional officer in the Alabama prison system. It didn't make me happy, so I didn't know what to do. I had other jobs here and there: construction jobs, working for a moving company for a couple of years. The job in corrections turned out to be the cornerstone of why I chose welding as my career path.
How come?
I got into a little trouble in Alabama in 2016 when I quit that job. I ended up having to serve 11 months in prison there in 2017 and 2018. That's when I decided to do a welding program, because I had a lot of time on my hands to think about things. I got released August 2018, came back to Oklahoma, and enrolled in Tulsa Welding School the next week.
Have You Considered a Career in the Skilled Trades?
Fill out the form to recieve a no obligation info packet.
Had you done any welding before?
No, never. I started thinking about it in prison; I heard people talking about welding being a good career, a good trade to have because welders can make a lot of money. I decided that's what I was going to do.
What was your favorite part of your time at Tulsa Welding School?
Just the overall environment, really. Having to show up every day, and surprisingly I picked it up really fast. I liked how diverse the culture was; you had people from all over the country coming to the school to learn something new. The instructors were good. They didn't assume you knew stuff. They taught it from scratch.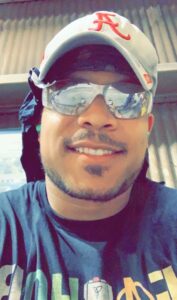 TWS Student Store
The TWS student store is now open! Visit GoShopTWS.com go grab all the latest TWS swag.
Shop Now
Having never welded before, was it hard?
The first couple of weeks I wasn't sure about it, to be honest. But they tell you from the start that if you show up every day and put the work in, you'll be fine. So I showed up every day, put the work in, and I picked it up really fast and graduated on time. I enjoyed the friends I made there, and the sense of accomplishment from completing it captivated me. Welding is one of a select few trades where the phrase "practice makes perfect" really applies.
When did you decided to go back for the welding technology degree?
After the Professional Welder program, I got a fabrication job with Lee C Moore building oil field equipment. I spent a year there, but within the first six months I just felt like I needed to go back. I'm someone who needs to set constant goals for myself; if I don't, I tend to not use my time wisely. I start getting into other things and spending unnecessary money! I just decided to go back and fill my time. Plus I would be the first one in my family to get an associate degree. I wanted to set the tone for my siblings.
You kept working while completing your degree?
It wasn't easy for sure, but I did it, and it's one of the better decisions I've made. I worked from 6: 30 a.m. until 4 p.m., then school was 6 p.m. to 10:30 p.m. Getting my degree is the reason I've got the job I'm at now.
Excellent! Where are you working now?
I'm a welder at Valmont Utility. I just started there a month ago. I build new utility poles; the big poles that bring power from transformers into cities. Valmont is a worldwide company with room for growth. There are lots of departments like Agriculture, Engineering, Coating, Quality Control, and Inspection, which is what I'd like to get into after I've spent a few years getting more experience.
You mentioned your degree helped you get the job. How so?
I actually applied to Valmont three times last year, but I never heard back. When I went in for my interview this year, I told the HR lady and she said it was probably my lack of experience. But going back to school and getting my associate degree certainly helped my résumé. The degree program is also geared toward inspection, so that carries a little more weight compared to a welding certificate with only a couple of months of welding experience in a job. I think it also showed I was serious about this career. I had re-invested in myself to get my degree and that showed a commitment to the trade.
How did it feel receiving your first welding paycheck?
It was a huge sense of satisfaction for me, mostly because I had never imagined that I would be in the position that I'd reached. I didn't think it was realistic for someone with my history, my earlier adolescent circumstances, to even be in this position. Especially with the political side of things today, the statistics relating to young African-American people who have been in trouble with the law. To reach and earn those higher accolades was very satisfying.
Were you happy with the money in that first check?
I was more than happy. I was putting less of a strain on my body for more pay. I made $18 an hour at Lee C Moore out of school, which is $3 an hour more than I made at the corrections officer job. When I got my associate degree and started working at Valmont, I went up to $22 an hour. I also get as much overtime as I want, which is at $33 an hour. It was a little overwhelming at Valmont, to be honest, because I had never made so much money in one week in my life. I didn't know what to do with it. What do you do when you go from making $15 an hour to $33 an hour?
Congratulations of your success! How do you see your career progressing?
Valmont is definitely a company that I can see myself working at for a while, just because the room for growth is so immense here. I'll probably try to get into Quality Control or Inspection at some point. After I get more experience, I will move toward getting my CWI certification, which is the welding inspector certification. At that point I could pretty much go wherever I want. One day I would like to get into x-ray inspection/testing on the pipeline, but right now I have two kids under two, so my Valmont schedule works out really well. That's another reason I enjoy where I'm at now. I work the weekend night shift from 5 p.m. to 5:30 a.m., so I work 36 hours Friday, Saturday, and Sunday, but they pay us for 40 hours. I'm off during the week, and I enjoy that schedule. The three long nights are pretty tough, but being off during the week and being able to see my kids makes it worth it.
What advice do you have for new students who want to be successful at TWS?
Attendance is really important, so show up every day with a good attitude and work hard. If you don't show up every day, you will miss important information. The other thing I would say is that welding is something that you either love or hate, it's not for everybody. Find a passion for it. Having a passion for it will make the learning process easier. You have to be vulnerable to the idea of learning something new and accepting everything else that comes with that—the frustrations, the burns, the anger sometimes—but it is what it is! If you have a passion for welding, it makes all that other stuff easier to deal with.
If you're a TWS graduate and would like to share your success and be an inspiration to others, please email [email protected] to be considered for a Graduate Connection interview. Please include details such as your graduation date (month/year), program, and campus name (Tulsa/Jacksonville/Houston). 
This blog has been labeled as archived as it may no longer contain the most up-to-date data. For a list of all current blog posts, please visit our blog homepage at https://www.tws.edu/blog/