Deandre, 27, grew up in Atlanta, GA, but has lived in Jacksonville, FL, for 10 years. In September 2018 Deandre finished the seven month Refrigeration Technologies program at the Tulsa Welding School, Jacksonville campus. Deandre and his fiancée Selena are getting married in July 2019.
Thanks for your time Deandre – tell us what you did before Tulsa Welding School.
I worked as a maintenance guy for 8 years; working on a/c units, drywall, painting, plumbing, everything.
What made you choose a career in maintenance?
I love to fix stuff, build stuff, put things together. I really love working with my hands, and I also love to help other people solve their issues.
Have You Considered a Career in the Skilled Trades?
Fill out the form to recieve a no obligation info packet.
So before Tulsa you learned your a/c skills on the job?
I learned on the job in hotels and apartment complexes. I was working for an appliance company when I came to Tulsa; they told me I needed to get my EPA certification. I was trying to find schools that could help me, schools that would work with my schedule so I could work and go to school. None of them could help until I found Tulsa Welding School.
Why did you pick Tulsa? Just the schedule flexibility?
I went and took a tour with Mr. Fred Webster, Assistant Director of Admissions. He helped me out so much and got really involved. He asked me questions about my goals, about what I wanted to do in life after I leave school. I told him my goal was to help people and that I'd like to start my own business. He was so excited by my answers that he wanted me to get on board right away. I did my application and paperwork, and got to work.
What was your favorite part about your time at Tulsa?
TWS Student Store
The TWS student store is now open! Visit GoShopTWS.com go grab all the latest TWS swag.
Shop Now
I loved just getting my hands dirty, and being with my instructors and class mates. The instructors taught me so much that I didn't even know was in the field. I listened, paid attention and got involved. My instructors taught me everything; they showed us the proper way to do things, the easiest way to do things, what causes damage or issues – everything. So much more than I thought was in the field.
So where are you working now?
I'm working for an apartment complex as a maintenance technician. I was working for an appliance company when I came to Tulsa, but I was looking for a better job. That's when Robert Sage in Career Services helped me so much. I really appreciate all he did to help me out. It can be tough trying to find a job on your own, but when he stepped in it really helped. He looked at my résumé to see what the issue was, and told me what I needed to do to make it better. After Robert helped me I had people blowing up my phone with job interviews. I was real surprised by that.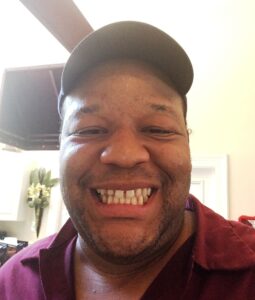 Is it a better job than you had going in to school?
Yes sir, it's better. More responsibility, better pay. When I started they tested me on everything I knew about air conditioning. Now instead of me going to a supervisor with an issue, he's coming to me with a/c issues because that's my area. I'm very happy; I started there while I was at school. I had about three weeks to go, so they helped me get through the program. They told me that they knew I was in school, so not to worry about it – they had my back. I work Monday to Friday, 40 hours, plus if we get emergency calls I come out to take care of those right away; I get overtime for those calls.
Was it exciting to get a better paycheck?
Yes sir, it really did help me so much. I just recently got my first paycheck with them and they pay me good money. I'm going to take my fiancée, Selena, out to dinner for a little celebration. I thank God that Tulsa Welding School helped me do this because it got me to start my own business too. My new company is called DG Handy Repairs, I work that on weekends. I go to peoples' houses and help them out with their issues – a/c, appliances, electrical work…all of it.
What's your career plan?
I'd like to build my own maintenance & repair business to help more people. I'd like to be able to do that full time. I don't want to be some big famous guy, to be known as the president of Handy Repairs. I just want to help people solve their problems, take care of their issues. I'd like to hire people to help me; people who are honest, EPA certified, know what they're doing and want to help people.
What do you enjoy most about your new trade?
Helping other people out. Most companies charge $75 just to come out for a trip fee, then they charge them $125 to $300 labor. I like to come out, work out what the issue is first. Then tell them how much the part is, and how much my labor would be. I'd like to be more honest, more transparent.
Where does your desire to help people come from?
My grandmother taught me all this, she taught me everything. She showed me the right way to do things and treat people. She passed away about six months ago from cancer.
Did your grandmother raise you, or was she just an influence on you?
Both. She taught me everything and she raised me.
Did you make some connections at Tulsa?
Yes I did. I met a couple of guys in class that I'll keep in contact with. I'll also keep in touch with my favorite teachers; Mr. Joe Nordeng gave me his number and said I can call him anytime, plus Mr. Asbridge, Mr. Smith… I plan on staying in touch with them no matter what.
What advice would you give to people considering Tulsa Welding School?
Tulsa Welding School is a good school to go to. You have a lot of people who are there for you no matter what. Tulsa is not just a school; it's like a home and you have family with you. They've got your back no matter what. The enrollment advisors do all they can to help you, to make sure that school is the right choice for you. The instructors are excellent; they will teach you everything you need to know. Career Services are always there for you; they will help you find a position you love, doing something you're trained for and that you love to do.
If you're a TWS graduate and would like to share your success and be an inspiration to others, please email [email protected] to be considered for a Graduate Connection interview. Please include details such as your graduation date (month/year), program, and campus name (Tulsa/Jacksonville/Houston). 
This blog has been labeled as archived as it may no longer contain the most up-to-date data. For a list of all current blog posts, please visit our blog homepage at https://www.tws.edu/blog/