Matt, 30, from Lovelady, Texas, graduated the Professional Welder program at Tulsa Welding School & Technology Center in Houston in January 2022.
Thanks for your time, Matt; what did you do before Tulsa Welding School?
When I graduated high school, I went to work for the Texas Department of Criminal Justice as a Correctional Officer. I was there for two years, but all the veterans who worked there got me excited about the military. So, I went and served in the U.S. Army for five and a half years. I got out in 2017 and went back to TDC. I stayed there for another three and half years; I got promoted several times.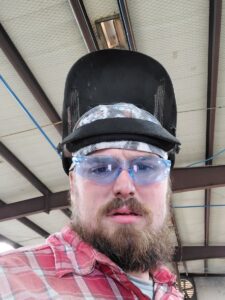 Have You Considered a Career in the Skilled Trades?
Fill out the form to recieve a no obligation info packet.
Where did the idea of welding come from if your career was progressing?
I'd had enough. I wanted something where I could work with my hands and get some fulfillment out of what I did in my day. I actually wanted to weld when I was in high school but didn't.
So, you had no welding experience when you started at TWS?
I had no idea what the hell I was doing! I remember the first day in the shop I told one of the instructors, "Can you come help me turn this damn machine on before I blow it up?" The instructor said, "Okay, first off, nothing is going to blow up…it's a switch!" I said, "Which switch?" because there were five of them. He said, "The big black one that says ON/OFF!" That gives you an idea of what I knew when I started.
TWS Student Store
The TWS student store is now open! Visit GoShopTWS.com go grab all the latest TWS swag.
Shop Now
How did you decide on Tulsa Welding School?
Obviously, Tulsa Welding School is a rather well-known school, the largest welding school there is. I was talking to my wife about it; you know how your phone picks stuff up that you're talking about, then ads pop up? Well ads for Tulsa Welding School & Technology Center in Houston started appearing on my phone! I hopped online discovered it was south of me on the 45, set up a tour date, and went down with my wife to look at the school. On the tour we looked at each other and said, "This is it!" I used my GI Bill. I lived an hour and 30 minutes away, one direction, so I drove that every day for seven months.
I'm guessing with a three-hour round-trip drive, you quit work while at school.
I did quit my job with the state; however, I got a part-time job at a cement cutting company in Houston in June. But the people there were idiots. In August I was talking to somebody in my hometown, and she mentioned that her son ran a welding shop. I switched over to the night shift at school and managed to get five months of fabrication experience while going to school. I worked 7.30am to 3pm at the shop; I'd then drive an hour and a half to school, weld for five hours, drive home, go to sleep, and do it again.
Did working in the field while at school help? Would you recommend it?
Definitely, if you get the opportunity. There were times I was able to use what I did at school at work, and there were times when things I learned at work I could use at school. They piggybacked a lot.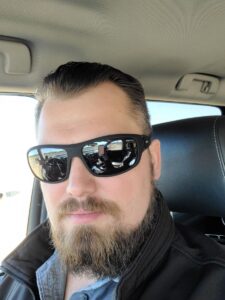 What did you enjoy most about your time at Tulsa Welding School?
Once I switched to night shift, I got a different instructor for each phase. So not only did that give me a bigger network, but I got the chance to learn different things from different people. I enjoyed that.
How did you find the program?
When I finally figured out what I was doing in 101, I hit the ground running. It started coming naturally. It actually got to the point that if other students couldn't find the instructor, they would come to me. That's when I discovered that I love teaching people. I actually thought about applying for an instructor position until I found out you need a minimum five years' certified experience to teach at TWS.
So, no difficulties or frustrations?
I had my ups and downs, days when I thought I can't do this, I'm done! I remember, one day when I lost it, my instructor said, "Don't worry about the pipe, don't worry about making it look nice or testing out, just weld. Do what you've got to do… nobody is going to bother you the rest of the night." When I came out of my booth, I passed the test with a 94. I just got in my zone and welded. Everything disappeared and weight left my shoulders. If you don't practice, you're going to lose it. You go through stick welding for three phases, you switch over to TIG for two. Then you do MIG and Flux for a phase before you get thrown back into stick. That caught me out – I couldn't remember why I was messing it up.
So, where are you working, and how did you get the job?
I'm working at Texas Pride Trailers in Madisonville, Texas. It's 45 minutes from home. I spoke to them in August, but they wanted me to quit school. I wasn't willing to do that. I said I'd try back once I'd graduated. So, two weeks before I graduated, I went up there, took a weld test, and knocked it out the park. I put in my application, and later that afternoon I had a job offer. They are quick to hire you up there. If you can pass the weld test, they will offer you a job.
You graduated less than a month ago, how's it going?
They've got a training course where, for three weeks, they teach you how to weld their way. What I learned at school is nothing to what I'm learning here. But what I learned at Tulsa is the bedrock of why I'm able to do what I can here. I only did two weeks of the three; they didn't think I needed any more.
Are you happy with what you're making?
They don't pay me by the hour, they pay me by the piece. You normally start on the assembly line, which is a group effort. Everybody has to get on the same page to get production running quickly. If you do that, you can bring home $1,200/$1,500 a week, but it can be hard to get 50 guys in sync to get stuff rolling. If production slows down, paychecks slow down. Last Friday I got moved off the line to prefab. I'm more in control and get to make my own paycheck. My next check should be really nice; I made $260 just today. My supervisor's been here 16 years; he made $4,000/week before he made supervisor.
What's your career plan from here?
Well, they run nothing but MIG here which is really good, really easy, if you don't know anything else. There's a lot of money here; you can come get it; they need welders. But I want to do combo welding, which a mix of TIG and stick. But the 90-minute drive to Tulsa Welding School is nothing compared to how long it would take me to get to the plants south of Houston. We live to the northwest.
Could you move closer?
If it was just my wife and I, sure, in a heartbeat. But we have two kids, a three-year-old and five-year-old in school. That's also why I don't want to travel and be on the road for weeks at a time. If I have to struggle, and stay home to see my kids grow up, I'm going to do that. It's a checks and balance thing.
What do you enjoy most about being a welder?
Working for a government entity, you're just a cog in a machine. As a welder, I'm not a cog. My weld is like my signature. You can tell the difference between two peoples' welds; I like being able to say, "I did that, that's mine." My work speaks for myself, which is what I always wanted. I get to sew with fire!
Did you make some lasting connections at school?
I still message some of the instructors, we still talk. And I've got a buddy that came up here a week after I started. He passed the weld test is now working on the assembly line. He's trying to get where I'm at.
What advice do you have for students to be successful at Tulsa Welding School?
Go in with a positive attitude. You're paying good money, so go in and weld. Don't be on your phone or hang with your buddies, get in that booth and practice. The better you are, the more prepared you're going to be when you get to the field. Don't go in thinking you know everything. I went into that school not knowing a darn thing. There were students there who welded three years in high school, but I started putting them in my dust. I embarrassed them. I would go in and practice, practice, practice, while they were screwing around because they thought they were all that. Just go in there and get it done.
If you're a TWS graduate and would like to share your success and be an inspiration to others, please email [email protected] to be considered for a Graduate Connection interview. Please include details such as your graduation date (month/year), program, and campus name (Tulsa/Jacksonville/Houston). 
This blog has been labeled as archived as it may no longer contain the most up-to-date data. For a list of all current blog posts, please visit our blog homepage at https://www.tws.edu/blog/