Tysen, from Crownpoint, New Mexico, is 21 years old. He graduated from the seven-month Professional Welder program at Tulsa Welding School in April 2017, and he now helps build submarines and aircraft carriers for the U.S. Navy.
What did you do before enrolling at Tulsa Welding School?
I graduated high school in May 2014 and then went to work for a couple of years before I started the welding program at Tulsa. I did some warehousing work, I worked an assembly line, and I did some bus detailing. I wanted to see how it was to have a job and live on my own. I didn't hear about Tulsa Welding School until I was 19 or 20.
So what made you decide to go to welding school?
I wanted to learn a great trade and I wanted to make a better paycheck!
Have You Considered a Career in the Skilled Trades?
Fill out the form to recieve a no obligation info packet.
Was there a family connection that made you choose welding?
My father was a construction supervisor. He did some welding in his job and all kinds of welding around our ranch, including repairs on windmills for livestock. My older brother is an iron worker; that's his career.
Had you done any welding yourself before welding school?
My dad had a welding machine at work. He let me run a few beads with a stinger from time to time, but I had no work experience.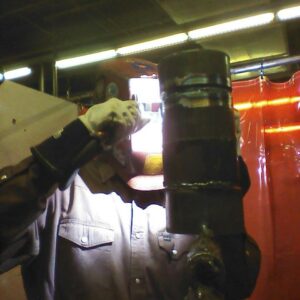 What did you enjoy most about your time at Tulsa Welding School?
TWS Student Store
The TWS student store is now open! Visit GoShopTWS.com go grab all the latest TWS swag.
Shop Now
I enjoyed learning from the instructors. Whenever I was stuck, they were always there to guide me. Don't be afraid to ask for help! The whole staff and faculty were great, especially the Career Services team and my Admissions Representative. She helped me get in and get out; from when I started to the day I graduated, she was always there for me.
So tell us about this exciting job!
I work for Newport News Shipbuilding in Virginia, part of Huntington Ingalls Industries. I just started about three weeks ago. It's wonderful out here. I'm meeting a lot of great people, a lot of great welders. They have a pretty comprehensive training program when you start. You have to be certified to weld on Navy ships. The instructors there are great, too, and I'm having fun living close to the ocean on the bay.
What do you do for them?
I'll be in training for the first 10-13 weeks. When you're working on nuclear-powered aircraft carriers and submarines, they need to know you can weld! But I'm training on both subs and carriers, so when I'm done with my training, they can put me wherever they need me. It's kind of exciting!
You work the second shift from 3pm to 11pm? How's that?
It's wonderful. I like it. They're great hours! I'm kind of not a morning person, so it suits me to get up late. I also like it because I don't have to work the weekends. I can do whatever I want on Saturday and go to church on Sunday. When I'm done with training, overtime will be available, which is time and a half on Saturday, or double time on Sundays. So if I ever have to work weekends, it will be worth it.
Is this your first welding job?
It is, actually. After leaving Tulsa, I had to go back to New Mexico for a while and there aren't many opportunities out there. That's why I had to move out here to Virginia.
How did you get the job?
Through the Career Services team at Tulsa Welding School.
They still helped you, even seven months after you graduated?
Oh yeah. Once you graduate, they are always there to help.
How did your first welding paycheck compare to your old paycheck?
It went up three times! It's wonderful. I get paid every week, and it's good money. I'm saving for a vehicle, but I just moved here like a month ago, so I'm busy buying all the things I need. I have a real nice one-bedroom apartment that I need stuff for, but I am trying to save and think smart.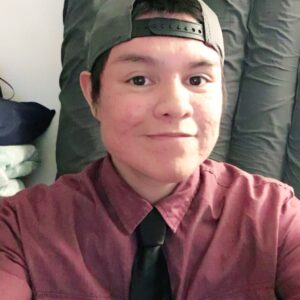 You've only just started your career, but what's your long term career goal?
I want to keep building my experience and my skills with the shipyard and keep moving up the ladder. There are a lot of great welders here that I can learn from. Welding is like art. Your rods are your pencil and your metal is your paper, and it can take a lifetime to keep improving.
At some point in my career, and I'm talking maybe 10 years down the road, I'd like to go to a diving school and learn underwater welding. But I'd only want to do that for 10 years as it puts a real strain on your body. I'd like to do that, make some real money and then maybe retire!
What do you enjoy most about your trade?
I love being creative and building things, putting things together. Especially if a vessel is going out to sea for 25 years or more. I can imagine there will be a great sense of satisfaction when I see a ship or sub that I've worked on launch one day.
Did you make some lasting connections at the school?
I met a lot of great people, a lot of great friends. I now have friends around the country that I stay in touch with. W keep each other updated. A lot of them want to come out here, too, as it's pretty cool!
What advice would you give to new students considering TWS?
This is a great opportunity, a big step. There will be days when you'll have great welds, and there will be days that you just want to give up. But don't give up, as it will all pay off at the end! Give it all your effort, work your hardest, stay positive and chase your dream.
If you're a TWS graduate and would like to share your success and be an inspiration to others, please email [email protected] to be considered for a Graduate Connection interview. Please include details such as your graduation date (month/year), program, and campus name (Tulsa/Jacksonville/Houston). 
This blog has been labeled as archived as it may no longer contain the most up-to-date data. For a list of all current blog posts, please visit our blog homepage at https://www.tws.edu/blog/