Johnny Scialabba, from Watts, OK, graduated from the Professional Welder program at Tulsa Welding School in February 2018. Johnny, 25, drove 88 miles each way each day to attend welding school in Tulsa.
What did you do before enrolling at Tulsa Welding School?
After high school I was set on being a security guard or a bouncer because I've always been as strong as an ox. I got a job with a casino in Siloam Springs, Arkansas. I bussed tables for about 18 months to get my foot in the door. Then I got a job as an unarmed security guard at the casino. I did that for about two years.
Then I went to California. My brother and sister-in-law were in the military, so I went out there to watch their kids and get away from this area. When I moved back, I did construction for a while until I got laid off. After that, I worked at McDonald's, but that wasn't cutting it.
So what made you choose welding?
Have You Considered a Career in the Skilled Trades?
Fill out the form to recieve a no obligation info packet.
I was on vacation visiting my step-brother in Virginia Beach. He told me they were hiring welders like crazy from Tulsa Welding School to work at Newport News Shipbuilding. We came home and I sat on the couch thinking, "I've got to go back to McDonald's making $7.25 an hour." So I called Tulsa Welding School to take a tour. I went in two days later and decided in the car on the way to go for it.
Why did you decide that even before taking the tour?
Because I needed to change my life, not just my career. I wasn't happy with my living situation and how life was going. Anything was better than flipping burgers. Two weeks later, I started class in July 2017.
How was the tour?
They took me around the campus, I met people in every department including Career Services. That was one of the things that really piqued my interest; they have a whole department to assist you with finding a job once you graduate.
TWS Student Store
The TWS student store is now open! Visit GoShopTWS.com go grab all the latest TWS swag.
Shop Now
So that helped a lot. You could go to college and get a degree, and the next thing you know you're back at McDonald's flipping burgers because you don't have the resources and the contacts.
So the Career Services department is a valuable resource?
The entire Career Services team at Tulsa Welding School is amazing. They are extremely friendly, helpful and polite. I could go to any one of them and they would help me find a job right away.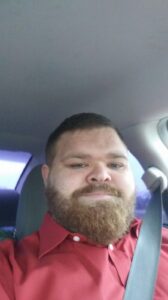 But the one who did most of the work helping me out was Christina. She's still helping me because I'm still filling out paperwork for the job they helped me get.
What did you enjoy most about your time at Tulsa Welding School?
I'm a hands-on and verbal learner, so the school was perfect for me. You don't sit in a classroom for hours on end. We were in the shop four days a week and the classroom for just one, and that's what I enjoy.
The instructors were extremely helpful. Just listening to them and asking questions makes a world of difference.
A lot of the guys were too pig-headed to ask for help. I never had that problem. I would ask them to come into my booth and show me what I'm doing wrong. They were more than willing to do that. If you don't tell them, how can they help?
Did you have any struggles in the program?
Some days for sure. I didn't weld at all before going to Tulsa Welding School. I'd been around welders, but watching it and doing it are two very different things.
As a Student Ambassador for Tulsa, I went to orientations and talked from an active student point of view. I told people that there will be times that you're going to want to quit, but don't. Power through it. There are so many supportive people there, including fellow classmates. They'll all work with you and encourage you to stay.
You graduated only 10 days ago, so tell us about your new job.
It's with EagleBurgmann. They have a location in Broken Arrow, Oklahoma. I have the job already. I'm just waiting on my background check and drug test before I get a start date and start the training period. It's a traveling job. They'll put me up in a hotel and pay for rental cars and airplane flights. Plus, they have benefits and all that good stuff.
What will you do for them?
I'll work on power plants, installing expansion joints, taking out older pipes, cutting out pipes, welding pipes, grinding, putting new wrap on pipes—stuff like that.
You've only just started your career, but what's your long-term career goal?
I'm just taking it a day at a time right now. It will depend on how this job works out before I make any long-term plans. I haven't actually started yet, so it's hard to know. But so far they seem to be a very good, very understanding company. I would like to have my own rig one day to be able to go out during down season and work. But as of right now, I'm not in a financial position to do that.
What do you enjoy most about your trade?
The creative side really piques my interest. There's stuff I'd like to build with metal, but it's hard to ignore the money side of things. I didn't go through this schooling to not make money!
I've not received a paycheck yet, but I've been excited about the money from day one. They're starting me out really well. It's the most money I've ever made from any job I've worked.
On the subject of money then, any plans for your first paycheck?
After my first outing, the first three to four months that I'm out, I hope to earn enough to get my student loans completely wiped out and become debt-free. Then I'll go into debt again to buy a new truck!
What advice would you give to new students considering TWS?
Stay committed. It's an excellent program to get into, with an amazing group of people. If you need assistance they'll help you with anything you need. Don't be afraid to ask questions. A lot of guys will ask their buddy next to them, someone who has the same amount of experience as they do, rather than go ask the guy at the front who has 40 years of welding behind him.
If you're tired of your current career, or if you don't have one, welding is an amazing career to get into. There's a demand for welders every day of the week. It might not be the pay you want right off the bat, or the job you want right off the bat, but it's a job. And it's going to pay way better than minimum wage flipping burgers.
If you're a TWS graduate and would like to share your success and be an inspiration to others, please email [email protected] to be considered for a Graduate Connection interview. Please include details such as your graduation date (month/year), program, and campus name (Tulsa/Jacksonville/Houston). 
This blog has been labeled as archived as it may no longer contain the most up-to-date data. For a list of all current blog posts, please visit our blog homepage at https://www.tws.edu/blog/