Herb, 62, from New Jersey, graduated from the nine-month Electro-Mechanical Technologies program at the Tulsa Welding School, Jacksonville campus, in April 2018.
Thanks for sharing your story, Herb. What brought you to TWS in your 60s?
I've had my own painting company since 1999, first in Jersey and then I moved to Cleveland, OH, in 2011. My wife and I moved to Jacksonville in April 2017. Not knowing anyone here, I knew it would take time to get the painting company up and running, so in the meantime, I decided to go to school.
Why did you choose to study HVAC and Refrigeration?
I was always interested in heating and air conditioning, especially heating because I'm originally from New Jersey and it gets cold up there. Of course, we depend more on AC down here in Florida. I saw a commercial for the HVAC program at Tulsa Welding School, so I decided to see what they had to offer. The schedule seemed to work, so I signed up.
Have You Considered a Career in the Skilled Trades?
Fill out the form to recieve a no obligation info packet.
Were you thinking of a career change at the time?
Actually, I was thinking of it as a way to enhance my painting business. There have been many times when I've been in someone's house and they've asked me about other contractors—"Do you know anybody that does this and that?"—so I figured it would be a good way to separate my income.
Did you have any HVAC experience going in?
Not really. I used to play with my furnace up north in the winter time. I'd often had problems in Jersey and Ohio with my heating, so I figured I'd go ahead and learn it myself.
What was your favorite part about the program?
TWS Student Store
The TWS student store is now open! Visit GoShopTWS.com go grab all the latest TWS swag.
Shop Now
I'd say meeting the other students—guys with different interests and life experiences. I made a couple of lifelong friends during my time at school. Educationally, I enjoyed the refrigeration part the most. But all in all, the whole thing was an enjoyable process.
How was the experience of going back to school at 61?
At first, I was a little intimidated. I made jokes of it to the other guys. But as we got into it, I grabbed the reins and rode the horse! I tried to be a positive influence while there. I became a student ambassador. I spoke to new students. I used to stress to them that I'm 61, and if I can do this, you can do this.
When was the last time you were in an educational environment?
1986/87. I went to the San Francisco College of Mortuary Science. I have a mortician's degree! I practiced mortuary embalming and funeral directing for three or four years. That was in Oakland, CA, and it wasn't healthy for me. The late 80s were the height of the crack epidemic. People were killing each other every day, babies were dying, and mentally I couldn't handle it.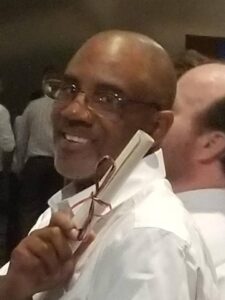 I'm a veteran, and so is my wife. At that time, she was still in the military and we got sent back to Germany. Thankfully, that ended that phase of my life. We were stationed in Germany three different times. I loved it. In fact, my daughter was born in Germany. If I could move to Germany yesterday, I'd be gone the day before!
You graduated just about a month ago. Where are you working?
Just yesterday, on my birthday, I got a call from First Baptist Church in Jacksonville, and now I'm hired. I've been talking to them for a few weeks with the help of Robert in Career Services. It was a spectacular birthday present! I will be an HVAC and maintenance tech for them. I've also been working part-time in the painting department at Home Depot. I'll probably keep that job at weekends.
What will you be doing for them?
It's a mega church with 10-12 buildings in downtown Jacksonville. I'm going in as an HVAC tech, but they also needed a general maintenance guy. So I'll also be painting. I'm sure I'll be doing some plumbing, carpentry, electrical and restoration work. I've flipped houses with friends, so I've got a lot of skills related to maintaining properties. I get to work all of that experience in and not just be stuck in the AC field. I'm hoping every day will bring something different. The variety of work there is what intrigues me.
Are you going to keep up the painting business as well?
I'll take it as it comes. If something comes along and I can do it on afternoons, evenings, days or weekends, I'll continue because I have a passion for painting. Painting is really not work for me; it's kind of therapeutic. If I can make a few dollars extra on the side, I'll keep doing it.
How long do you want to keep working?
I'm 62 and I want to stop working at 70. Then it's time for my wife and me to enjoy our golden years and start traveling. I'd like to go back to Germany and back to Amsterdam! I'm hoping that First Baptist will be my first and last job in the field.
What do you enjoy most about the HVAC trade?
I like that it's more technical than physical, especially when it comes to AC. The control units are very small, so there's not too much heavy lifting! I like troubleshooting, tinkering, making adjustments to the machinery and fixing problems. I'm very detail oriented, so paying attention to the small details is what really intrigued me about doing this.
What advice would you give to new students considering TWS?
Attendance is essential because the school is so fast paced. You're learning a trade for life in seven to nine months. Everything moves so fast, so being in class to get the information that the instructors put out is priority #1. If you miss a day, it can be like missing a week in a four-year program. It's essential that you go to school every day.
Unfortunately, I missed one day, so I missed 4 hours and 45 minutes in the nine months I attended. I had 99% attendance and was awarded for that at our graduation ceremony. At my age and maturity, I was able to avoid the traps that some of the guys fell into. Don't fall into the trap of skipping days here and there. Attendance is key. Every day is a major thing, so don't get distracted.
If you're a TWS graduate and would like to share your success and be an inspiration to others, please email [email protected] to be considered for a Graduate Connection interview. Please include details such as your graduation date (month/year), program, and campus name (Tulsa/Jacksonville/Houston). 
This blog has been labeled as archived as it may no longer contain the most up-to-date data. For a list of all current blog posts, please visit our blog homepage at https://www.tws.edu/blog/