Chris, age 19, originally from Maryland, graduated from the Welding Specialist program at Tulsa Welding School & Technology Center in Houston in March 2017. Chris enrolled in welding school shortly after leaving high school.
Thanks for your time, Chris. What made you choose a career in welding?
At first I wanted to be an engineer, but I discovered they don't do as much hands-on work as I thought, either in school or as a career. I like working with my hands, making stuff, more than being on a computer designing things. That's why the welding program appealed to me.
What or who first got you interested in welding?
I'm really into cars, go-carts and stuff. When I was 17, I broke my go-cart, so I looked up ways to repair it. I saw these welding videos. I knew what welding was, but I didn't know how it worked. That's when I got my first welding machine.
Have You Considered a Career in the Skilled Trades?
Fill out the form to recieve a no obligation info packet.
I ended up really liking welding—building and repairing go-carts, welding frames together—so I signed up for welding school instead of engineering. I really got into it.
Did you research welding careers before enrolling?
Yes, I looked up all the different career opportunities open to me. There are the pipelines, of course, but you can also get into the car industry where they build the bodies and everything. That's what really interests me, but there are so many things you can do if you're a welder.  
At 17 what did your parents think of you getting a welding machine?
They were really worried because they knew nothing about welding. When I showed them a video of what it was, they just saw sparks! They thought I was going to get burned or set things on fire. But once they learned more about it and saw the possibilities, they were more open to it. I think they were happy that I'd found something that could become a great career.
TWS Student Store
The TWS student store is now open! Visit GoShopTWS.com go grab all the latest TWS swag.
Shop Now
What did you enjoy most about Tulsa Welding School?
We didn't just learn one type of welding. We were taught as much as we could learn about every process. What if I'd only learned stick welding and I didn't like it? I would never have discovered TIG welding, which is my favorite type of welding. That's why it's great that they let you try everything—as much as they can in seven months anyway.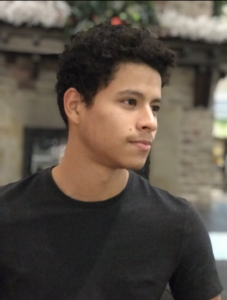 Who are you working for now?
I work for Industrial Alloy Fabrication in Houston. We manufacture custom internal products for reactors and towers. I've been there a couple of months. The first six months after school, I had a few different jobs, but they weren't close to home. I wanted something close by, and this job is maybe 20 minutes from my house. I'm a TIG welder, mainly working on stainless steel.
Are you happy with the money they are paying you?
I started off at $12 an hour, but within two days, once they saw my work, they gave me a $5 raise, which bumped me up to $17 an hour. That was pretty cool. Plus, they're giving me a $1 raise every three months. I could get overtime every day if I wanted to, which is about $25 an hour.
What was it like getting your first paycheck?
I was really excited. I'm saving for a 1991 BMW because I lost my last one in a car accident. I really liked that car, but they are hard to find. I'm saving hard, so hopefully I should have enough money next month. I'm really good with money, actually, and it's easy to save, especially with overtime. After that, I'll start saving to move out of my parents' house.
What are your career plans from here? What is your ultimate career goal?
I really want to try and get into welding in the car industry. I'm really into cars, so I'd love to get into that. I'd probably need to move somewhere out of state for that. But for now, I really want to stick with the company I'm at. I love it there. They let you stay after work to practice your welding skills.
What do you enjoy most about being a welder?
I enjoy taking random metal and making it into something that's beautiful. TIG welding is definitely the prettiest and cleanest process. I like staying clean!
What advice would you give to new students considering TWS?
Widen your view. You can do a lot of things if you know how to weld. Try to be open to everything they can teach you. Don't go in thinking you just want to learn one process. You never know—you might end up liking something else.
If you're a TWS graduate and would like to share your success and be an inspiration to others, please email [email protected] to be considered for a Graduate Connection interview. Please include details such as your graduation date (month/year), program, and campus name (Tulsa/Jacksonville/Houston).
This blog has been labeled as archived as it may no longer contain the most up-to-date data. For a list of all current blog posts, please visit our blog homepage at https://www.tws.edu/blog/