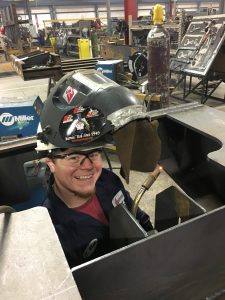 Blake, age 28, from Wichita, KS, graduated from the Professional Welder program at Tulsa Welding School in August 2017. After high school Blake went to college on a baseball scholarship, earning a bachelor's degree in History and Political Science. His plan was to go to law school, but after completing college, he realized he didn't want to go that route.
What made you choose a career in welding Blake?
I welded all through high school in shop class, so that's where I got my feet wet. I knew in the back of my mind that if things didn't work out the college route that welding would be a great back-up profession. After college I landed a welding job at a trash company – Waste Connections in Wichita. I really enjoyed it. I loved working with my hands, and the feeling I'd get after completing a good weld. I was there for 14 months. It was a great job. I loved the people there and they had high hopes for me, but I had a feeling that I needed to branch out, do something else.
Why did you decide to go to welding school?
After I quit Waste Connections I did everything from lawn care, to selling health insurance, to being a personal trainer and a few jobs in between. I wasn't really happy, and I'd been at a place for six months cleaning flour out of rail cars. I was 27 years old and I told myself I needed to get a profession. I needed a career that could sustain me. I'd always had Tulsa Welding School in the back of my mind. I knew it was an outstanding program from what I'd heard over the years. One night I saw an ad on Facebook. So I applied and moved down to Tulsa two weeks later.
Have You Considered a Career in the Skilled Trades?
Fill out the form to recieve a no obligation info packet.
What did you enjoy most about Tulsa Welding School?
The whole experience – the environment, the instructors, the staff, the students. I got in there from 7.30am to 12.30pm, and after the first couple of phases I knew what I had to do every day. The last three months I'd barely take a break; I was so focused on my welds. I enjoyed the sense of gratification after a good day. Of course there were bad days, but the number one thing were the instructors. They all did a really good job. I had perfect attendance and maintained a 4.0 the entire time. I was in the Student Ambassador program and I won 'Top Welder' in my graduating class which was pretty cool.
So who do you work for?
I work for XL Specialized Trailers. I do MIG welding for them. It's in Manchester, Iowa, a town of 5,000 people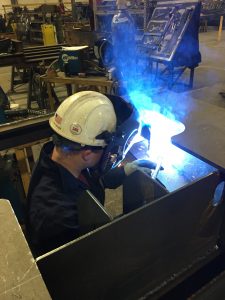 four hours west of Chicago, four hours south of the Twin Cities. Des Moines is two and half hours away, so it's pretty central. XL has had a partnership with Tulsa Welding School for a while. When XL came to the school, I sat through an orientation meeting, took a weld test, had an interview and took an aptitude test. They liked what they saw and hired me; it all happened really fast. That was three weeks before I graduated.
What are your career plans from here – what is your ultimate career goal?
TWS Student Store
The TWS student store is now open! Visit GoShopTWS.com go grab all the latest TWS swag.
Shop Now
I want to keep advancing and learning as much as possible. This isn't a negative, but I don't see me living the rest of my life in Manchester, Iowa. I'm not knocking XL by any means. I'm working 11 hour days right now; going in at 4 a.m., getting off at 3:30 p.m. The discipline of getting to bed early, waking up early, putting in the long hours is only going to benefit me later. The job itself…there's a lot of building, fabricating, blueprint reading; I'm learning the ins and outs and that's preparing me for what's to come.
I'm going to work this for a certain amount of time, but I have a couple of things on the back burner with some people. I'd like to get with a company that does shutdown and turnaround work at refineries. There's a lot of traveling and it pays very well. I'd also like to do more stick and TIG welding.
What was it like getting your first paycheck?
Gratifying – Being able to make my car payment without stressing! I'm making $18.50 an hour, plus the overtime at time and a half is $27.75. So it's pretty good, being single is definitely going to help me build up my bank account. I was living off student loans at Tulsa. I worked a few side jobs here and there, but I wanted to focus on school.
What do you enjoy most about your trade?
Completing a difficult weld that looks flawless with no infractions, no inclusions, and no porosity. Just the satisfaction right there of having down a really good weld.
So did you make some lasting connections at the school?
Yeah, there's actually three people here that I went to school with. But yeah, I made some lasting connections with my fellow students, people in the office, my instructors. I have a little network of people I can fall back on if I ever need any ideas or referrals.
What advice would you give to new students considering TWS?
As a student Ambassador, I'd talk to Phase One students. I'd give them three bits of advice:
Be accountable. Show up and do what's asked of you by the instructors and work with the front office.
Use the resources of the school. The tools, the instructors, the practice time…
Don't give up. You'll have bad days. You'll think, "I can't do this. I'm never going to be able to learn how to weld." Everybody has those thoughts, those bad days. Just keep pushing forward and practice, practice, practice.
This blog has been labeled as archived as it may no longer contain the most up-to-date data. For a list of all current blog posts, please visit our blog homepage at https://www.tws.edu/blog/