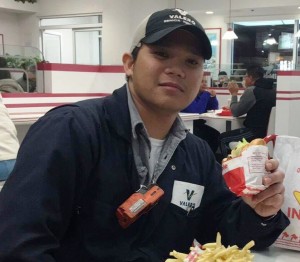 Archie, aged 28, now calls Orange Park, FL, home. He moved from the Philippines to the U.S. about six months before he enrolled in the Professional Welder program at Tulsa Welding School, Jacksonville campus in early 2014. He graduated in September of that year.
Thanks for your time, Archie. You're from the Philippines; how long have you been in the U.S.?
I've been here four years. I'm a U.S. citizen now.
What did you do before going to welding school here?
I worked in a gas station. I'd been doing that for about three months, but I didn't have a life there. I didn't have a future. I started researching jobs that paid well and I saw welding. I do have a little welding experience from 2009 back when I was in the Philippines, so I decided to go to welding school.
Have You Considered a Career in the Skilled Trades?
Fill out the form to recieve a no obligation info packet.
Where did you get that experience?
It was in a shipyard. They had a training school for welding. I worked there for about eight months.
What made you choose to go to welding school rather than try to get a job with your experience?
Because it had been a while since I'd welded. I was also new to the States and didn't know anybody. I needed the experience. Plus, I only really knew the Shielded Metal Arc Welding (SMAW) process, also known informally as stick welding, so I didn't know everything. Going to school helped me a lot.
What did you enjoy most about the school?
TWS Student Store
The TWS student store is now open! Visit GoShopTWS.com go grab all the latest TWS swag.
Shop Now
The hands-on part, the time spent actually welding, and the fact that I met a lot of people. I also want to say the instructors. They are really good; they teach you everything they know. You have five hours a day, five days a week, in school so you also have plenty of time to practice if you really want to learn. We had one day in a classroom and four days hands-on. The classroom stuff really helps too; they teach you the process of everything, how it works. They teach you a little about everything; it helps a lot.
Tell us how you got your job after graduation?
Right now I work for Mohawk Field Services on a project in Port Lavaca, Texas. I do a lot of traveling. I've been with them almost two months. I try to stay with a company for at least a year, but if something comes up that pays good, I'll go there. Actually, somebody just called me to be a welding foreman in Louisiana, so I'm waiting to hear about that. That would be a good opportunity to supervise others and learn something new.
What kind of stuff are you welding?
I'm working on a project for Formosa Plastic Corporation in Texas. It's a chemical plant that makes plastics. We're expanding the plant. It's all pipe work.
Are you enjoying the money you make as a welder?
Yeah, it's good. I enjoy it.
Has welding allowed you to do things you couldn't afford before?
Yeah, I've bought a truck and a house here in Florida. From making $250 a week working at a gas station, now I can make up to $4100 a week, although that depends on the project and where I'm working. It's really changed my life a lot, like big time!
What's your dream job?
I'm kind of living it. My dream is to travel the United States and make money at the same time. Tulsa Welding School has played a big role in that dream and in my life. It's changed everything and given me a whole new life. I've been up north, down south, and to the west coast. I've already been to many different, nice places like Mt. Rushmore, Golden Gate Bridge and the River Walk in San Antonio, to Las Vegas – it's fun! I really enjoyed traveling at the same time I'm making money! Thank you, TWS!
Where would you like your career to be in three years?
My goal right now is to be a QC [Quality Control] Inspector. I'm working on that; I'm hoping to take a test by the end of this year. That's my ultimate goal.
Did you leave Tulsa Welding School feeling like a specialist?
Yes, definitely. When I graduated, I was confident. I knew that when I took weld tests, I could pass them. The instructors are so good. They helped me a lot. I worked hard and helped myself to learn because I didn't want to waste my time and money to go to school just for nothing. So I knew I was ready. The first welding test that I did, I'd never done that weld before, but I still passed. Tulsa gave me the confidence in myself and in my skills.
What do you enjoy most about being a welder?
Meeting new people, making friends on the job…and welding isn't a job for me; it's like art. Welding is not for everybody. Only a few people can really do it well; so that's why I really like it. And the money helps!
Do you keep in touch with classmates?
Yes, I do. Actually my first job in Texas came from a classmate.
What advice would you give to new students considering TWS?
Before you make a decision to go to welding school, make sure that you really like welding. Once you get to welding school, you need to focus – especially on the hands-on work. They're going to teach you everything about the process, and how you're going to do everything, so focus. I saw people who thought they were good and ready, but they really weren't. I did well at school. I got nine Top Ones, but out in the real world, it was still hard for me. You leave school knowing how to weld, but you'll only build your experience on the job.\
So just focus, motivate yourself, and have the determination to be the best at what you're doing. I worked nights (from 10pm until 5am) at the gas station to support myself and then went to school in the afternoon, from 12.30pm until 6pm. I did that for seven months. I was so tired that sometimes I didn't know if I could make it or not, but I told myself that I needed to do this. I'd already started it, so I needed to finish.
What do you do for fun?
I just sold a dirt bike, but I like to go to the gym. I like fishing. I just had a week at home in Florida; it was a 14 hour drive but worth it.
If you were a millionaire for a day, what would you do?
That's a good question! What I'd do first…I'd go to a bar, drink a couple of beers and just smile! After that I'd travel to all the countries that I want to see. Then come back and do some business. I'd buy five or ten houses and rent them out, maybe build a restaurant. Business is just a gamble; so you always need to have something as a backup.
If you're a TWS graduate and would like to share your success and be an inspiration to others, please email [email protected] to be considered for a Graduate Connection interview. Please include details such as your graduation date (month/year), program, and campus name (Tulsa/Jacksonville/Houston). 
This blog has been labeled as archived as it may no longer contain the most up-to-date data. For a list of all current blog posts, please visit our blog homepage at https://www.tws.edu/blog/