Alton, 59, from Georgia, graduated from two programs at Tulsa Welding School, Jacksonville in the same year: 2014. Alton, a 23-year veteran of the United States Army, first graduated the Professional Welder program before coming straight back to study Refrigeration Technologies.
Thank you for your service, sir. What made you do both programs at Tulsa Welding School?
I was always interested in learning, just to know how to do things. I was using my GI Bill, so I figured I would just do both programs to develop my own personal skills, really.
Well thank you for sharing your story, Alton. Tell us about your career before TWS.
I joined the U.S. Army about a year after high school in 1981. I served for 23 years before retiring in 2005. I was a recovery mechanic. Our job was to go get anything that was blown up! I was deployed quite a few times. I was in Kuwait in '91, then Kuwait again and Iraq in '03 and '04 when we got Saddam Hussein.
Have You Considered a Career in the Skilled Trades?
Fill out the form to recieve a no obligation info packet.
After the Army I went to Pittsburgh, PA, to use my GI Bill. I did a Diesel Tech program, Light & Heavy Diesel Technology. I worked for a car dealer, and later I went into property security. It's always easy to get a security job when you have come out of the Army! I was doing security before I went to Tulsa Welding School.
What did you enjoy most about your time at TWS?
Mostly the instructors. They really cared about how you're doing and getting it right. The welding instructors could tell whether your weld was going to crack in a bend test just by looking at it. It was just fascinating. I'd never done any welding before, so I didn't know how strong metal can be after it's been broken or cut.
Which program did you enjoy more?
Both, equally.
TWS Student Store
The TWS student store is now open! Visit GoShopTWS.com go grab all the latest TWS swag.
Shop Now
What are you doing now? Do you have your own auto shop?
I'm kind of a jack-of-all-trades with the mechanic background, plus the welding and HVAC. I used to work for a car dealer, and now I do it for myself. You wouldn't believe I can use both of those skill sets, even the welding on cars and mufflers, things like that. It's handy to be able to do touch-up welding or change a catalytic converter or something like that. I don't have a shop; I do it at home. People deliver their cars; I do small jobs, things where I don't have to keep their cars longer than two days. The jobs I'm doing now on cars I use a little bit of welding, and I do a little bit of the air conditioning in the summer.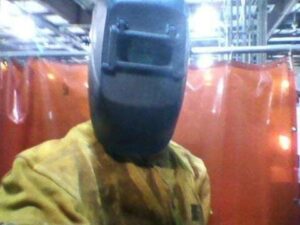 What do you enjoy most about what you do?
I enjoy fixing things, solving problems, but really I enjoy helping people. I try not to charge a whole lot because some people can't afford it. I try to make it easy on them, but at the same time I still make money. I'm honest with people: I just fix what needs fixing, and it's still practice for me, too. Sometimes it's a challenge to get it right.
So do you plan to work on cars until you put your feet up on your porch and retire?
Yeah, I kind of have my feet up now. But if someone comes by and asks me to do something for them on their car, I'll put my feet down and get back to it!
Sounds like a nice semi-retirement! Do you have your family close by?
I'm a big family guy. I'm divorced, and now I have a fiancé. I have three grown sons and a 15-year-old daughter, as well as six grandkids.
What advice would you give to students considering TWS?
I would suggest that they take it seriously, no horseplay. Just be serious about what you're doing and learn what's going on around you. When you're welding and you have to watch that little bead, it's kind of hard at first, but once you get it, you can go with it. But you are going to have to focus on it, to work hard, to get it right.
Having studied both, would you advise people to go with a welding or HVAC career?
They are both good career choices. At my age, I didn't come to Tulsa Welding School for a career, I did this because I had my GI Bill and was interested to learn. If you go with HVAC, you can work air conditioning in the summer and heating in the winter, and welding is needed all year-round too. Go with the one you have the most passion for.
If you're a TWS graduate and would like to share your success and be an inspiration to others, please email [email protected] to be considered for a Graduate Connection interview. Please include details such as your graduation date (month/year), program, and campus name (Tulsa/Jacksonville/Houston). 
This blog has been labeled as archived as it may no longer contain the most up-to-date data. For a list of all current blog posts, please visit our blog homepage at https://www.tws.edu/blog/