Aaron, from Printer, Kentucky, graduated from the Professional Welder program at the Tulsa Welding School, Jacksonville campus, in December 2017. Aaron, 19, enrolled in the program straight out of high school.
Thanks for your time, Aaron. What made you choose welding?
I took welding for two years at my technical high school; I liked it, so I kept on with it. I thought I could make a pretty good career out of it.
How did you get on at Tulsa Welding School?
I pretty much made it a competition with myself all the way through. A few of my classmates and I would get together and have competitions, too, here and there. I just tried to get better with every weld that I did.
Have You Considered a Career in the Skilled Trades?
Fill out the form to recieve a no obligation info packet.
You had to catch on to it pretty fast, as you only had three weeks to learn three or four different positions. But I worked hard at it and perfected them all.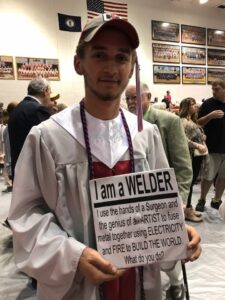 Was having two years of high school welding experience an advantage?
I think it probably helped to start with, but it evened out during the program. They guys with no experience caught on pretty quickly.
How were the instructors?
The instructors were great; if you asked them a question, they'd tell you or come show you.
TWS Student Store
The TWS student store is now open! Visit GoShopTWS.com go grab all the latest TWS swag.
Shop Now
You graduated a month ago. Where are you working now?
I'm working at QuaLex Manufacturing in Lexington, KY. We do sheet metal manufacturing and fabrication. I weld and build parts for Link-Belt Cranes. I started about three weeks ago. I work Monday through Friday, 7am to 3pm.
How did you get the job?
Career services helped me out. They spoke with QuaLex, and I went in for a weld test. It was my first weld test and my first welding job ever. I tried to relax for the test, but I was pretty nervous.
What was it like getting your first paycheck?
It felt good! But it felt good knowing that the next one was going to be better, as I'd have more hours. It's more money than I've ever made!
Did you do anything special with it?
Not exactly! My truck tore up so I had to order some parts for it, and that about took it all!
Do you do any welding on the side?
I've got a small welder at home so I can do small jobs; I've built a trailer with my stick welder to earn a little money.
What are your career plans from here?
Eventually I'd like to travel and be on the pipe lines. I've always wanted to be a pipe line welder. Moving from place to place, project to project sounds good to me.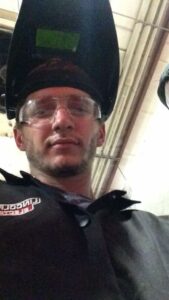 So how are you going to make that happen?
I'm going to stay here for a little bit to get some more experience, get my funds built up and build my own welding rig.
What do you enjoy most about welding?
When I weld, I'm in my own world. I like that. And the money's good, too. I feel like I can always get better.
What advice would you give to new students considering TWS?
You've really got to do your best all the way through. You can't slack off at all, or you won't make it. You've got to dedicate yourself to it. I had a lot of trouble on some welds, so I'd go in a little early and practice on it, and by the end of that night I'd have it down. Putting in extra hours here and there can definitely make all the difference. The school is open to you coming in to practice any time if there are booths free. You've definitely got to put in the effort.
If you're a TWS graduate and would like to share your success and be an inspiration to others, please email [email protected] to be considered for a Graduate Connection interview. Please include details such as your graduation date (month/year), program, and campus name (Tulsa/Jacksonville/Houston). 
This blog has been labeled as archived as it may no longer contain the most up-to-date data. For a list of all current blog posts, please visit our blog homepage at https://www.tws.edu/blog/