Michael, age 28 from Bartlesville, OK, graduated from the Welding Specialist with Pipefitting program at Tulsa Welding School & Technology Center in Houston in April 2017. Michael also has a degree in Agribusiness from Oklahoma State University.
Thanks for your time, Michael. After high school you went to college, what did you do after?
I tried to get into management in the agricultural world but struck out. I didn't have a lot of experience, just a degree, so I bounced around different jobs but didn't like any of them. When we moved to Houston for my wife to finish her Graduate degree, I was back at square one, working $8/hour jobs again.
So what made you consider welding?
I thought about my friends. They'd left high school and had gone straight into the welding industry. We're the same age, and they're buying houses or land and able to afford a very good lifestyle. One went straight to the pipelines, and another went into fabrication with the local union. They both love their jobs; hearing them talk encouraged me to look into it.
Have You Considered a Career in the Skilled Trades?
Fill out the form to recieve a no obligation info packet.
So I said to my wife that I wanted to try it. I come from a construction background; my dad builds custom houses, so being hands-on was really key for me. Being in management, I'd felt I'd done more paperwork than anything. So I dove into it, and I'm really happy that I did.
Coming from Oklahoma, had you heard of Tulsa Welding School before?
I'd heard about it, but I'd never given it too much thought. I always thought my degree was going to pan out at some point. I'm sure being able to understand the business aspects will help me in the long run as I progress in this industry. I'm sure it will pay off in the end.
What did you enjoy most about Tulsa Welding School?
Just the whole atmosphere. It was a good environment to learn in. The instructors are very helpful. I came with no welding experience and quickly started attaining Top One awards. A lot of that had to do with me putting in the time and effort, as well as having the willingness to learn and change.
TWS Student Store
The TWS student store is now open! Visit GoShopTWS.com go grab all the latest TWS swag.
Shop Now
It was a very welcoming atmosphere in which to learn. I didn't feel judged or belittled. The instructors saw the effort that I put in, my desire to be better, and they invested more time in me. Welding wasn't going to be just a job for me. I wanted to make it a career. And I think they recognized that.
Why did you choose the Welding Specialist with Pipefitting program?
I wanted to be a little bit more versatile. Having the ability to read drawings and fabricate is kind of important. I wanted to learn every little thing that I could to make myself better.
Who do you work for now?
I work for Advance Tank and Construction, based out of Wellington, CO. They have a small satellite office here in Houston because there's so much work. This company typically is 100% travel, but they have enough work here that they don't require you to travel much.
Advance Tank is family owned, and they're very supportive of being close to family, which is good for me, as I'm kind of a home body. It's been great so far; they've respected me and my talent. I've learned a lot, and I'm excited to learn more. They like to hire younger welders so they can train them the way Advance Tank wants them to work, but they're also looking for loyalty.
Right now I'm building large storage tanks at a refinery. I've been fitting and welding seams in the roof of one of these tanks for about two weeks. They're about 54 feet in diameter and 100 feet tall, so it's a lot of welding. I've done one and there are nine more to build.
What was it like getting your first paycheck?
To be honest with you, it was a double edged sword. I was happy and surprised at how large the check was, but at the same time, I looked at it and thought, "Well that pretty much pays off one school loan."
My wife and I are being smart with our budget. It is nice to look at a paycheck and think we can put some money in savings, or we can take a vacation. We've been married for three years and not had a honeymoon, but this year in May, we're going to go to Hawaii, and welding is a big reason for that.
What are your career plans from here – what is your ultimate career goal?
I want to retire here if I can. I'd eventually like to work my way up to Construction Manager. I want to manage an entire project from its infancy to completion. I'm a very loyal person, and I think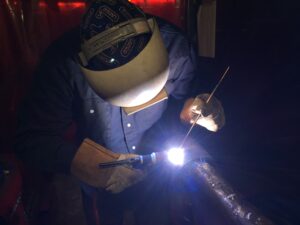 some of that has to do with my maturity. I'm not interested in chasing cash or jumping from one job to the next for a couple extra bucks.
I understand that I'm coming in at a lower rate than a lot of people, but I'm okay with that because I know that if I stick with it and get better, faster and more productive, the money will come. I need to show them that I'm here to produce a quality product, not just collect a check.
What do you enjoy most about being a welder?
Looking back on daunting pieces that you thought would take forever and being able to say, "I built that. I was part of that." That's very gratifying. This current project is the largest I've ever worked on. I take a lot of pride in knowing I've had a part in something so huge.
What advice would you give to new students considering TWS?
I'd ask the younger crowd, "How bad do you want it? How much effort are you prepared to put in?"
Your success will come down to your work ethic and character. That's why I made my time at welding school a competition. I decided the only way to be the best was to beat my classmates. I put in the time for extra practice. I asked the instructors a million questions to the point where I'm sure I became annoying, but I didn't care. I wanted to be the absolute best product that I could make myself. Ultimately, it comes down to you. If you're willing to work hard, you can come out and make a lot of money.
If you're a TWS graduate and would like to share your success and be an inspiration to others, please email [email protected] to be considered for a Graduate Connection interview. Please include details such as your graduation date (month/year), program, and campus name (Tulsa/Jacksonville/Houston). 
This blog has been labeled as archived as it may no longer contain the most up-to-date data. For a list of all current blog posts, please visit our blog homepage at https://www.tws.edu/blog/