Brandon, 43, from Bay City, Texas, graduated the Professional Welder program at Tulsa Welding School & Technology Center in Houston in December 2021.
Thanks for your time, Brandon. In your early 40s, was coming to welding school a career change?
Yes, it was. I was doing something completely different. I was cooking, I was working in a restaurant. I'd been doing that for years. 
So, what made you switch one type of heat for another? Kitchen to welding booth.
I was looking for something a lot more stable. A lot of restaurants closed down during the pandemic. I lost my job and I ended up losing my house because of it. Basically, I wanted more money and more stability.
Have You Considered a Career in the Skilled Trades?
Fill out the form to recieve a no obligation info packet.
I'm sorry to hear that. Why did you turn to welding in particular?
Because I had done it before. I did a little welding in high school and I did a little work in welding for about two years, but that was years ago. I knew I wasn't really good at it, but I was familiar with it, and I enjoyed it. That gave me a little head start.
If you had a little experience, why did you decide to go to welding school?
I decided I wanted to do it the right way. I decided to go ahead and get Financial Aid and just go to school immediately, and then take it from there.
TWS Student Store
The TWS student store is now open! Visit GoShopTWS.com go grab all the latest TWS swag.
Shop Now
What did you enjoy most about your experience at Tulsa Welding School & Technology Center?
I think it was the people. My instructors were really, really cool people. They gave me a lot of confidence in myself to keep pushing forward. There was a turning point where I wasn't sure if it would work out, but they just kept me believing in what I was doing. They were always telling me to keep pushing forward and to not quit. 
You found the program hard at times?
It wasn't hard, but I just felt it would take me longer than seven months to get good at it. But the instructors gave me a lot of pointers. They were really good for my mental health basically.They'd tell me not to worry about it, they helped me stay motivated. They really helped me to stay focused and to stay on track. I actually progressed pretty quickly and was able to get through it a lot faster than I thought I could.
You didn't have to rephase then (repeat any of the courses)?
Yeah, they helped me avoid having to do that. I'm not going to lie, I had two really cool instructors who  really cared that I actually got into the field working, instead of just graduating school. They seemed to really care about my career, not just my education.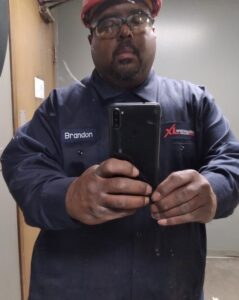 That's excellent. Congratulations. Were you one of the older guys? Did that bother you?
I was pretty much the oldest, definitely one of the oldest. It bothered me at the start, but like I said, I had some really great instructors who were really hands-on with me. They just kept me mentally stable to where I didn't really think about it. I just put my head into what I was doing and kept pushing forward.
Did you make some lasting connections at school?
No, not really. I was in the weekend class because I had to work Monday through Friday up in Bay City. I had to drive one hour and 20 minutes each way. That's the main reason I chose the weekend class. I'd only have to make the drive two days a week. So I was always in a hurry to get to class, then get back and get some rest, because I had to work full-time during the week. Sometimes I had to work on the weekend, and I had to miss a day.
I've never heard of a weekend welding class. Is that new?
Yes, sir. I was in the first weekend class that they'd ever done in Houston. Saturday and Sunday all day, 10 hours a day. It was 8:00 a.m. to 6:00 p.m. The program is the same duration as the regular weekday program. It takes seven months to complete the Professional Welder program.
Congratulations of graduating. Where are you working now?
I am working with XL Specialized Trailers in Iowa. I started with them 10 days ago in early March. I'm building the frames for big gooseneck trailers, the real big ones that you can carry highway construction vehicles on.   
How did you get the job?
Career Services contacted me just after I graduated in late December. But they said XL wouldn't be coming to the school to interview for at least two months. So, I filled out everything and I waited through January and most of February for them to come. I looked for other jobs in between, but I wasn't able to find one. When XL finally came, I passed the weld test and got hired. I moved from Houston to Manchester, IA.
Did you move to Iowa alone, or do you have family?
My son was living with me, but he ended up staying with my mom because she's like an older lady. She had a stroke some years back and she really needed somebody to stay with her. So, he ended up staying with her and I ended up moving by myself.   
Sounds like a good son and grandson. I hear you're working the night shift. Do you like it?
Yes, sir. From 3:30 p.m. to 2:00 a.m. I really don't have any preference on the shift, but it's a lot easier to learn the job on the nightshift. It's a little slower, not so much going on around the place.
Are you happy with your first welding job?
Yes, I am. I'm getting to weld and I'm learning at the same time. This does seem like a place where I could end up staying.
What's your career plan from here?
I'm basically a one day at a time kind of guy. I just want to stay positive and stay working for right now, building my experience.
You moved to welding from a kitchen to make more money. Are you happy with where you've started?
Yeah, I sure am. We're working 10-hour shifts Monday to Friday, so there are 10 hours of overtime every week which is time and a half. Plus, some weeks we may end up having to work Saturdays.
When you meet people and tell them you're a welder, what do they say?
A lot of times the first thing a person says is, "Oh, you make a lot of money!" That's the first thing people usually say when I tell them I'm a welder.
What do you enjoy most about being a welder?
For me, I think it's seeing the finished product. I've only been here a couple of weeks but eventually being able to see something that I've been a part of making will be very satisfying. I think that's the pretty cool thing about being a welder.
What advice do you have for students to be successful at Tulsa Welding School?
Don't give up. Don't get discouraged. It will all work out in the end, as long as you keep pushing and don't ever give up. Just keep believing in yourself.
If you're a TWS graduate and would like to share your success and be an inspiration to others, please email [email protected] to be considered for a Graduate Connection interview. Please include details such as your graduation date (month/year), program, and campus name (Tulsa/Jacksonville/Houston). 
This blog has been labeled as archived as it may no longer contain the most up-to-date data. For a list of all current blog posts, please visit our blog homepage at https://www.tws.edu/blog/