Preston, aged 19 from Beaumont, Texas, graduated from the Welding Specialist with Pipefitting program at Tulsa Welding School & Technology Center in Houston in March 2018. Preston went to welding school straight out of high school.
Thanks for your time, Preston. What made you choose a welding career?
What really drove me to do it was the fact that I didn't get the college scholarships I was expecting for football and power lifting. I've always been good at welding, so I thought welding would be the way to go. Someone from Tulsa Welding School came to my high school, and from then on it was a no-brainer.
You started welding in high school?
In my freshman year, then I got into more intense welding. I was TIG welding by my sophomore year.
Have You Considered a Career in the Skilled Trades?
Fill out the form to recieve a no obligation info packet.
Are there welders in your family?
My grandpa on my mom's side was a pipefitter for over 50 years in the shipyards. And his son, my uncle, is a welder up there. He does just about everything up there.
What did you enjoy most about welding school?
It was learning things that I'd never done before. I'd never run flux, I'd never really messed with MIG. TIG—the 120 Phase [Advanced Pipe Welding]—was my favorite phase, as that was what I'd always done, so it was my time to shine. That's why I loved it so much.
How did you find the instructors and the hands-on time?
TWS Student Store
The TWS student store is now open! Visit GoShopTWS.com go grab all the latest TWS swag.
Shop Now
The instructors made a very large impact, not only on me, but from what I saw, they made an impact on the other students as well. I'd much rather work with my hands than be behind a desk all day. It's just as simple as that. There was plenty of hands-on stuff, and I had no problems with any of the bookwork stuff. It was super simple, super easy, no problems.
You graduated 8-9 weeks ago. Did you work with Career Services to get a job?
I was going to, but I had plenty of connections of my own. Actually, a better opportunity arose just five days after I got my first welding job, so I'm now at National Oilwell Varco (NOV).
Where did those connections come from?
Throughout high school, I always worked in the housing business as a contractor, building new houses with my dad. We had an extended family business. People would either talk to my dad, or I'd be working directly with them. When I told them I was going to welding school, they'd tell me they work for Exxon or Valero, Total, or at other plants or companies. These were mostly people who were reasonably high up the ladder. They told me to give them a call when I graduated or come see them for an application.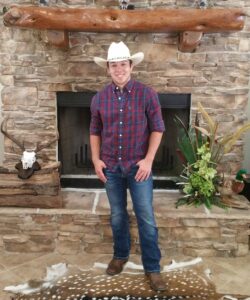 One of those connections paid off?
Our main realtor's husband is one the quality control head guys at National Oilwell Varco. As soon as he heard I was graduating from Tulsa Welding School, we went to lunch! He knew I graduated at the top of my class. Five days after, I started my first job somewhere else. Someone from HR at Varco called me.
What are you doing with NOV?
It's an international company with lots of locations. I'm at the XL systems place in Beaumont. I'm a combination welder welding multiple processes. If you're good at multiple processes, this would be a good place to apply.
You are back in your home town?
Yes. It's nice to be home. I've already moved into my own new house and it feels pretty good. I've worked since I was 14 to be able to do what I'm doing now. I'm literally 20 minutes away from work.
Was it exciting to get your first welding paycheck?
It actually was. But being a contractor throughout high school and while I was going to Tulsa, it wasn't too much of a pay difference from what I was making. I've only been with Varco for about six weeks now, so it will be going up. I'm what they call a temporary employee right now. I'm employed by a staffing company. I have another two or three months before I'm hired on.
As soon as I have 540 hours, a period where you're watched to see if you're a good hand, that's when they hire you on. It's not going to be a problem for me because they already know what I can do, and I haven't made a bad impression on anyone. I always try to make sure everything I need to do is done, and then some. They told me this week that I'll be hired on full-time once I complete my hours.
You're only 19. Do you have a career plan?
It's always important to have a plan. The company is looking for young people—18, 19, 20 years old—because they have a lot of guys who are getting close to retirement, and their positions will be open. That's going to be taking place, most likely, in the next three to five years. As a matter of fact, we have three guys who are retiring this year—guys who have been there for 18-20 years. So it's kind of exciting to see those spots open up.
What do you tell people about being a welder?
I tell people that I work where it's hot and that I probably make more money than they do! Out of most of my friends, there's only one other person who makes more than me, and he's a welder at a different company.
Did you make some connections, some friends, at Tulsa Welding School?
Actually, yes, I did. Six or eight of them are coming to my house next weekend for a little housewarming party. All my friends from Tulsa Welding School are coming, plus a couple of friends I made in Houston and some friends from high school.
What advice would you give to new students considering TWS?
Always remember that somebody is going to want your job. While you're in school, do your best, keep your head down and work. That way, when you get out there in the field, you'll be that guy (or girl) who's that good. If you do what you're supposed to do while you're in school, you'll have no problems passing, because I didn't. Remember that there is more than one way to do certain things, so if something isn't working for you, ask for help from other instructors or from other guys. I was able to make friends with some guys who were further along the program than I was, and they were able to show me different ways to weld.
If you're a TWS graduate and would like to share your success and be an inspiration to others, please email [email protected] to be considered for a Graduate Connection interview. Please include details such as your graduation date (month/year), program, and campus name (Tulsa/Jacksonville/Houston).
This blog has been labeled as archived as it may no longer contain the most up-to-date data. For a list of all current blog posts, please visit our blog homepage at https://www.tws.edu/blog/