Todd, 41, is an Oklahoma native. He is a welding instructor at Tulsa Welding School and has been with the school for just about two years. Todd currently teaches the afternoon and evening shifts.
Thanks for your time, Todd. As a boy, what did you want to be when you grew up?
My dad was a welder, so I guess a welder! I did some welding at home and also went to a vo-tech high school.
At what age did you first pick up a welding torch?
I was probably making sparks in third grade. I didn't know what I was doing then, but by the age of 13 or 14, I started getting pretty good at it.
Have You Considered a Career in the Skilled Trades?
Fill out the form to recieve a no obligation info packet.
Why did you decide to go into welding? Was it because your dad was a welder?
No, it was because I knew how much money I could make as a welder. I knew that I wasn't going to go to college. By 15 or 16 years old, my dad and I were going over the stuff that I'm teaching right now. I was pretty advanced. I wanted to be good so I could make a lot of money at it.
How long have you been welding professionally?
I started welding for work right out of high school at 18. I welded until I was around 22, then I took a break for five years. I had a lawn service business, but then I came back to welding. I have about 17 or 18 years of professional experience, but I've been welding for more than 30 years in total.
What kind of work did you do in the welding field?
Just before coming to Tulsa Welding School, I worked for a mechanical contractor, but when I was out in the field, I pipelined and built compressor stations.
What made you decide to go into teaching?
To be honest, I got tired of traveling and being away, so I decided to come home. The steady hours at the school really appealed to me, and I knew I needed to be home.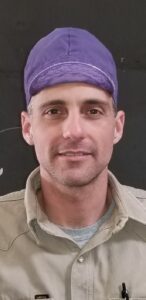 What do you enjoy most about teaching?
The best thing about it is when you get students come through who really, really want to learn how to weld. If they have the desire to improve, we can help them.
Was it tough to give up the field work to come and teach?
It was a tough decision at first because I was quitting something I knew and starting something different. I had no idea what would happen, but here we are two years later, and it's worked out pretty well!
Tell us something most people won't know about you.
I don't know. I work a lot. So as far as hobbies, I don't have much time. I do like to build furniture. Most people don't know that.
Tell us about your family.
My wife and I have been married 15 years this year, and we have two girls aged 7 and 10.
If you could have dinner with anyone, alive or dead, who would it be?
I'm going to say my pastor, Dr. Alex Himaya. He's very biblically knowledgeable and would be interesting to chat with.
What was your favorite part of being in the field?
It was when I was a superintendent at the end of my career in the field. I enjoyed managing people and getting projects done on time, meeting deadlines. That was when I was building compressor stations.
For those of us who don't know, what's a compressor station?
A compressor station compresses the natural gas that comes into it and pumps it on down the line. It also takes out moisture and different byproducts.
If you weren't a teacher, what would you do?
I would focus on my other job, being a new home contractor, building houses, remodeling kitchens and bathrooms. That's what I do now when I'm not teaching. I manage both jobs around each other. That's why I'm always working.
If you got an unexpected afternoon off from school, what would you do with that time?
I'd work! I would get on with the remodeling job that I was working on at the time.
If you were to tell someone "Thank You" for helping you become you, who would it be and why?
My father Steve. He first taught me how to weld and always gave me encouragement and guidance. He is still welding, does some plumbing. We were just talking about him retiring soon, so he can come work with me and pick up some of the slack!
What's the best piece of advice you have for new students who are just starting out?
Show up every day and put 110% into it. Do what you're supposed to do, but don't just do the bare minimum. Use all your time wisely. Make the most of the opportunity you have here.
This blog has been labeled as archived as it may no longer contain the most up-to-date data. For a list of all current blog posts, please visit our blog homepage at https://www.tws.edu/blog/