Shane, 32, is a Welding Instructor at Tulsa Welding School, Jacksonville campus. Shane started his career as a welder helper working in the Texas oil fields; a few years later he attended TWS as a student.
Thanks for your time, Shane. How long have you been teaching at Tulsa Welding School?
It's coming up on eight years now.
How long have you been welding?
Since I was 18. I didn't know the first thing about welding. Like a lot of kids, I'd never given any thought to how buildings or ships get put together. After high school I moved to Texas to live with my mom. I started as a welder helper working in the oil field with a welder called Roger Bundick.
Have You Considered a Career in the Skilled Trades?
Fill out the form to recieve a no obligation info packet.
Pretty much my first day on the job he told me I was going to grind this four-inch pipe that was all rusted up. I spent the whole day grinding it shiny, then he told me to put it back on the rack. I asked him what we were going to use the four-inch for. He said, "Nothing". He only had me grind it to see if I could hang. He took me under his wing and taught me everything; how to fit, how to weld, how to cut. I learned a bunch of different stuff from him. I was in Texas for about three years.
Why did you enroll at Tulsa Welding School as a student?
I became an actual welder in the oil fields after I broke out. But all I did was downhill 6010 on pipelines and oil tanks. I didn't know anything else. My girlfriend, now my wife Liz, lived in Jacksonville. She wanted me to come home. I looked into Tulsa Welding School. They had all the different processes: TIG, MIG, all things that I'd never run or even seen run, so I decided to do the Professional Welder program in 2010. Then I went to the shipyard for another two or three years, traveled, and did a bunch of stuff.
What made you decide to go into teaching in 2013?
Mainly because I look back to Roger, the guy who taught me in the field. I looked up to him a lot. He taught me a bunch of different things, so I kind of wanted to give back.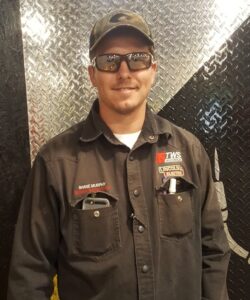 What do you enjoy most about teaching?
I really enjoy teaching students who want to learn. When they really want it, it makes me feel good when they come up and say, "Man, do you see this? Look how much better I've done since you taught me that one little trick!" Teaching is what I really like to do.
What have you learned after eight years as a welding instructor?
When I first started, I came in as a welder. I'd never taught before; I just knew how to weld. The biggest thing I've learned over eight years teaching is how to talk to students, to understand where they are coming from and how they learn. Once I understand that, I can teach them in different ways. Some people are visual learners, they want to watch me do it, then they want to try it. A lot of people want me to watch them weld and talk them through it. Then there are the very rare ones where I can just tell them, and they go off and do it. It's very important to know how to approach your students, and make sure they are engaging in the information you are giving instead of just repeating the same information over and over again when it's obviously not working.  I've become very good at reading people and knowing how to explain something in terms each student will understand.
Have you learned how to identify students who need extra help?
I tell my students I'm not a mind reader; I'm here to help them. I tell them that instead of beating their head against a wall, let me know if they're struggling. I walk the aisle and keep my eye on them, and I know who's struggling and who's not. But there are definitely certain students that just won't ask for help. My biggest thing is to learn my students' names by the second day, so they feel more comfortable on a personal level. I find that from there, they are more susceptible to getting help.
Why have you stayed in teaching so long?
I like to go home and see my kids every day. I've traveled quite a bit and being able to go home and be with my family is important to me. But beyond that, I really enjoy teaching. Roger, my mentor, took the time to teach me and make sure I really understood it. That's what I like to do for my students. I like it when students who have struggled start to get it. That's very satisfying. When graduates come back to say hi or I get a Facebook message to tell me how well they're doing, how much money they're making, that's cool. It's a good feeling to know I made a real difference in their lives. You can't put a price on that.
Tell me something that most people don't know about you.
I'm a big-hearted person. I'll help anybody out. I'll give someone the shirt off my back to help. I'm easy-going, I like to joke a lot, and I joke back and forth with everybody. I get messed with more than anybody.
If you could have dinner with anyone, alive or dead, who would it be?
Adam Sandler. That would be a fun. I think we'd be pretty in tune with each other and get along well.
Tell us about your family.
I'm married to Liz; we've been together 14 years. We have two kids; Connor is four and Claire is two.
If you weren't a teacher and you could pick your job, what would you be?
Professional golfer. It's been a little slower since the kids, but I try to play at least once or twice a month.
Is it easier to be a teacher at 32 than 24?
I did notice that some older students, guys in their fifties, would look at me back then and think, "Who is this kid?" But if you have the experience, show them good demos, give them good information, it doesn't matter how old you are. They will listen to you and understand that this guy knows what he's talking about. My problem is I still look like I'm 24!
You get an unexpected afternoon to yourself, what would you do with that time?
I'd go home and play with the kids, get them out the house. Just hang out and play. Before the kids, if my wife would let me, I'd have gone to the golf course for the afternoon!
What's the best piece of advice you'd give to new students who are just starting?
It's pretty simple. Whatever you put into the school is what you'll get out of it. Students who come and put the time in, put the hard work in, work their tails off in the booth, they're the ones most likely to go out and get the high-paying jobs. If you come in because someone's forced you to be here, go through the motions and do the minimum, you're not going to be good enough to get those jobs.
Is that your biggest frustration?
The last thing a teacher wants to do is hunt their students down in the parking lot, chase them down when they don't really want it. That's my biggest thing. Why are you here, spending this money, if you don't want to be here and learn? Don't come to TWS because your mom wants you to! I can't make you do it. One of my pet peeves is going into a student's booth and I do a 20/30-minute demo. I show them everything they need to know. Then I go help another student, come back to check on them to find they didn't even try it; they just packed up and left. Stuff like that is a like a slap in the face. I could have spent that valuable time with a student that wanted to learn.
If you were to tell someone "Thank You" for making you who you are today, who would it be & why?
Definitely my dad, Mark. He and I are really close, he's like my best friend. He definitely made me the person I am today. As a young kid he taught me right from wrong, to always try my hardest and put my everything into everything I do. We had a rough patch when I was in high school; I was doing some things that he didn't agree with. He actually kicked me out and told me to get my act together. That's when I went to live with my mom in Texas. Honestly, if he hadn't done that, I don't know where I'd be. I'd probably still be working at a golf course as a cart guy. He knew what needed to be done to get me back on track. He's why I am the man I am today.
This blog has been labeled as archived as it may no longer contain the most up-to-date data. For a list of all current blog posts, please visit our blog homepage at https://www.tws.edu/blog/