Ryan, 24, from West Virginia, is a Senior Welding Instructor at Tulsa Welding School, Jacksonville campus. Ryan joined Tulsa Welding School as an instructor in September 2020.
Thanks for your time, Ryan. Talk us through your welding career. 
I started welding at a very young age. I don't remember exactly when I started, but I've been employed as a welder since I was sixteen. I have about eight years in the field. A lot of my experience has been working pipelines and shutdowns for the oil and gas industry, as well as a government contractor welding on U.S. Navy ships, specifically aircraft carriers and submarines, in Norfolk, Virginia.
What made you decide to go into teaching?
I think teaching has always been my end game since I got started in this industry. I went to another welding school when I graduated high school, and I've always been driven back towards teaching.
Have You Considered a Career in the Skilled Trades?
Fill out the form to recieve a no obligation info packet.
Why is that?
I think back to when I started welding, I didn't have that person to help or teach me. I just had to figure it out myself. What drives me is being that person for my students, whether they are eighteen and just out of high school looking for a career, or seventy years old and just wanting to learn how to weld!
Is that what you like best about teaching?
Yes, being able to make a difference in peoples' lives, especially one on one, is very rewarding.
Why was 2020 the right time for you to come off the road and start teaching?
My wife and I had our first baby on the way. I didn't want to be away traveling so much. The last two years working on naval ships, I did nothing but travel. Obviously having a new baby, I didn't want to be away for nine, ten, twelve months at a time.
Congratulations! Tell us more about your family.
My wife Emily and I have been together three years and have been married about a year. She is currently serving in the Navy, but she is in the process of getting out. Our son, Porter, is four months old. My wife's naval career is what brought us to Jacksonville at the end of August last year; she had orders down here.
As a kid, what did you want to be when you grew up?
I'm not sure if I remember. A NASCAR driver, I think!
Why did you choose TWS for your first welding instructor job?
For one, it's the biggest welding school in the nation. Two, it's the only one down here by us in Jacksonville! It all just fell right into place at the right time.
Do you think you will stick with teaching or go back out on the road?
I do. I think teaching will be long term for me. It's not always about the money; time is more valuable.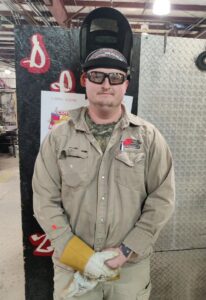 What's your favorite tool of the trade?
It has to be your welding hood. It might as well be your head. You can't do anything without it. It's your key to getting a paycheck at the end of the week. If you don't have it, you're not very useful that day as a welder. Invest in a good hood; the hood I wear now is $300, $350 probably.
Tell us something most people don't know about you?
I've got a lot of tattoos! People won't know that as we always have long sleeves on at school when welding.
If you could choose to have dinner with anyone, alive or dead, who would it be?
I'd go with Conor McGregor, the UFC fighter. He's just an interesting person who started from nothing and now has his own whiskey line, clothing line. He won multiple championships in different weight classes.
What did you enjoy most when you worked in the field?
Just the different people you get to meet. When you're with people working 60/70/80 hours a week, it becomes like a second home almost. That was probably my favorite part of being out in the industry.
If you weren't a teacher and could pick your job, what would you be?
Probably a gunsmith. I do enjoy hunting and shooting, so I think I'd enjoy making guns.
You get an unexpected afternoon to yourself, what would you do with that time?
I work a lot of hours. I seem to work a lot of doubles which are 16-hour days, so I'd probably just go home and hang out with my wife and kid.
What's the best piece of advice you'd give to new students just starting out at TWS?
The biggest thing to understand is that you are learning a craft, a trade, in some cases it's considered an art form. There are going to be days that it's just not going to work out for you no matter what you do. Those are the days when you need to not go home frustrated and most importantly, not quit! It's pretty much inevitable that you are going to fail at some point. It's how you deal with that failure that defines you. That would be my piece of advice. Also, ask questions. We have signs all over the school that read, "Ask. Don't Guess!"
How did you overcome those frustrations when you were at welding school?
I'm a pretty stubborn person, I don't let things beat me. I just worked at something until I figured out how to do it.
If you were to tell someone "Thank You" for making you who you are today, who would it be & why?
Definitely my parents. They gave me my drive for success.
This blog has been labeled as archived as it may no longer contain the most up-to-date data. For a list of all current blog posts, please visit our blog homepage at https://www.tws.edu/blog/