Paul Pearson, 65, is a welding instructor at our Jacksonville campus. Born and raised in Ohio, Paul has been welding most of his life, having struck his first arc at the age of 12. After 40+ years welding in a professional capacity, Paul joined TWS in November 2015.
Thanks for your time, Paul. What did you want to be when you grew up?
In high school, I targeted being a draftsman. I took all the math courses. I'm a little dyslexic, so reading isn't fun, but I have always been excellent at numbers and mechanics. Then I realized I wasn't good at sitting. I've never been a sit-at-a-desk kind of guy, so I applied for a welding scholarship. I went to welding school in Ohio in 1973.
Tell us a little about your welding career.
I struck my first arc with a welder when I was 12. In a professional capacity, I spent 30 years welding for an aerospace company. I carried three federal aerospace certifications for 30 years. I went from that to welding sanitary pipe (food processing pipe), and I did that for 10 years.
Have You Considered a Career in the Skilled Trades?
Fill out the form to recieve a no obligation info packet.
Why did you go into teaching?
I am not a sit-at-home kind of guy. At 62, my wife and I moved to Florida, and I needed to be busy. I applied for a couple of welding jobs and dropped my résumé at TWS. The dean called me. I came in, we talked and he asked me to do a weld test. In fact, I did five weld tests! But he called me back and they hired me.
Was this the first time you considered teaching?
Before we came to Florida, I had submitted an application to be an instructor at the welding school I went to. I thought it might be interesting. I didn't push too hard and it kind of fell through the cracks. Long story short, I didn't get the job.
What do you enjoy most about teaching?
I read somewhere that the greatest gift one person can give to another is knowledge. I've always been that guy that likes helping. If someone's in trouble and I can help, I have a hard time not helping. You have a flat tire at the side of the road, I'm the guy who's going to pull over. There's a great feeling that comes with helping someone, and that's what I do all day long.
There is something special about seeing the light come on when somebody runs a weld themselves. The sheer joy on their face is special. I quit telling people I work for a living when I hired on here. Welding has done me very well. To be able to help people down this path, there's just something about that.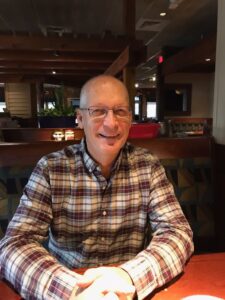 What makes TWS stand out for you?
The record that Tulsa carries. We are one of the highest job placement schools in the nation, and there is a huge demand for welders of all levels.
Another thing the school does well, and students appreciate when I tell them, is that there are several forms of welding, several styles. When you find the style you're best at—I don't care if it's TIG, MIG, Stick—you'll get excited to go to work every day. Everybody loves being good at something. At the end of every day, you'll feel like you've accomplished something. You can do something you like doing, that you're good at and make very good money doing it. I don't know if life gets much better than that.
What is your favorite welding style or process?
My favorite form of welding is TIG. Everything I was certified in was TIG. I really enjoyed that.
Tell me something that most people don't know about you.
I'm an inventor, and part of that is because I'm a welder. Today I carry a patent on a rifle scope mount. You can go to pearsonscopemount.com and see it. It works on all kinds of rifles. I have a very creative mind, and most people don't know that.
If you could have dinner with anyone, alive or dead, who would it be?
Abraham Lincoln. He was very wise and he walked with great integrity. I also love humor, so Johnny Carson. I believe he was a very brilliant man. I like those kind of people.
Tell us about your family.
My wife Mary and I have been married forever. I went to her 16th birthday party and started dating shortly thereafter. We celebrated our 45th anniversary in January. We have two sons, both of whom I'm very proud of. They are both great men. I have three grandchildren. The youngest is not yet a year old.
If you weren't a teacher, what would you be?
I'd still be an inventor. I have a couple of other patents pending, and I'm busy! I love building and putting things together. I have a 1967 Ford 289 high-performance V8 motor, a Muncie four-speed that mounts up to it and a desire to put it in a Ford Cobra kit car. That's a project I will complete.
What's the best piece of advice you'd give to new students who are just starting out?
Come in with an open mind. Do not come in with preconceived ideas. Have a willingness to try it all. Find out what you're absolutely best at, then be the Michael Jordan of that. If you do that, you'll thrive.
What would you do with an unexpected afternoon off?
I like to ride my Harley, or I could go fishing or shooting. Anyone of those three is very satisfying to me.
What did you enjoy most about your time in the field?
There are many things I enjoyed, but let me share this. When you're a welder and your name comes to the top of the pile, you'll weld for everybody. I've made a huge volume of different things, and I've always enjoyed helping people.
There was a guy named Brad I worked with. Every time I turned around, Brad was bringing me parts to weld. I kept welding these parts, then one day he came in and said, "My airplane's done. When do you want to go up?" He was a Navy pilot, and he had built a Christian Eagle stunt bi-plane.
He gave me the most thrilling ride I've ever had in my life. We did barrel rolls, spins, stalls and loops. We pulled 4.5Gs. I could feel my cheeks dribbling off my earlobes. I use that story in class every now and then. You never know what you're welding for, so always do the best job you can. My welds had to stand up to four and a half times the weight they would normally see. When I was in that plane, I thought, how good a job did I do?
Besides a welder, what's your favorite tool of the trade?
A 6″ adjustable wrench that my father carried for a while. After he passed away, it was kind of an attachment to him, but it's amazing what you can do with an adjustable wrench. That was probably one of the tools I leaned on—that and a pocketknife!
If you could tell someone "thank you" for helping you become the man you are, who would it be?
My father, Paul Pearson Sr. He encouraged and pushed me into many things, including mechanics. I'm so grateful for that because of what I know and what I have experienced in life. I have to give a lot of credit to him.
This blog has been labeled as archived as it may no longer contain the most up-to-date data. For a list of all current blog posts, please visit our blog homepage at https://www.tws.edu/blog/