Chris, 33 from Cleveland, Oklahoma, is the director of training at Tulsa Welding School. Chris has been with TWS since February 2013 and has been welding since 2006.
Thanks for your time, Chris. Tell us a little about your background.
My dad actually graduated from Tulsa Welding School in 1995 when I was about 10 years old. So I'd always been familiar with the place and always knew about it because it was something that he had done. After he graduated, he welded for a while and then became an instructor at a vocational tech school here in town.
So you did you start welding in high school?
I didn't even entertain the idea of welding in high school! After high school, I worked as an electrician's apprentice, but I didn't like it and I talked with my dad. Because of his job, he knew lots of instructors around the state. A guy my dad knew worked at a school in Drumright, OK, close to my home town, where they were running a welding night class funded by the state. My dad asked if I'd be interested in giving it a shot. I looked at what I was doing and wasn't happy, so I thought why not give it a chance?
Have You Considered a Career in the Skilled Trades?
Fill out the form to recieve a no obligation info packet.
When was this?
It was 2006. I was about 21. I went to welding classes for about 9 months, so that's when I entered the industry. I learned everything I could. I then got a job at a fabrication shop in Tulsa and showed the initiative to learn all I could from the guys there. I think that's where my welding career really took off.
What kind of work did you do?
I worked in fab shops for the first couple of years, cutting my teeth. It was two years in when I got into pipe welding regularly. I stayed as a pipe welder until I came here in 2013. I'd say 90% of my work was pipe welding, lots of TIG work, lots of stick rod.
What made you go into education?
I'd always enjoyed teaching younger people on the job. I was working for a guy in Ponca City, OK, doing piece work. It was December, and in our industry, everything slows down from Christmas through February. He was running out of work and couldn't keep me busy because I was just piece help/ I wasn't a full-time employee. I made good money when I was working, but he couldn't keep me busy, so I wasn't making money! I looked on Indeed.com for welding jobs and saw an ad for Tulsa Welding School. I was familiar with the place because my dad came here and I thought it looked like a good opportunity. It was the right place at the right time.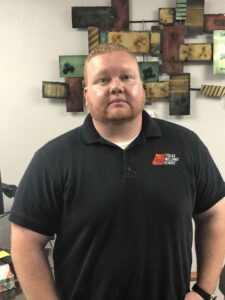 So tell us about your time here at TWS.
I got hired as an instructor. I did that for a couple of years before getting promoted to lead instructor. About a year later, I got promoted to senior lead instructor, managing the night shift. From there I got promoted to director of training a little less than two years ago.
How did you enjoy instructing?
It was one of the more rewarding jobs that I've had. It's cool meeting people from all over the country, following their transition as they work through the phases to graduation and on into their career.
Please outline your role today as director of training.
I manage the faculty. We currently have 20 welding instructors, plus two more instructors that teach our welding associate's degree class. I also manage the cutting room here. I do all the ordering and inventory on the training supplies. I schedule classes and work alongside the instructors to make sure everything is going well. I'm proud to work here because we are the original welding school with a very long tenured staff/ I'm proud of what we do, and I think we offer a great vocational education.
Will students meet you?
I introduce myself at orientation and explain that the program is difficult but we do have a support system. Our students come from various backgrounds and different parts of the country. They might not have family here to turn to. I take pride that I'm a guy they can turn to, helping them along, advising them on ways I would work to get through the phases and make it easier. I schedule tutoring for them if we need it. Basically, I'm here for the students and the instructors.
I understand you liaise with employers, too.
We have employers that come to us with job opportunities. If they have a specific weld test that they want to run, I will get interested students together and create custom employer training for them. That allows the students to practice and prepare for the test before the company shows up.
What are some typical questions students ask of you?
People say that they are working too many hours to keep up. What do I suggest? I get them with our Career Services department, who do a fantastic job, to see if we can get them a different job while they're in school and to lighten the load.
I have people in Phase 5 or Phase 6, trying to learn how to weld pipe or learn TIG for the first time. They may come to me because they don't know what to do. We can arrange a tutor if needed. I look at the lab layout to make sure they've got room to get some extra practice. The campus is open from 7:30 am to 11:30 pm, so as long as we've got booth availability, the students can practice whenever they want to.
What advice do you have for new students starting at Tulsa Welding School?
Be here every day, learn everything you can and apply yourself. We have, in my opinion, the best staff of any welding school. They come from all parts of the industry. We've got guys who were boilermakers and who worked on pipelines, guys who worked in aerospace, in refineries and in fab shops similar to me. So get to know all the instructors you can, not just the ones who teach you. Learn their work history, and once you decide what area you want to go in upon graduation, meet with a guy who has worked in that area to pick their brain. You can go a long way with a TWS education, but you only get out of this program what you put in.
Does it matter whether students come in with welding experience or not?
Not at all. I've seen students come in with no ability, but by the time they are done, they have a lot because they spent a lot of time in the booth working, doing repetitions and learning how to do this well. I've also seen students come in with decent ability, but they never get better because they won't apply themselves and put in the work necessary to improve.
What can a student do to help you help them?
Definitely by staying in communication. There are lots of things they may get frustrated with, but we have rules for a reason. Sometimes it might seem kind of nitpicky, but there are good reasons for it. Safety is something we have to enforce very strongly, and sometimes students don't want to abide by those rules and they may have to come speak with me. But come see me with any concerns you have. Maybe something isn't going their way, or there's something they feel we could do better. Sometimes you've got to go talk with somebody to get something fixed. You won't offend me, and I'll help you out with whatever I can!
This blog has been labeled as archived as it may no longer contain the most up-to-date data. For a list of all current blog posts, please visit our blog homepage at https://www.tws.edu/blog/