Brandon, 44, is a pipefitting instructor at the Tulsa Welding School & Technology Center. Born here in Houston, Brandon has a 20 year welding career behind him. He joined our faculty in March 2019.
Thanks for your time Brandon; how long have you been welding?
I started welding about 25 years ago but have been earning a living welding and pipefitting for the past 20 years, since about 1999. I currently teach the 101-pipefitting class, the first phase of the pipefitting program which students can take after they complete the welding specialist program.
Please outline your career for us.
I worked at a lumber mill for about seven years out of high school, before I started welding in 1999. I did off-shore work, topside, for the first nine years of my welding career. Then I got my own truck and went rig welding, mostly working on on-shore drilling rigs, refurbing them. After that I got into pipeline and compressor stations. I was doing TIG and stick, and a lot of automatic stuff. I was self-employed with my rig, going contract to contract. Sometimes I hired guys to work for me, depending on the workload.
Have You Considered a Career in the Skilled Trades?
Fill out the form to recieve a no obligation info packet.
Why did you decide to become an instructor this year? 
Honestly, I just got tired of being on the road, being away from my family. I've been traveling since 2006. Sometimes I'd be gone six months at a time without coming home.
That's a long time away. Tell us about your family.
My wife Janet and I have been married 25 years this year; we have three grown kids – aged 25, 22, and 21 – and three grandbabies under the age of two.
You're new to instructing. Are you enjoying teaching?
I do enjoy it. The money sucks, but teaching these kids is awesome. Being able to pour knowledge into them is amazing; to see their faces when they finally say – "I get it now!" – is awesome. Sometimes it's trigonometry, algebra and stuff, but they get it – a lot of them are helping me because it's been a long time since I was in school! It goes both ways! But to see their eyes light up when they get it is amazing. These are hard things for some experienced welders to do, but to see the progression is great.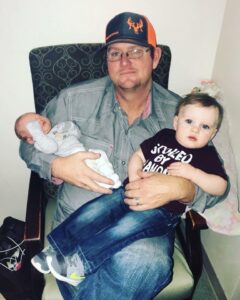 As a kid what did you want to be when you grew up?
I've wanted to be a welder since I was young. My uncle was a rig welder and I liked what he did. I liked the way he dressed, he always had his own truck, they had nice homes, nice places. I always liked the idea. When I got to work around him, I discovered I really liked working with my hands and it went from there.
If you could choose to have dinner with anyone, alive or dead, who would that be.
President Donald Trump. I would probably thank him for all the good he's doing. In my eyes, other than Ronald Reagan, he's the best president we've had. That's why I'd like to sit down and talk to him.
Tell me something most people don't know about you.
There isn't much that people don't know about me – at least stuff that I would talk about! But I love to fish, hunt, and work with wood. I like to build things; I've built a few houses, add-ons, stuff like that.
If you could do anything, what would you do?
I'd probably start a fab shop or something. They got some great kids going through this school; I would love to hire some of them if I had my own business. It would be awesome to further their education in the trade – it would be pretty cool to do something like that.
You get an unexpected afternoon off, what would you do?
I'd go off fishing with my wife – we're best friends. I'm kind of a hermit when I'm home, I'm not real social, so I like hanging out with my wife and family.
What is your favorite tool of the trade?
I guess it would be my welding truck and everything on it. Everything I need, every tool I own, is on this truck. I don't rig weld anymore, but everything is still on my truck and I feel naked without it! It's your livelihood; if whatever else I'm doing doesn't work out, I can always go back to work with that truck. Of course, you've got to travel but it is what it is.
What was your favorite part of the welding industry out in the field?
My favorite part of the industry would be the fabrication end of it. I would be in a yard fabricating pipe; I'm not just fitting; I'm not just welding – I'm doing it all at the same time. Being left alone pumping out pieces of pipe or skids, stuff like that, all day long…that's what I liked.
If you could tell anyone "thank you" for helping you become the man you are today who would it be?
My dad Gary Jackson. He traveled all the time – he was a civil engineer/draftsman, one of the guys you see out on the road taking measurements with a wheel before going back to the office to draw it up. That's what he did for years. He traveled all over the United States; I don't think I hardly ever saw him miss work. If he was sick, it didn't matter. There was always food on the table, clothes on our back. I cannot remember one time in my entire childhood that I wanted for anything. He retired about five years ago, when his eyes got to the point where he couldn't see very well.
What advice do you have for students considering Tulsa Welding School?
The main thing would be to pay attention and stick to it. The 101-pipefitting class is a lot of classroom time and not much shop time at all. The first four weeks is in the classroom – it's only the fifth and final week of the phase where they get into the shop. It's very hard to keep the students' attention, so I would say don't get frustrated.
Remember the instructors are here to help you, we are not here to fail you, or run you down. Give your instructors a chance. We are there to instill some responsibility and a work ethic…to prepare you for the workplace. Some students need to learn that they will be getting paid by the hour; so whether your boss tells you to go sweep the floor or go make a weld, you do what he tells you – you don't argue, you're still getting paid the same no matter what you do. They need to know that when they come in. Give the program a chance and remember that you're paying for this education, so make the most of it.
This blog has been labeled as archived as it may no longer contain the most up-to-date data. For a list of all current blog posts, please visit our blog homepage at https://www.tws.edu/blog/